A woman was left stunned during her homecoming weekend, as her boyfriend proposed during what she believed to be an interview for her alumni video.
Rachel Overton was completely oblivious to the surprise Nick Newcomb had in store for her during their homecoming weekend at The College at Brockport, New York, holding her hands to her mouth in disbelief and crying during the big moment.
During a pre-planned interview, Rachel, 23, who graduated in May 2018, joyfully discussed when she was at the university, where she's currently working, and what she liked most about Brockport – all while Nick, also 23, stood beside her.
Then, having been prompted by the question, "What was the best thing that happened to you while you were here at Brockport?," Nick used the opportunity to say that it was, in fact, meeting Rachel and finding the person he wants to spend the rest of his life with, before getting down on one knee to propose.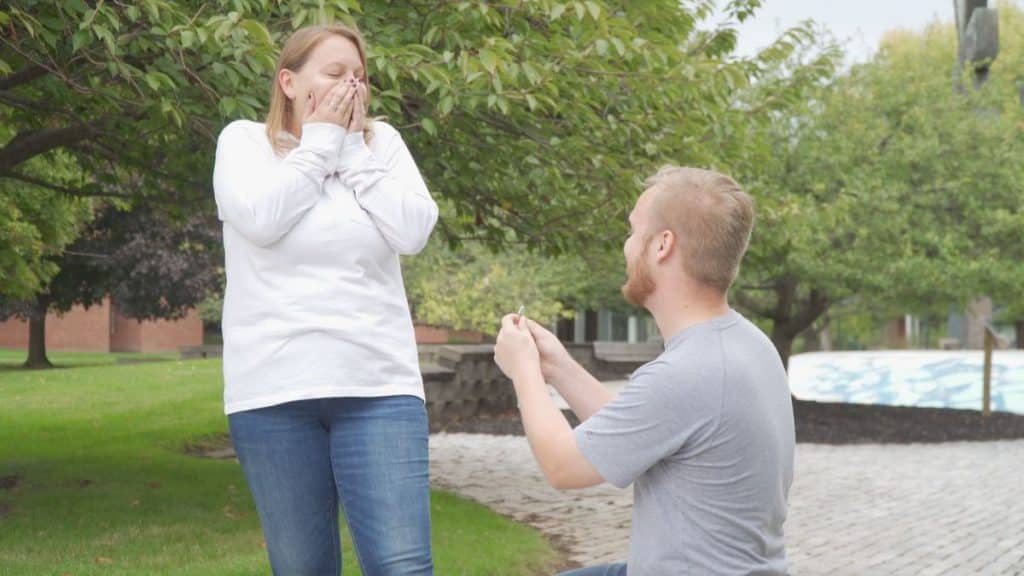 The joyous couple met at Brockport through mutual friends during their freshman year, and so it felt only right to Nick that his big surprise would take place somewhere that was so dear to them both.
In order to plan the surprise on September 28, Nick – who graduated in 2017 but was in the same year as Rachel – reached out to Meghan Finnerty, who he had worked with at a newspaper in Rochester, and who now happened to work on the college's communications team.
What was initially meant to be a surprise engagement photo in front of one of the campus's prominent fountains turned into the idea that Meghan and Nick would pretend to Rachel that she was going to be interviewed as part of an alumni video instead.
The couple currently live in Manlius, New York, and they are hoping to get married in the summer of 2020.
READ MORE: AMAZING PIKACHU PROPOSAL IN TIMES SQUARE
Nick, originally from Syracuse, New York, said: "Originally I thought she might be camera shy and I would have to bring her into the frame when I was ready, but it all worked out wonderfully.
"Honestly, all I wanted was at least one picture of me on one knee and maybe a nice one after.
"Our family and friends loved it.
"It was great that we were able to share that moment with everyone and now have that forever, and I really have to thank Brockport and especially Meghan for helping make that happen.
"I'm just extremely grateful to have Rachel in my life.
"She tells me all the time she keeps looking at the ring to make sure it was real and everything happened, I keep reminding her we even have video proof."
Rachel, who is originally from East Hampton, New York, said: "When I finally realized what was happening, I was in complete shock – I had no idea it was coming.
"After the shock wore off, I was obviously thrilled.
"Friends and family have loved the video.
"Nick hardly told anyone when it was happening, so it could be our moment to share together.
"With the video, not only did we get to experience the moment together but now we can share it with our friends and family.
"I know my family has watched it over and over to watch our faces."
Story courtesy of T&T Creative Media