-Video plays after advertisement-
A woman who had just suffered her third miscarriage "ugly cried" when her boyfriend boosted her spirits by surprising her with the puppy she had always dreamed of.
In the wholesome video, which went viral on social media, Abbie Scarrott is initially seen sitting on the sofa at her mom's house, with a blanket covering her lap.
Then, while recording, boyfriend Ben Jordan enters the room, holding a Dachshund puppy, which he places on Abbie's lap.
As soon as she saw the sweet pooch looking back at her, Abbie's face froze, before she began to cry uncontrollably – with the dog wagging his tail and jumping on her with excitement.
The moment took place on November 17, and Abbie, from Worcestershire, U.K., later shared the sweet clip online where it has received millions of views.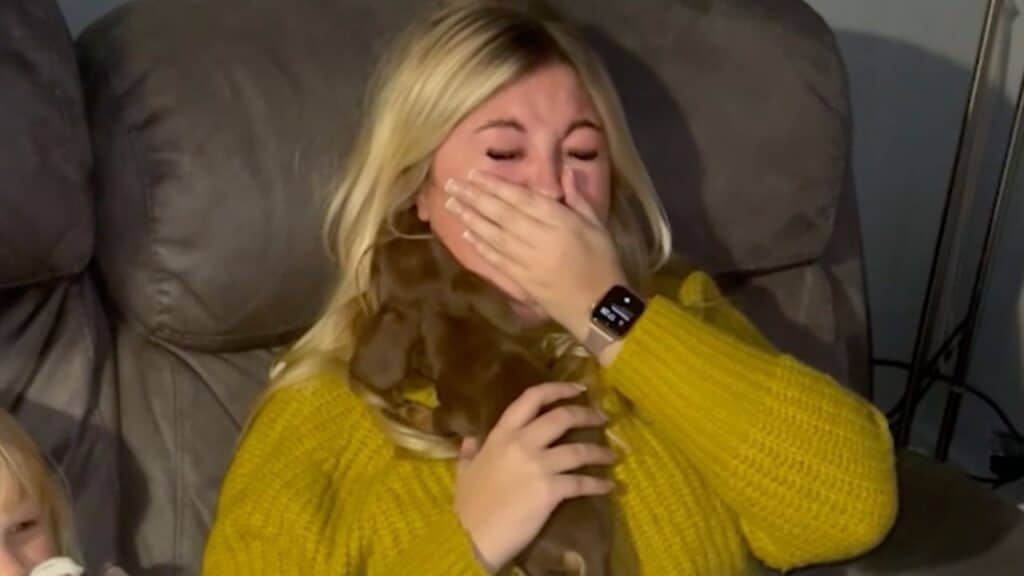 RELATED: Dog Groomer Surprised With Puppy After Her Dog Passed Away
Abbie, who named the dog Roo, said: "Ben and I had suffered another miscarriage, and ever since I was little, I've been obsessed with Dachshunds.
"We had discussed getting a dog, but in the future.
"I was sat on the sofa with Ben's sister and niece, and, as Ben walked in, I looked up and he had a puppy in his hand – I was completely and utterly speechless.
"As you can see from my face, I could not believe he was actually mine – a total surprise!
"No matter how horrendous life feels, happiness is just around the corner, and comes when you least expect it."
Story via T&T Creative Media