This is the emotional moment a World War II veteran who hasn't seen his wife for two months because of COVID restrictions finally set eyes on her once more.

Leaning out of a car window, William Daniel Brinson, 93, professed his love to wife of nearly 72 years, Gloria Brinson, 88, who was sat outside her nursing home in Macclenny, Florida.

A choked-up William shouted to Gloria, known as Faye, "I love you!" as granddaughter Tabatha Brinson, 34, captured the moment on video on May 8.

Before then, William, known as W.D., had not seen Faye since March 12, as that was the day Florida went into lockdown because of the coronavirus pandemic sweeping the nation.
Every day prior, William would visit his wife at the Frank Wells Nursing Home, spending every hour from morning to night by her side.
 
When he found out about the parade, which the nursing home had planned to help family see some of its residents, William was overjoyed, Tabatha said.
 
As she headed around the block towards her grandmother, the 34-year-old said her heart filled with joy, knowing that Faye was OK and seeing how much she means to her grandfather.
 
William is currently waiting for the day the home can open for visitors again, at which time he plans to be back by his wife's side every day, he said.
 
On May 22, the couple are set to celebrate their 72nd wedding anniversary, which may be the first one they ever spent apart.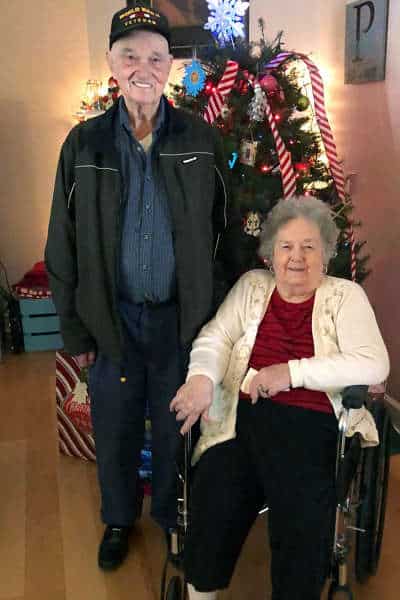 For that reason, Tabatha said, her grandfather was extremely grateful that he could see his wife as part of the parade.

Tabatha said: "I felt overjoyed knowing he gets to see the one person in his entire world that he adores most.

"It was a very tearful time driving through the parade and my heart the moment I saw her – to know she was safe, happy, and waving back to us.

"Saying she loves us: it was like a dream.

"I think people watching this video can see how much he loves her – and even before then, he has cherished her, her whole life.

"My grandparents have set an example of the vows they've said from the beginning.

"They are examples to follow and to learn just how to love through anything and everything."