A loving granddaughter recorded her cross-country Christmas journey to surprise her grandmother and later present her with the ashes of her late son (the videographer's father), who passed away during the pandemic.
Caily Mitchell made the trip not only to see her grandmother – who she had not seen in three years – but also to present her with her son's ashes, after Caily's father died from lung cancer during the pandemic and his mom was unable to travel to the funeral.
For the wholesome video, Caily shot clip after clip of her passport traveling from her home, to the airport, onto the plane, and out through arrivals on the other side.
Then, Caily's point-of-view footage shows how she walked into the local supermarket where her grandmother, Catherine Mitchell, 93, works as a greeter.
READ MORE: Seven-Year-Old Best Friends Separated By Cross-Country Family Move Emotionally Reunite
As Caily, 21, walked into the Walmart in St. Albert, Canada, her grandmother didn't initially recognize her – but then, everything clicked.
Catherine, who goes by Cathie, looked shellshocked, putting her hands to her face as tears welled in her eyes.
Then, with Caily saying, "Hi, Grandma," and the video still rolling, Catherine headed towards her for a warm, festive embrace.
The moment took place on December 7 – some three years after the pair were last together for Christmas.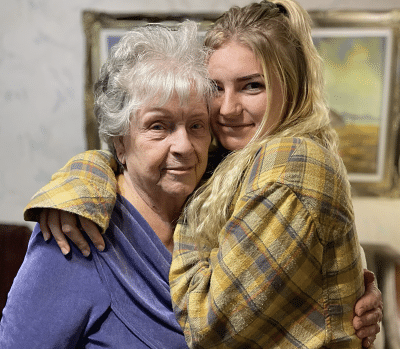 Accordingy to Caily, every second year she and her father, Grahame, would drive from their home in Kelowna, British Columbia, to Cathie's home in St. Albert – roughly 560 miles by car.
They last made the journey in 2018, as in 2019 Grahame was diagnosed with lung cancer, which meant that he was unable to travel due to his illness and the dangers of COVID, which started to spread in the months that followed.
Grahame passed away in September of 2020, but Cathie was unable to fly down during his final days because of the risks.
As a result, 2020 and 2021 were a difficult time for the family, Caily said, as she and her grandmother never felt like they truly got a chance to celebrate Grahame's life.
When flight routes started to open back up, however, Caily purchased a round trip and made the journey for the big surprise.
Caily was not alone: she brought her father's ashes with her, which she presented to her grandmother as a Christmas present, given how special the time of year is for the family.
Caily said: "My grandma means the world to me and there were so many different emotions I went through on my journey to go see her.
"I was overwhelmed with joy, but I was also still nervous because of the pandemic going on.
"I felt my dad looking over me with every step I took getting closer to go see her.
"Every video I took was one step closer to seeing the smile on her face and the warmth in her hug that I have been dying to see and receive.
"When I walked into that Walmart, I felt like a little kid at Christmas – my stomach had butterflies but at the same time my eyes filled with tears.
"I wanted nothing more than this wonderful woman to be happy to see me.
"As soon as I saw her reaction when I walked up, I knew she felt the exact same way as me, then nothing in the world mattered more than that moment after all these years.
"We both ended up in tears just hugging each other in Walmart so happy to be reconnected once again."
Story via T&T Creative Media