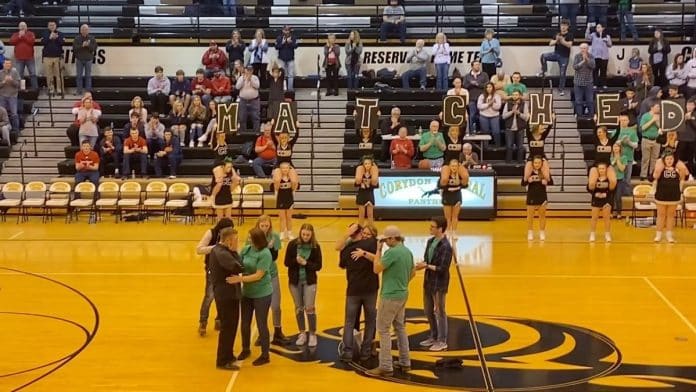 A community has rallied to surprise its beloved basketball coach with a critical kidney donation from none other than his former baseball coach.
The beautiful surprise took place on senior night at Corydon Central High School in Indiana, where long-time coach Chase Best stood in the middle of the court completely unaware of what his school had in store for him.
Coach Best has suffered from a kidney disease since he was 11 years old, and over recent years his condition has begun to deteriorate, making his need to find a donor critical.
On February 28, during senior night, the stands changed from the school's usually black and gold to its supporters being decked out in green, the color of organ donation support.
Coach Best, 36, thought the show of support was to spread awareness for the donor organization Be the Match – but his wife, Heather, had other ideas.
The basketball coach had gotten very down after a previous donation had fallen through, but, unbeknownst to him, his former baseball coach, Jake Yonkers, 45, had reached out to check to Heather to check on his former player's progress.
Jake, it turned out, was a perfect match to be Chase's donor, and so Heather, 42, and the baseball coach worked together on the big surprise.
With the school hall full, Coach Best was informed of the news – and there was not a dry eye in the house.
The coaches immediately headed towards each other to embrace, Coach Best sobbing on Jake's shoulder and mumbling, "Thank you."
They were then joined by family members, cheerleaders and the players on Coach Best's team, who offered their congratulations and hugs to their leader.
Through sharing the story, the coach and his wife hope to raise awareness for organ donation and organizations like Be The Match.
Coach Best said: "My wife had told me I was there to raise awareness for kidney and liver donation.
"Before we walked out I was nervous and asked her if anything else would be happening as there were a lot of people there.
"She told me she thought my former girls golf team was there to surprise me with something they had made.
"I was speechless – I am still in shock to this day.
"To know that many people are having a strong emotional reaction to my real-life story is a lot, in a good way.
"I want people to understand that there's so much good in the world, and that is something we all needs to focus more on.
"This is not just my story: there are so many people, just like me, who need a healthy kidney to live.
"I just wanted to be a dad, I want to see my kids graduate, go to proms, get married, have babies, make bone headed mistakes and everything else along the way.
"There are so many people like me and they all deserve the chance to see everything their life has in store for them without limits."
Story courtesy of T&T Creative Media