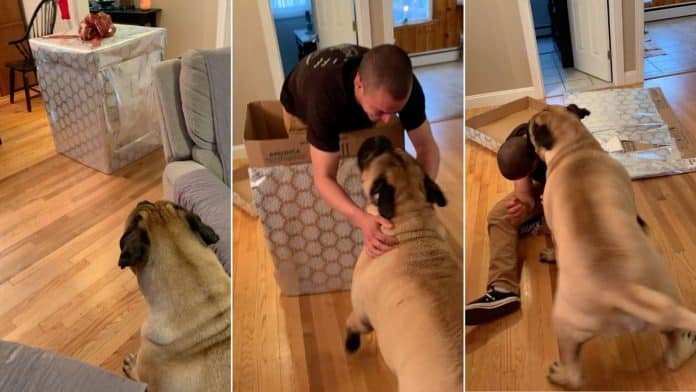 A 170lb dog couldn't contain his puppy-like excitement when his U.S. Army human brother returned home for Christmas and surprised him by hiding in a gift-wrapped box.
Jaxson, a bullmastiff who will soon be three years' old, returned home from a walk to find a large wrapped present sitting in front of him.
Initially unfazed by the box, he quickly turned around when he heard his name being called from the same direction as the box.
-Scroll down to see adorable video below-
As he went to investigate he heard his name again and the box shuffle a little – causing him to back up and cautiously look at the box from a distance.
All of a sudden, the top of the box bursts open and his human brother Jason pops up, leaving Jaxson frozen on the spot as he processes the information before bounding over to Jason.
When Jason lifts the box off him Jaxson can't stop giving him kisses and jumps all over him, excitedly spinning around on the spot while mom Lisa Floyd filmed the adorable moment.
After his basic training graduation, Jason was selected by the Army Rangers to further his training with them, so he hasn't seen Jaxson since May.
Lisa, from Greenville, Rhode Island, puts Jason's t-shirts on pillows for Jaxson to snuggle up to while Jason is away as he misses him so much.
She said: "It was the best Christmas gift for Jaxson. His look of shock and disbelief that Jason was really there is priceless – the bond the two share is just incredible.
"I came up with the idea since it was Christmas and I kept telling Jax he was getting a present early.
"I really believe he was in shock – I don't think he could believe he was really there.
"Although he did better this time than the first time Jason was gone he did miss him very much.
"We tried to fill the void as much as possible but there is no replacing Jason and the bond they share no matter how hard we try.
"They are inseparable – Jax follows him everywhere and showers him with kisses as much as he can."
Story courtesy of T&T Creative Media.