A guilty dog desperately tries to conceal his guilt while hiding in the shower after breaking a decorative bird when his owner was out.
Goldendoodle pup Beaux usually greets owner Tiffany Robertson at her front door when she comes home but on October 18 he was nowhere to be seen.
As Tiffany, from Belle Chasse, Louisiana, walked through her house she spotted a broken decorative bird on the floor, with its tail missing, and went looking for the culprit.
Her 10-month-old pooch was hiding in the shower, so she decided to film the moment she confronted him to show family and friends as she knew it would be funny.
When Tiffany asks 'What happened to mama's bird, do you know anything about this?' Beaux innocently looks away, peering out side eye to see if Tiffany is still looking at him.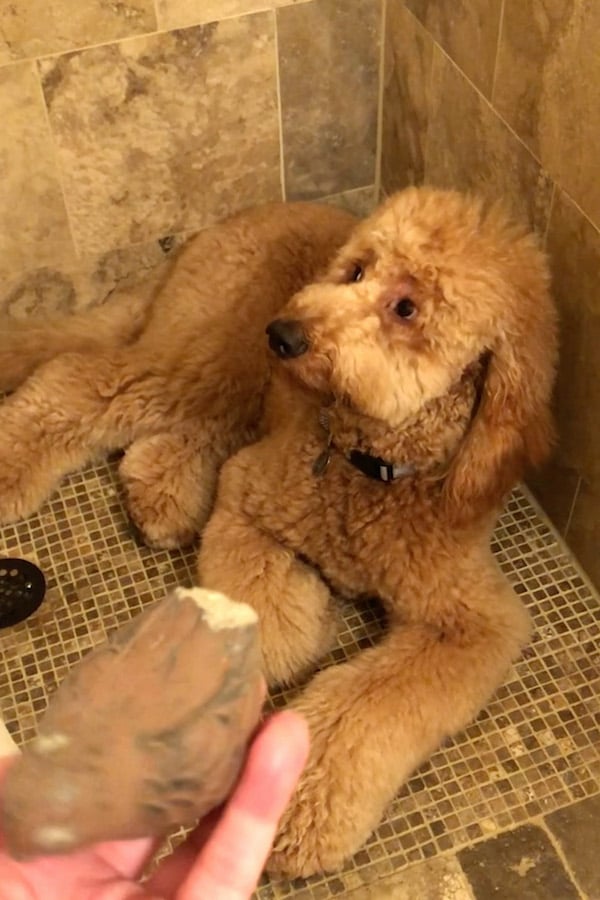 Beaux then gets up and moves to the other end of the shower behind a curtain to hide once more, until Tiffany pulls the curtain back and he realizes he's definitely been busted.
Tiffany said: "When I got home and he didn't greet me at the door I knew something was wrong.
"I put my things down in the kitchen and could see something on the floor of my room – it turned out to be the tailless bird.
"He knew when I confronted him with the bird in hand he was busted. He sniffed it and I could tell in that moment he remembered 'oh yeah…I ate that, uh oh!'
"After I spoke with him I let it go. I got up and went about my day and he stayed in the shower for a little while.
"When he came out he was a little apprehensive but I hugged him and he was fine. He is constantly making us laugh – his side eye is on point."
Story courtesy of T&T Creative Media.