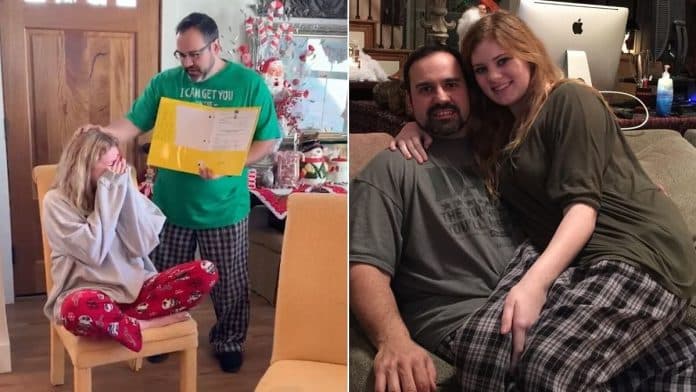 A loving stepdad who has looked after his stepdaughter for the majority of her life fought back the tears as he surprised her with adult adoption papers for Christmas.
As Brandon Chinchilla, 43, began to address stepdaughter Savanna Guise, 19, he begins to get emotional as she has no idea what is coming next.
Holding a document wallet in his hand, Brandon explains to Savanna "You have always been my daughter – I never thought of you as anything else but my daughter."
As Savanna begins to cry during the Christmas Day surprise, Brandon adds, "Unfortunately, the courts don't look at it that way," and he presents Savanna with the adult adoption papers.
The pair, both sobbing, then hug each other as their family, celebrating at Brandon's parent's home, in Mansfield, Texas, begin to cheer.
Having cared for Savanna for more than 16 years, Brandon admitted it was difficult for he and his wife, Tiffany Chinchilla, 45, because their daughter always had a different name.
The couple also have a son together – Kaden, 15 – who does share their surname.
Having discussed the adoption with Tiffany, Brandon got the necessary paperwork from the county court and, having filed the forms, the family is in the process of setting a court date within the next few weeks.
Brandon said: "Savanna had no idea that this was about to happen so her reaction is truly genuine.
"It's funny, but I rarely see my daughter cry; she's very strong and tough as nails.
"So, in that moment, I knew I had to keep it together because I wanted to get out everything I wanted to say to her.
"I think at the end you can hear it in my voice that I almost didn't make it because her reaction was so priceless.
"Savanna and I have always had a great relationship.
"She has always valued my opinion and feedback and has told me in the past that she worries she's going to disappoint me.
"I've always told her – just like in the video – that as my daughter there's virtually nothing she could do that would disappoint me."
Story courtesy of T&T Creative Media.