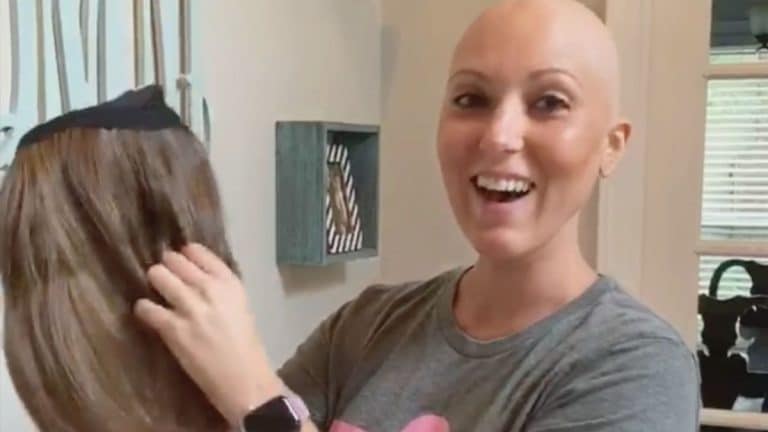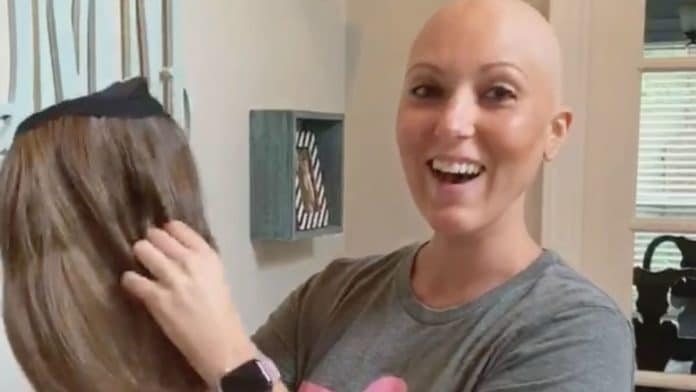 Cancer sufferer Dana McSwain couldn't believe her eyes when her friends – all with fresh haircuts – showed up on her doorstep.
It seemed odd that they all had gotten trims at the same time, but she thought nothing of it.
Then, as they entered beaming from ear-to-ear with glee, she began to suspect something was about to happen.
And to her surprise they presented her with a brand new wig made from their own hair to help her after she had lost hers during treatment.
Dana, 36, from Charlotte, North Carolina, has braved her Stage 2 metastatic breast cancer diagnosis, but after struggling to cope she turned to a local Facebook group of friends and moms for advice.
Her daughters love mermaids and princesses, so losing her hair during treatment became extra tough.
Dana looked into purchasing a wig for herself, but the cost proved too much.
But on the private Facebook group she spoke of wigs she liked, but was unable to buy, as she talked with other moms in the area.
Then one day Dan received a call out of the blue.
A group member and mother of one of her daughter's friends, Carol Daley Cook, wanted to meet, and showed up at her front door.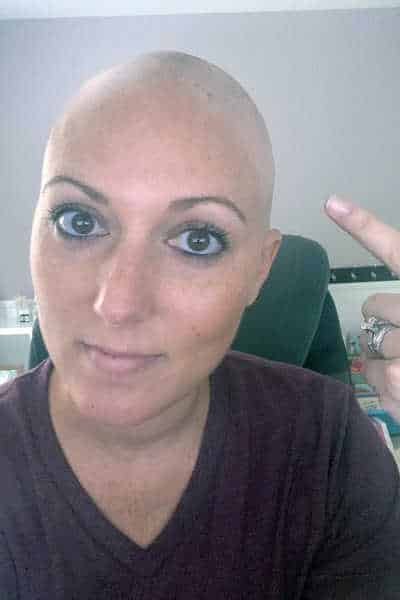 The big wig reveal
At first Dana noticed Carol's hair had been cut, but thought nothing of it.
But as she opened the package left for her by Carol she saw the exact wig she had been dreaming of – a crown wig, not a full wig, which could be worn under hats.
As Dana revelled in her newfound confidence, Carol explained that 20 financial donors from the group made the gesture possible.
Some had even braved the chop themselves so their hair could be used to create the wig.
Hair donors included Carol, Sara Curry, Georgia Dabbs the seven-year-old daughter of one group member, Kate Harrison, Ashley Broome and Tamara Brown.
RELATED: Toddler Tries Wigs On – And Her Reaction Is Adorable
Speaking after the surprise, Dana said the wig has helped to feel herself again, as she has two little daughters who look up to princesses and mermaids with long, flowing locks.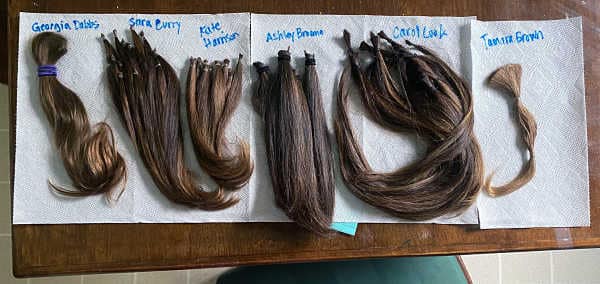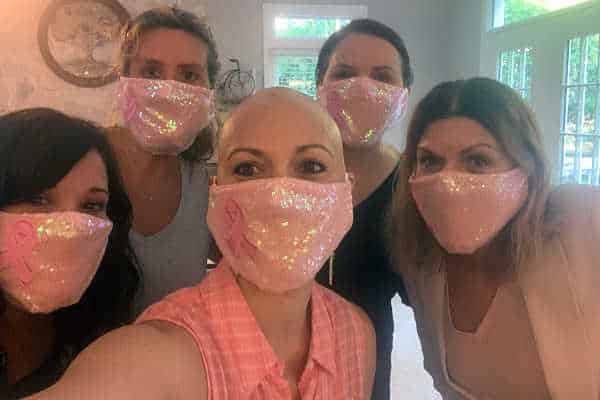 Dana added: "Opening the gift, I felt proud, I felt empowered, I felt supported and I felt loved.
"When you look in a mirror and don't even recognize yourself and someone, as selfless as these women, go out of their way to make you feel pretty again – it's indescribable.
"I felt genuine happiness, I felt blessed, and I want everyone going through a cancer diagnosis to know that they are not alone."
Watch the sweet moment Dana receives her wig below