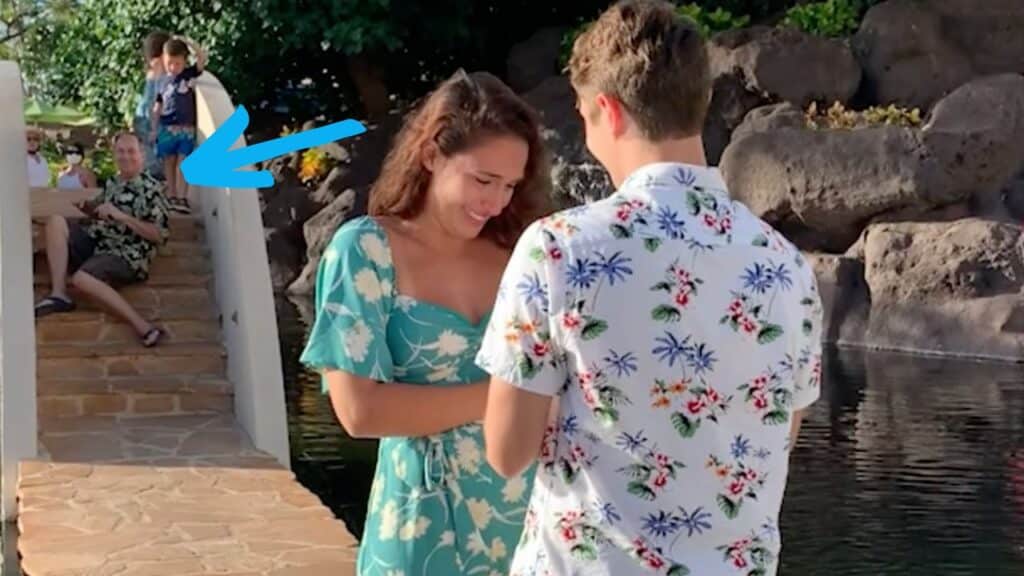 A wholesome dad has been captured on camera stopping passersby at a scenic spot so that his daughter was proposed to without interruption.
As Ben Cranny, 22, headed towards his girlfriend, Ariana Guido, 22, and got down on one knee, Ariana's dad, Mike Guido, 66, watched on from steps nearby.
Proud Mike's excitement during the moment was clear, and when a family of passersby attempted to walk across the bridge where the proposal was taking place, he jumped into dad mode and kindly indicated for them to hold back during the proposal.
The moment was captured on video at the Hyatt Regency in Kaanapli, Maui, Hawaii, with Ariana not noticing her dad's gesture until she watched the video back.
RELATED: Daughter Travels Cross Country To Surprise Dad With Grandson He's Never Met
She and Ben met at college in Oahu, Hawaii, but when COVID hit they had to go home for several months before finishing their degrees virtually.
Ariana later planned a trip back to the island with her parents, but Ben said he could not make it because he couldn't get a COVID test in time and was finishing a senior research paper.
But on their final day, Ariana's mom suggested heading to the beach to take some family photos and it was at that point Ariana saw Ben walking towards her, before he popped the big question on a bridge.
The moment took place on November 21, 2020, but Ariana shared a video of the moment on social media in 2022, as a way of highlighting her dad's sweet gesture – immediately going viral.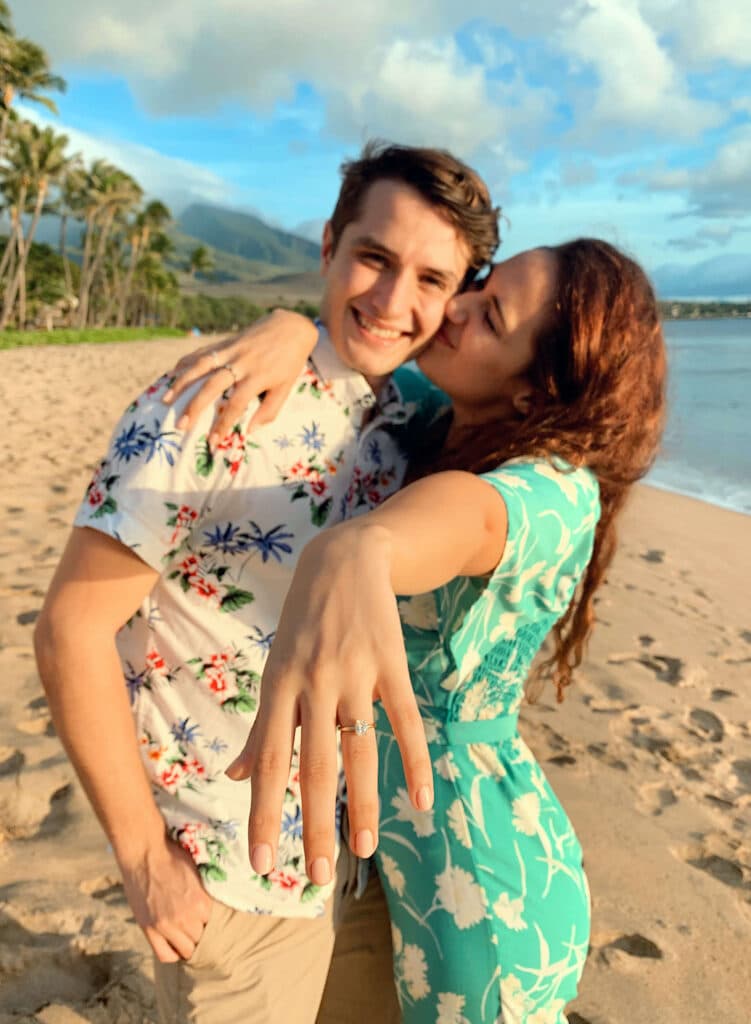 RELATED: "It's The Best Gift Ever – And It's Not Even For Me!" – Daughter Wipes Away Dad's Tears As He Reads Customized Book About Their Adventures Together
She said: "He was embarrassed he was in the background of the video at first, he apologized when I showed him, but I told him it made the video even better.
"He didn't want anyone ruining the moment and catching that on camera is just too good.
"The response has been 100 percent positive – it's been so fun and I love having the whole internet tell me they want to protect my dad at all costs as my sisters and I have been saying this for years.
"It really made me appreciate my relationship with my dad and the fact that I get to share these big moments with him."
Story via T&T Creative Media