A six-year-old girl wiped away tears from her emotional dad's eyes as he read through a customized storybook about the support he would give her as she grows up.
Dad Nick Bryant, 35, welled up as he reached the end of the story, which was about how daughter Reagan would go from a baby to little girl with him by her side.
It was when he reached the line, "Gravity has nothing on you, you'll touch the sky," featuring a cartoon of Nick tossing Reagan into the air, that the loving father really welled up.
As Reagan wiped away her dad's tears using a napkin, Nick declared: "It's, like, best gift ever – and it's not even for me!"
The book was a surprise for Nick from his wife, Sheree, 36, who wanted to give him a father-daughter gift of real sentimental value.
It was produced by a company called Hooray Heroes, which specializes in making customized books about kids' and parents' adventures.
After a brunch one day, Nick decide to read the book to Reagan, which resulted in waterworks that Sheree admits she rarely sees from Nick.
Sheree, speaking of the moment that took place on June 20 and was later shared by Hooray Heroes, said: "I thought, she is so caring and nurturing, and there were no tears in her eyes – she knew her daddy had happy tears.
"The moment made me feel warm and fuzzy – I rarely see Nick cry tears of joy, or at all, so it was very memorable.
READ MORE LIKE THIS: Parents Surprise Daughter With Book Revealing New Baby Sibling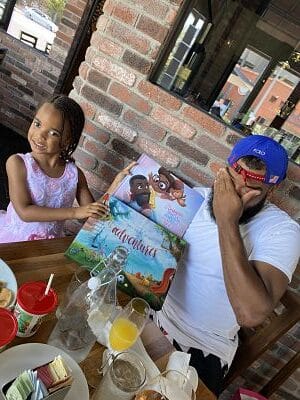 "Reagan then wiped his tears and said, 'Please don't cry.' It was pretty awesome.
"If you have children, nieces, nephews, cousins, god children, find cherished moments like this.
"As an adult, its necessary, healthy and okay to show these emotions to children.
"To all the dads with daughters: there is no bond greater or more precious.
"Little girls need fathers as father figures in their lives more than ever, and I pray this type of love to every little girl in the world."
Story via T&T Creative Media