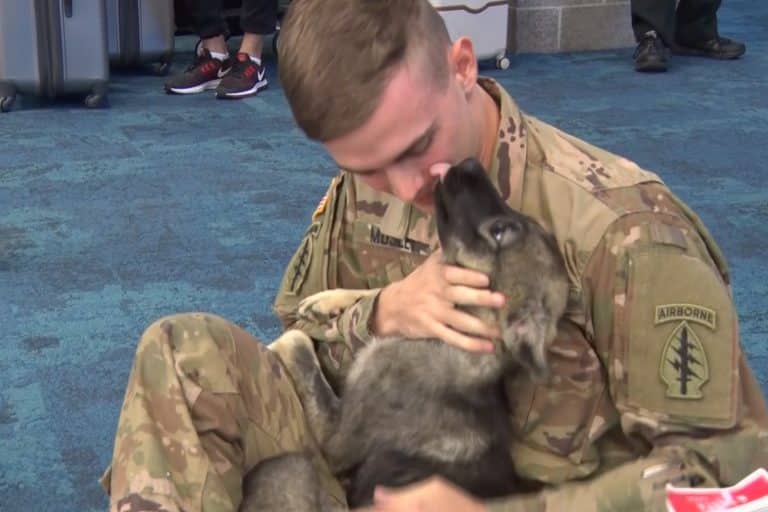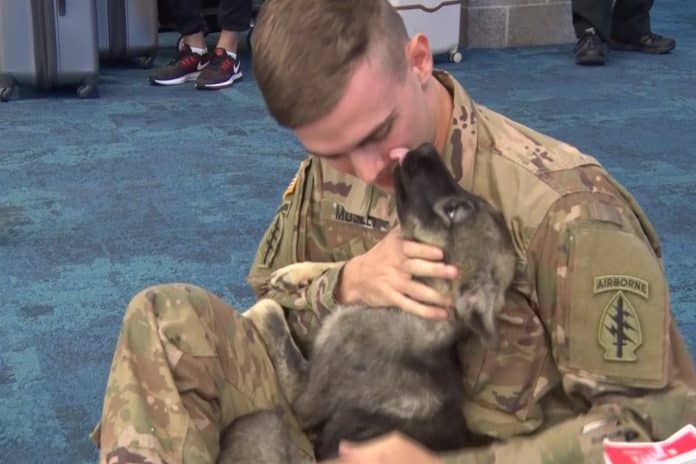 An abandoned puppy from Syria has been given a second chance at life after it was rescued and adopted by a U.S. soldier who discovered the dog while on deployment.
Emotional Tyler Mosley, 23, could not hide his joy when German Shepherd Daisy completed her roughly 6000-mile journey to the United States last month.
U.S. Army Spc. Tyler, from Phoenix, Arizona, first met Daisy when she was brought to his compound after a technician had discovered her sat roadside next to her dead sibling.
Still just a puppy, fearful Daisy's lovingness meant she immediately warmed to Tyler, and pair formed a special bond while in camp.
Tyler would spend time with the dog after his daily duties, washing her blanket, making sure she was fed and watered, and keeping her comfortable and warm.
Each night, when Tyler would leave Daisy, the dog would cry because she missed him so much.
Tyler, who is with the 7th Special Forces Group, said: "We had a really, really strong connection in Syria.
"When you're separated from your wife and family, it's nice to have something besides the guys you are working with.
"When you are in an environment like that and you're separated from everything you have, and you have an animal, you grow a connection to them because that's the one thing you can physically be with out there – you become so attached."
READ MORE: Huge Bullmastiff Smothers US Soldier With Kisses On Return Home
According to Tyler, his unit's rules meant that if no-one intended to house Daisy long-term, she would not be allowed to stay in the camp.
Having spoken to his wife, Tyler decided he wanted to do everything possible to make sure Daisy could return to the United States with him.
The process required the help of the Society for the Prevention of Cruelty to Animals (SPCA) International,
And after leaving Syria in January 2019, Tyler was reunited with Daisy in April at Destin-Fort Walton Beach Airport in Florida.
Tyler added: "I just knew that I would do whatever it takes to get her home.
"Besides the captain that was also helping me take care of her, she only had me and him.
"I really relied on her when I just needed something to hold.
"I knew she would love me back because whenever I would leave her at night, she would be crying and barking at me while I was walking away.
"Every time I would be walking away at night, I would be praying for her – to give her strength and to keep her warm and to look after her while I couldn't.
"[Going to the airport] I told myself the whole way there, hey, man, don't tear up.
"As soon as I knew it was her in the kennel when they were walking out, instantly, just tears – tears of happiness.
"That's what she is for me: she's happiness."


(Courtesy of T&T Creative Media)