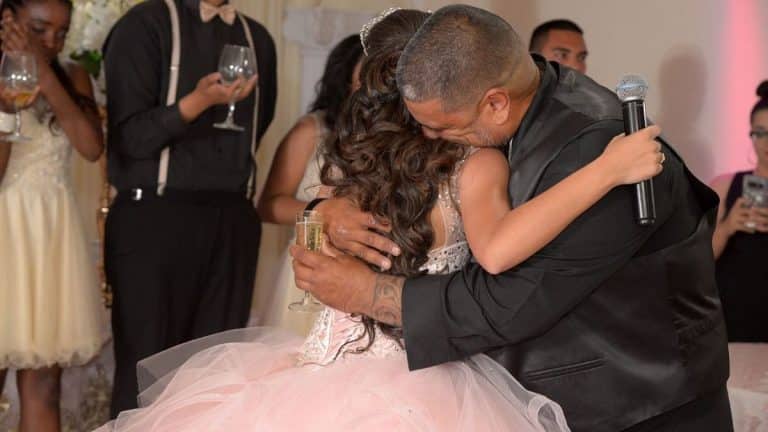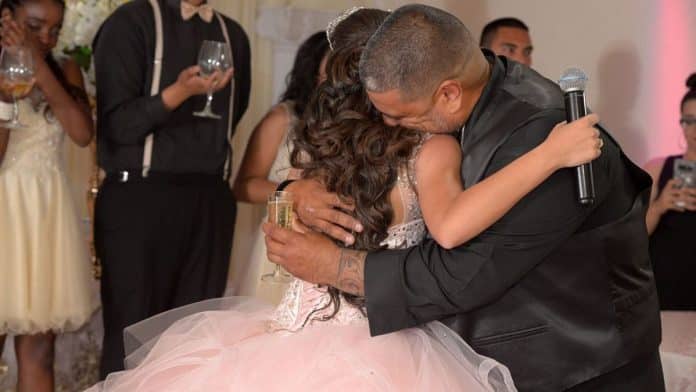 A girl surprised her stepdad during her quinceañera toast by asking if he'll adopt her – leaving him crying tears of joy.
Manuel and Gabriela Ortiz, who lives in Arizona, USA, met in 2016 when Gabriela's daughter Rosa Vazquez had just turned 12.
Rosa had never had a father figure in her life and was unable to form a close bond with the prior relationship her mom had been in before meeting Manuel.
But something clicked with Manuel, who was a single father raising a daughter of his own, and their relationship was what Gabriela wished for Rosa with Manuel treating her like his own.
When adoption had been discussed in the past, Rosa would get emotional and didn't want to talk about it, though she doesn't remember much of her biological father.
So Manuel wanted to leave the decision up to Rosa and hoped when she was ready she would let the family know.
On the day of her quinceañera, Manuel gave an emotional speech saying even though he wasn't around when she was little, she'll always be his baby and he loves her with all his heart.
When he passed the mic to Rosa, both of them began getting emotional, and she thanked him for always being there for him when she feels like nobody else is.
She also thanked him for being the father figure in her life, and revealed how she couldn't imagine anyone else in his place before asking if he'll adopt her.
An emotional Manuel, after wiping away the tears, replies: 'I'd be honored Rosa.'
READ MORE: Girl Surprises Stepdad With Photo Book Adoption Gift
Looking back on the beautiful moment, mom Gabby said: "I was trying to keep strong for her so she wouldn't fall apart during her speech.
"I knew how important this was for my husband and for our family and it made me so happy to know this decision came only from her.
"This is the life I had wanted for her but never imagined it really happening. I can't express how happy it makes me.
"My oldest three kids are from one relationship and Rosa was from a different relationship but she doesn't remember her biological dad since she was aged four.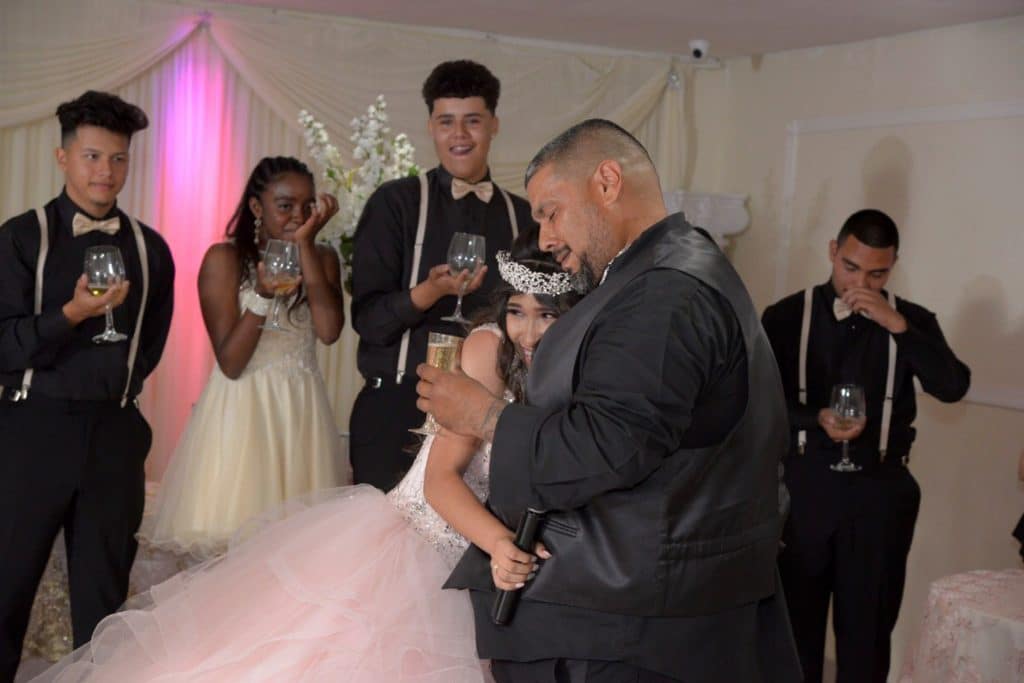 "She'd never had a father figure in her life, for years she saw my older three would go with their dad often and it would just be her and I.
"I had a prior relationship before my husband and she never got close to them. With Manuel it changed – their relationship is what I always wished she had he treats her like his own.
"Adoption was a delicate subject for Rosa to talk about, we mentioned it to her because she was aware I'm going to adopt my 5-year-old stepdaughter whose mom isn't in her life either.
"We were hoping to do the adoption for both at the same time but we didn't pressure her about it and she decided on her own to ask Manuel the day of her quinceañera to surprise him.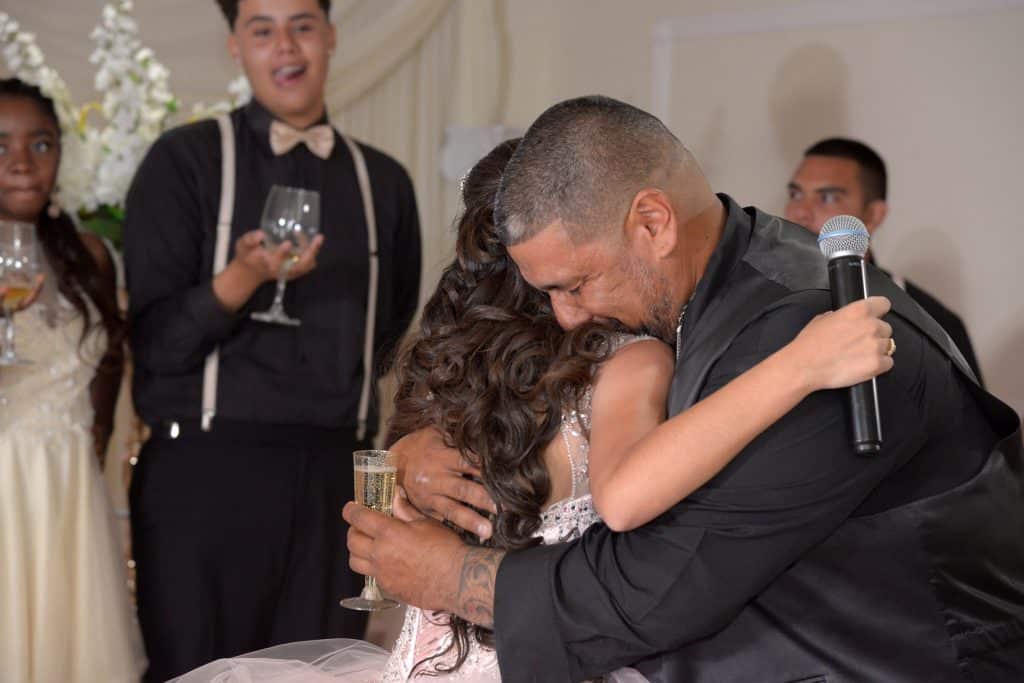 "Right after she asked there wasn't one person in the room that wasn't crying. As soon as the toast was over our family and friends came up to us hugging and congratulating us.
"Everyone was surprised as much as he was and there was tears of joy in everyone's faces. It was a very emotional moment for everyone."
Manuel added: "I was feeling very happy to hear her say what I mean to her in her life. Then when she asked me to adopt her I felt extreme joy.
"It was a joy and happiness I felt the moment my 5-year-old was born.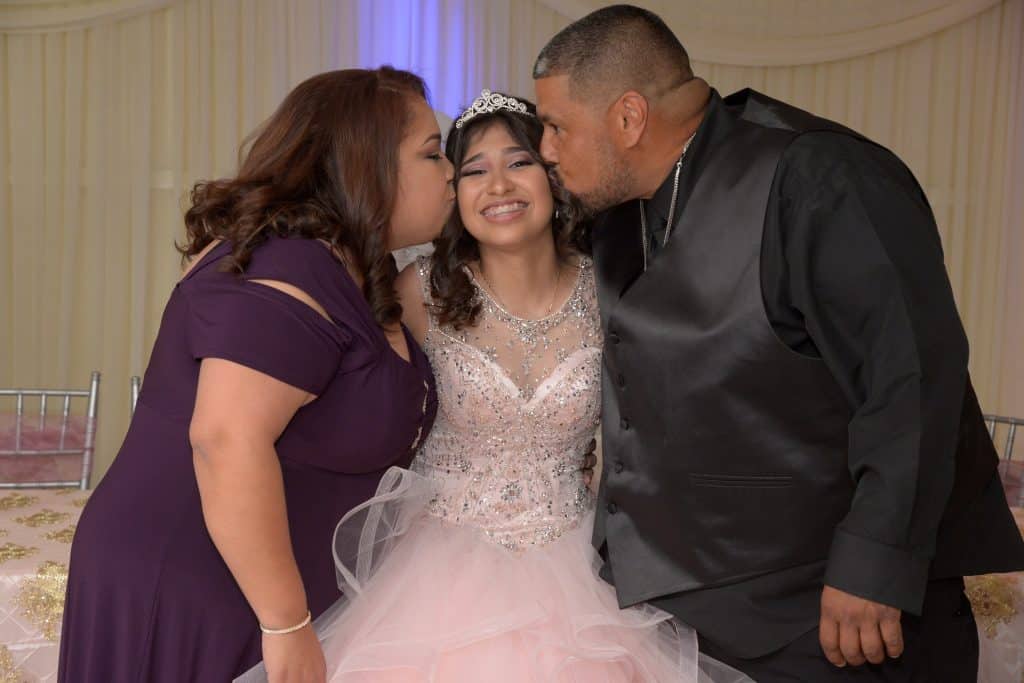 "Before, even though she would introduce me as 'dad' to her friends I still felt as though something wasn't quite complete.
"But now I know how she truly feels we have grown closer together as a true father-daughter relationship."

(Courtesy of T&T Creative Media)