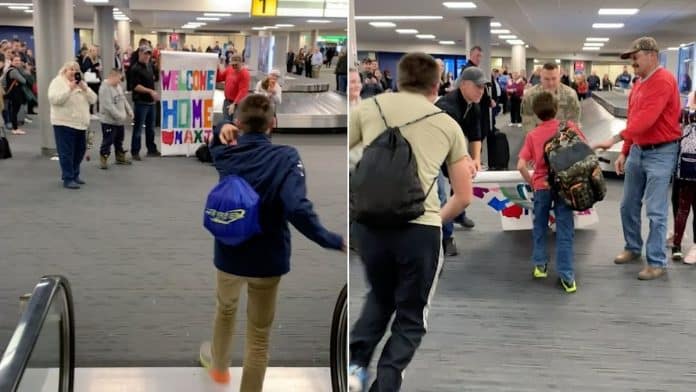 Four kids were left stunned when they arrived at an airport for a reunion, only to discover their military dad who they thought was still in Afghanistan hiding behind a 'welcome' banner.
The Minnich children – Michael, 15, Ashton, 13, Xavier, 10, and Jolie, 9 – had flown to visit their aunt and uncle in Columbus, Ohio, while their father was deployed overseas.
Captain Patrick Minnich, 39, had been serving with the U.S. Army in Kabul, Afghanistan, for the last seven months, and so the children headed from Oklahoma City to Columbus without him.
Hours before the November 22 pickup, their aunt and uncle, Marcia and Jeff Kish, were also none the wiser of Patrick's sudden appearance.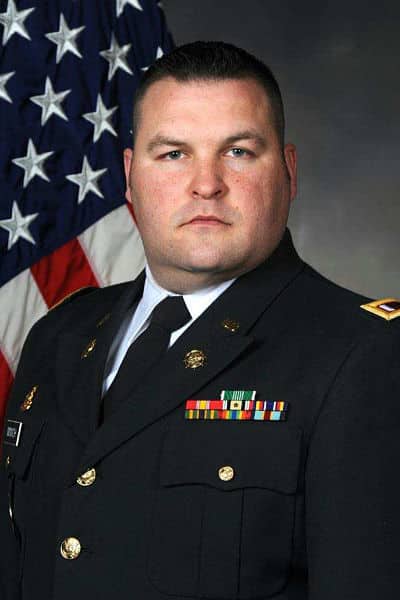 Having returned from Kabul for a four-week training course in Fort Lee, Virginia, Patrick was granted time off to visit his family before return to his military commitments.
And after surprising Jeff and Marcia – who were waiting to pick up the Minnich children from Columbus Airport ahead of the Thanksgiving weekend – the group then drove to the airport, planning their big surprise for the kids along the way.
The group created an adult-sized banner to welcome the four children and, as they approached, Patrick emerged from behind the banner, causing wild scenes of celebration.
The joyous children ran across the airport baggage claim area, jumping on their father while happy onlookers cheered Patrick's return.
-Scroll down to see heartwarming video-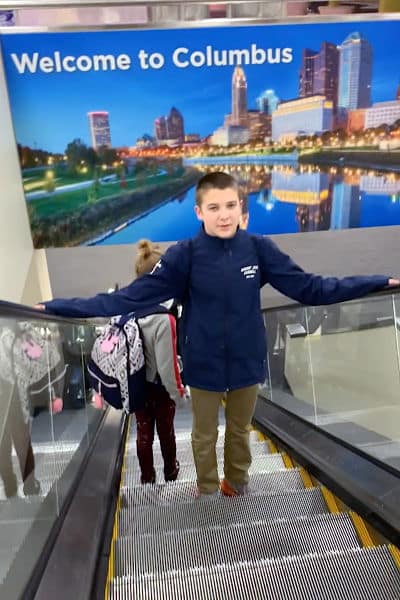 Xavier even cheekily declared to his father, who had been away since April 2019, "You're home? What took you so long?"
Since the surprise, which saw Patrick stay with his family for a week, the captain has now returned to Kabul to continue his deployment until May 2020.
Marcia said: "I could not hold back the tears – I was impressed I was able to keep the video rolling.
"My heart melted as I saw all four of them run after their dad.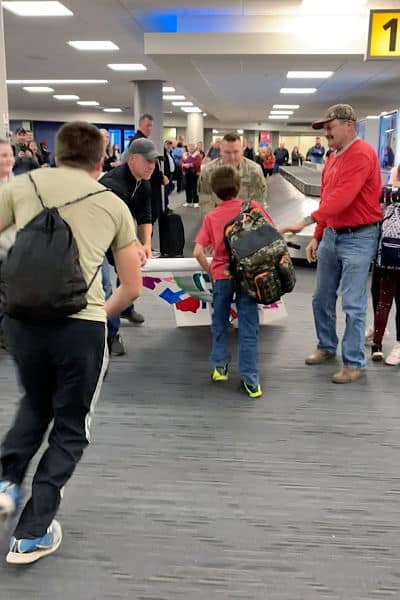 "I am still blown away that my brother was able to hug and hold onto all four of them at the same time.
"Even to this day, every time I watch the video tears of happiness, love, and joy start to flow.
"Words cannot describe how excited I was for his four kids.
"They miss their dad so much, and to be able to spend a whole week together at Thanksgiving, it put being truly thankful into a new perspective."
Story courtesy of T&T Creative Media.