A bride and her father put a unique twist on their father-daughter dance – singing along to their beloved Dodgers' 7th inning stretch.
The video was captured by Vanilla Film, a wedding videographer, and has quickly wracked up hundreds of thousands of hits online.
The emotional bride begins by addressing the wedding party, saying: "This is the part where my dad and I are supposed to dance.
"But that's not something we've ever done."
Choking back tears, the bride continues: "I thought it may be best to do something that we like to do and really represents us well.
"This is something I had the greatest memories with my dad from my childhood.
"And as an adult, it's time for our favorite part of Dodger baseball, the seventh inning stretch."
The bride's father – wearing his Dodgers cap – had no idea his daughter was planning to do this.
As he listens to her read her speech, he too begins to tear up.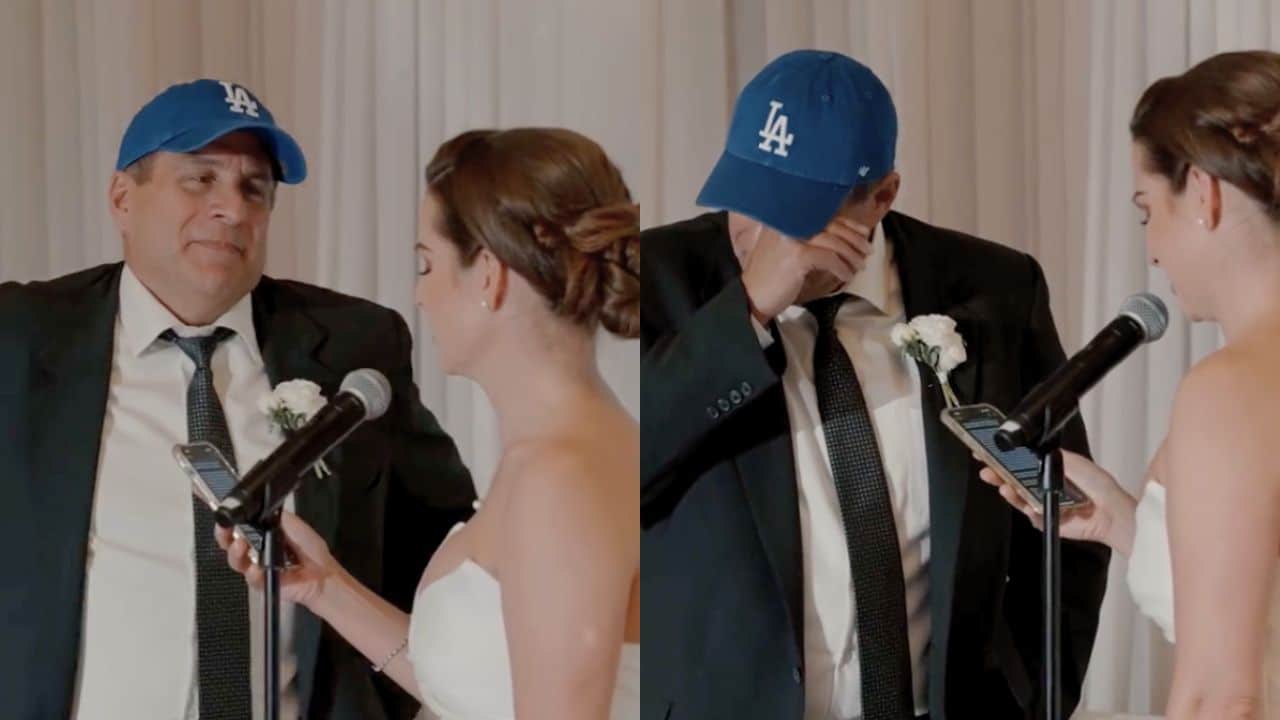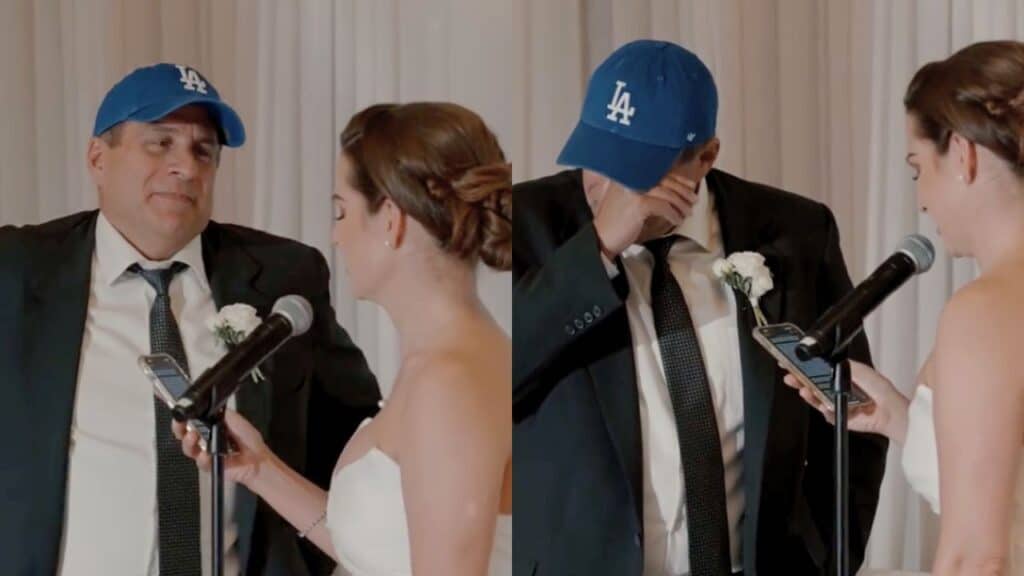 RELATED: Five-year-old Little Leaguer Goes Viral as He Puts Down Bat to Bust Out Dance Moves to His Walkout Song
As the famous song Take Me Out To The Ball Game begins to play, the bride quickyl remarks "we are terrible singers" before they launch into a hearty version of the song along with all their guests.
The bride – wearing a giant blue foam hand – leads the guests as they wave napkins to the jaunty tune.
The clip has wracked up thousands of views online and commenters saying this is how they want to do their own dance's with their father's.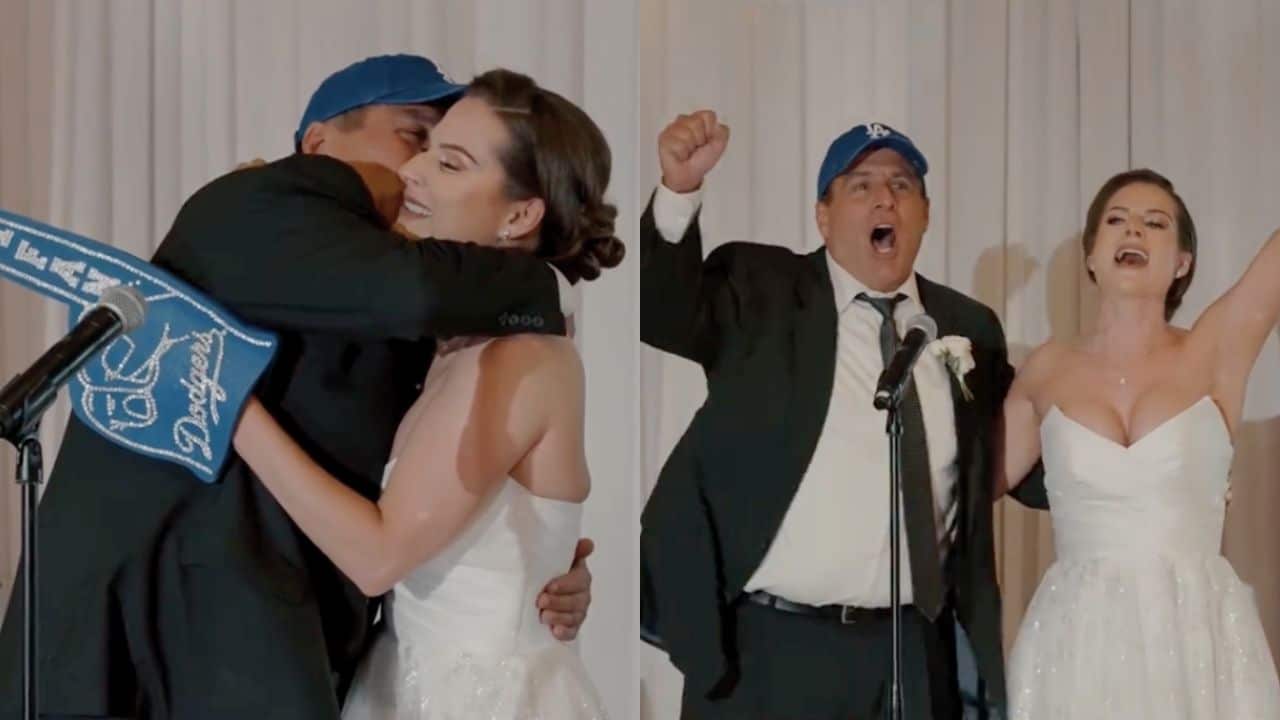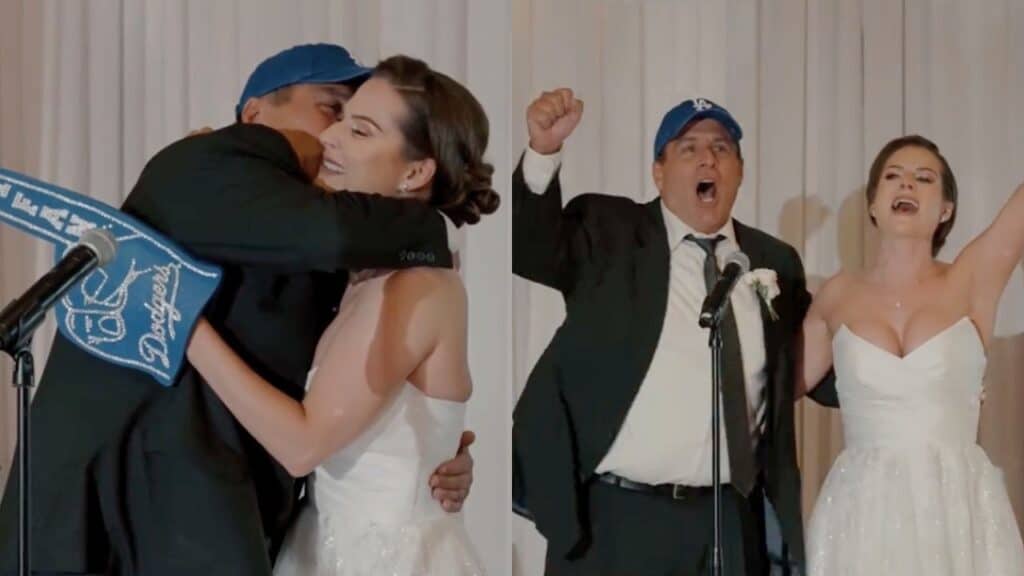 RELATED: Girl Bullied Over Rare Condition Surprised By Local Baseball Team Who Show Up To Encourage Her Through Singing Recital
Katie Rose said: "I never expected Take Me Out to the Ballgame to make me cry, but here I am."
Another added: "I did a first look with my dad. He turned around and I was holding our gloves. We played a game of catch. I absolutely love this 💙🤍"
Another user said: "That "Dodgers!" was from his soul 💙…love this! Go Dodgers!!"