A deaf and blind dog suddenly burst into life when she caught the scent of her owner's physician father, who she had not had contact with for more than a year because of the pandemic.
In the emotional footage, Australian Shepherd Bitsy can be seen walking around the yard at her owner Hayden Kristal's home, in Pueblo, Colorado.
As Hayden's father Steve Kristal, 64, approached, Bitsy, 5, was initially unaware of his presence – but all that changed once the shepherd caught a whiff of Steve's scent.
Bitsy immediately began jumping on Steve and squealing with joy, instantly recognizing the man who she had shared a bond with for so many years before they were separated.
Hayden, 26, is a public speaker and stand up comedian, and when she moved to Colorado in the summer of 2019, she took her dogs with her.
Bitsy and Steve had already built up a strong relationship in Hayden's hometown of Royal Oak, Michigan, by that point, and over the months after the move, the pair were still able to see each other on a regular basis.
But that all changed when the coronavirus struck.
Steve is an emergency medicine physician, and when the pandemic hit he didn't feel it was safe to travel.
READ MORE: Rescue Dog Reunited With Navy Owner After Boot Camp
Hayden said that her father's worries were not that he was afraid of being exposed to the virus, but because he had been treating COVID patients all day, every day, and didn't want to expose his daughter or anyone else he would encounter on his way to Colorado.
Altogether, it had been about a year and a half before Steve and Hayden could see each other again, with the reunion taking place on March 3.
By that point, Steve had been fully vaccinated and the number of COVID patients he was seeing had dropped, making it safer to travel.
As soon as Bitsy caught Steve's scent, she knew that her grandpa had arrived, Hayden said.
READ MORE: Dog Goes Wild At Being Reunited With Doctor Owner After They Had Spent Three Weeks Apart Due To COVID Isolation
The 26-year-old later shared the video online, where owners of disabled dogs showed their support.
Bitsy and Hadyen have a workshop together called Lessons On Ability From My Deafblind Dog, where they use stories from Bitsy's life to teach lessons about ability, ableism, perseverance and love.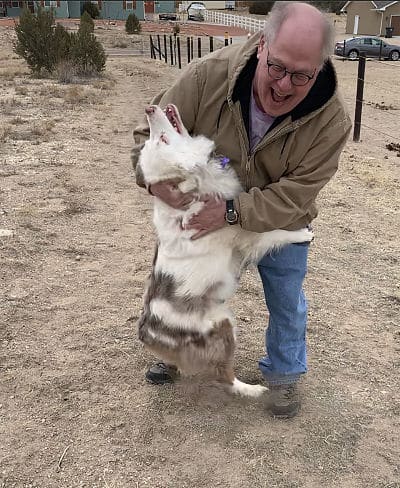 Hayden, who herself is deaf, said: "The response to the video has been unbelievable.
"Bitsy is such a special animal and my dad is such a wonderful person, so being able to share the joy in their reunion with so many people has been an absolute privilege.
"I've also loved seeing the response from other owners of deaf, blind, and deafblind dogs.
"People often assume our dogs have a lower quality of life, and I think for so many people to see that that simply isn't the case – that our dogs live complete, happy lives with families that love them – has been really moving and gratifying for all of us.
"This video shows there is a light at the end of the tunnel.
"That the past year has been extraordinarily difficult, but thanks to the tireless work of the scientists who created the vaccines, the essential workers who kept us going, and the healthcare professionals like my dad, we will get through this."
Story courtesy of Hayden Kristal via T&T Creative Media