A baby couldn't stop kissing her twin sister through a video call after coming around from an operation that saw the pair fully separated for the first time ever.
In the amazing footage, 11-month-old Jo can be seen immediately recognizing her twin sister, Nona, on the screen, heading in for a closer look before planting kiss after kiss on the screen.
Parents Audra and Michael, from Twin Falls, Idaho, said Jo and Nona love to kiss and tickle each other, so as well as planting smooches on screen Jo even tried tickling the phone and playing virtual Patty Cake with her sister.
During the first 11 months of their life, Jo and Nona had been inseparable, only spending a couple of hours apart at most.
READ MORE: Twins Caught Red-Handed Devouring Box Of Chocolates Adults Left On Table
But a kidney ailment meant Jo would always need to undergo an operation, the family said.
They waited six months for Jo to be strong enough to handle surgical repair and almost six more months for a bed to become available to fix hydronephrosis, a kidney malformation present before birth.
The four-hour operation took place at St Luke's Children's Hospital in Boise, Idaho, on January 26, and grandma Nina [pronounced: Nine-a] later shared footage of the twins' wholesome video reunion.
Speaking of Jo's loving reaction to seeing her sister, mom Audra said: "When we called my mother and the other children at home, Jo immediately smiled and perked up.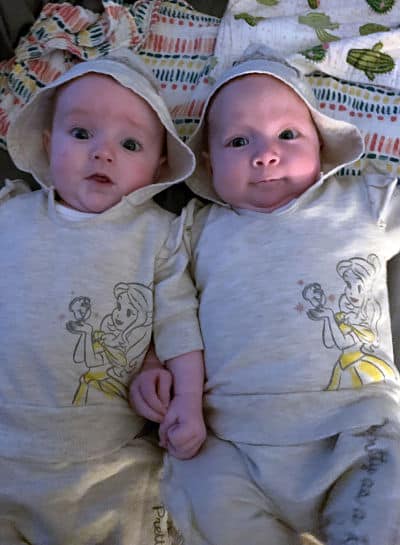 "But when my mom brought Nona to the camera they both began squealing with joy.
"What you see in the video is Jo placing enthusiastic kisses on her sister's face through the screen and playing their favorite game of Patty Cake which always ends in tickles – it was so heartwarming.
"It's hard to see your baby in such a vulnerable, painful situation, and to have another baby at home feeling distress makes it that much worse.
"So, we just loved seeing them both happy and excited – acting something like their usual selves."
Grandma Nina added: "Honestly, when I saw the video, I cried.
"These girls truly have been each other's best friends from the moment they could recognize faces.
"They are the sweetest babies, very patient, very attentive, and very happy.
"Jo treats everyone like they are the greatest person she ever met, but that bond these two have is and always will be amazing."
Story via T&T Creative Media