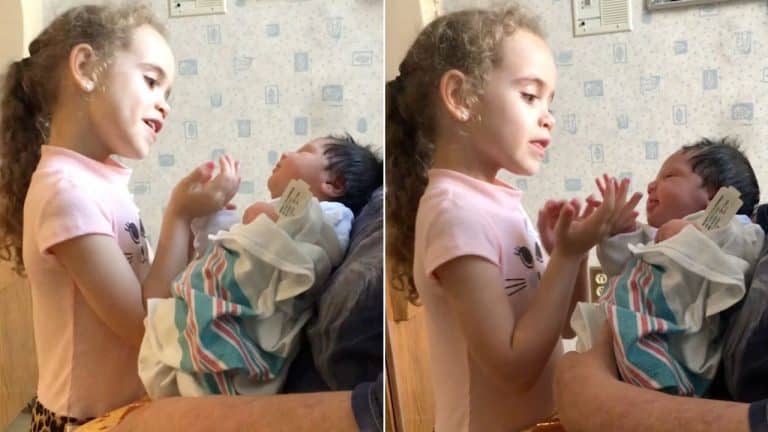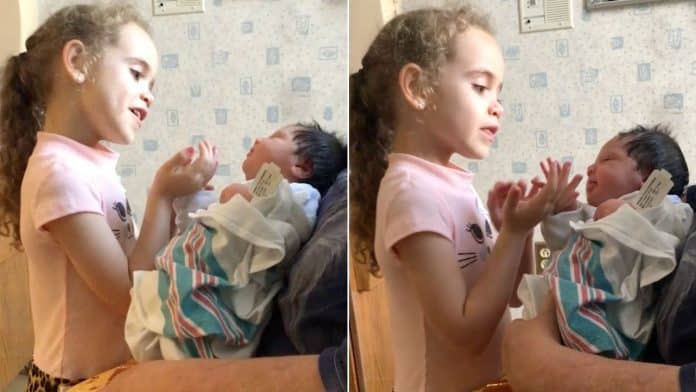 This little girl showed an instant sibling bond with her newborn sister – creating an adorable lullaby to help her to sleep the first time they met.
Sweet Jayda Brennan had just become a big sister for the first time and, when being introduced to her sister, started singing to baby Rayna to help keep her calm.
The immediate, heartwarming connection was caught on camera by their mom Shannon Brennan, from Rochester, New York, at Unity Hospital.
Shannon, who shared the video online on March 29 2018, revealed Jayda had been asking for a little brother or sister for quite some time and was ecstatic her wish came true.
RELATED: Airman Surprised By Military Father And New Baby Sister He Had Never Met
She said: "Jayda had become a big sister just a couple hours before – this was the first time she saw her new little sister and decided to sing her a lullaby to help her relax and go to sleep.
"She is a very creative child and came up with it on her own. Her love for her sister is what I believe inspired the lullaby.
"As well as singing lullabies Jayda also likes to perform dances for her sister.
"She'll say being a big sister is fun, Rayna cries a lot and chews on her toys, but Jayda really loves her – she has become quite the protector of her little sister."
Story courtesy of T&T Creative Media