Being a mom is hard work, but for Chrissy Joy Tunnell it just got a little bit easier – thanks to her trusty dog Good Beasley who chips in with the baby duties.
From fetching and disposing of diapers to rocking the baby to sleep, Beasley loves nothing more than helping care for his human sister Elowen Joy.
Chrissy, a professional dog instructor, adopted Good Beasley, in 2014 and has since trained him to be an attentive helper better than most husbands.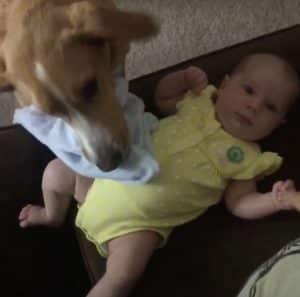 Chrissy, from Maryland, USA, said: "He knows the difference between left and right. He knows how to cover his eyes, roll in a blanket, get you a drink from the fridge. He is very smart, so it is great to have a little help with the chores."
Good Beasley, a three-year-old Ibizan and golden retriever mix, has honed his skills since Chrissy adopted him from Homeward Bound Rescue centre in Pennsylvania.
His ability to learn tricks and human-like behaviour has led him to become a national stunt dog champion – and even appear in a commercial and multiple TV productions.
Chrissy added: "It is a wonderful outlet to teach your dog helpful tricks that make them excited for daily activities.
"I have a really strong bond with Good Beasley and he loves performing useful tricks to help me around the house with his little baby sister."
Beasley can help with tucking in the baby at night with a blanket, fetching bottles of milk, and pushing Elowen Joy in the swing.