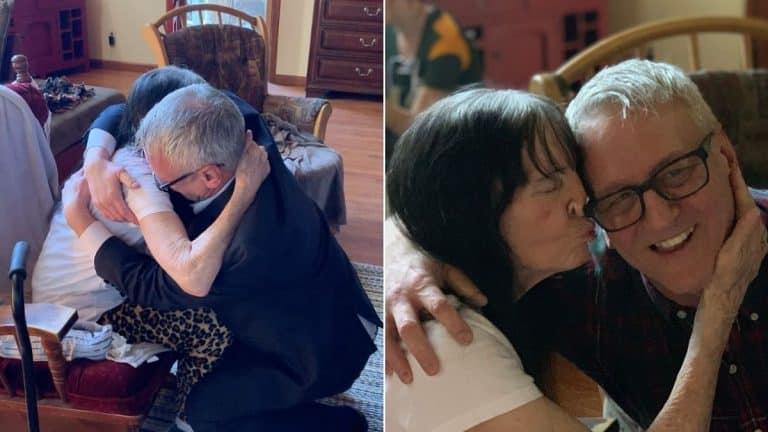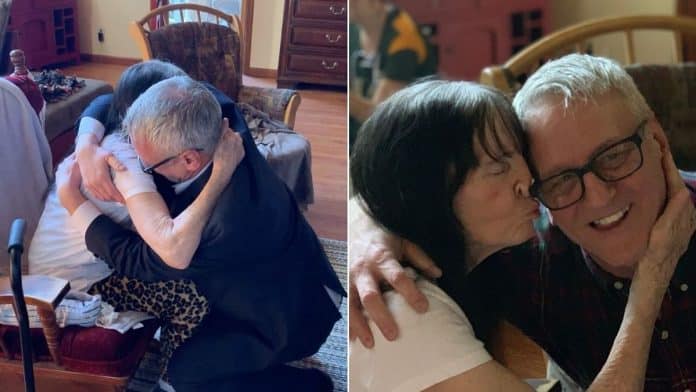 A son emotionally reunited with his biological mother after tracing her through a DNA test and Facebook.
Donny Ballard, 60, had been searching for his biological mother for seven years, but finally got the breakthrough after a DNA test led him to relatives who he tracked down via Facebook.
Just hours after the shocked daughters of Dorothy Marie Pierce-Cohen had discovered they had a brother, they captured the moment their mother reunited with her first child, Donny, whom she had been forced to give up for adoption by her own mother.
In an emotional video Donny and his mom embrace in tears as they see each other for the first time in 60 years.
-Scroll down to see video below-
Alice Bradford, Dorothy's daughter, said: "It all started when I received a call from my niece Amy. She had previously done DNA tests to trace our family tree, so was in the ancestry databases.

"She had been contacted by a friend on Facebook who said she had lived with a fostered child called Donny, who had been searching for his biological parents.
"A DNA test had led them to our family, as we'd shown as a strong positive match.
"Amy asked me if I thought my mom had a biological child that she may have given up for adoption.
"It threw me off for a minute, but I told her I would ask my mother and get back to her.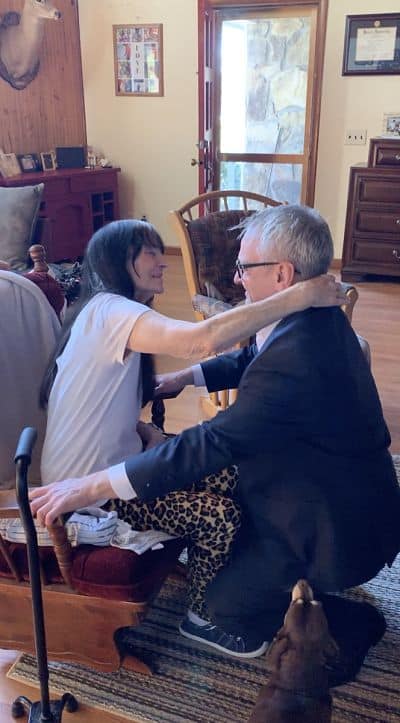 "I said my momma, 'Its okay you can tell us', and she just started breaking down and crying. She said she had had a son, but her own mother had forced her to give the child up at birth for adoption."
For Alice and her two sisters the news that they had a brother was shocking news, but welcome news as the family had lost their two brothers aged 18 and 21, leaving only the three sisters.
Their mother Dorothy had given birth to a boy sixty years ago, named him Donny but then been forced to give him up for adoption.
He went on to be adopted by a family in Georgia.
Pained by the loss of her son, Dorothy moved out of the family home and married her first husband – going on to have five children, two boys and three girls.
Tragically, the two sons passed away, leaving Dorothy heart broken.
Dorothy, no aged 80, never revealed to her remaining daughters that they had a secret sibling but said she had always carried the memories of her boy in her heart.
Alice said: "After we got the call from our niece about Donny, our long-lost brother, we naturally started asking our mother if it was true.
"She explained through floods of tears that Donny was in fact our brother. She said she had never forgot about her baby boy even after 60 years.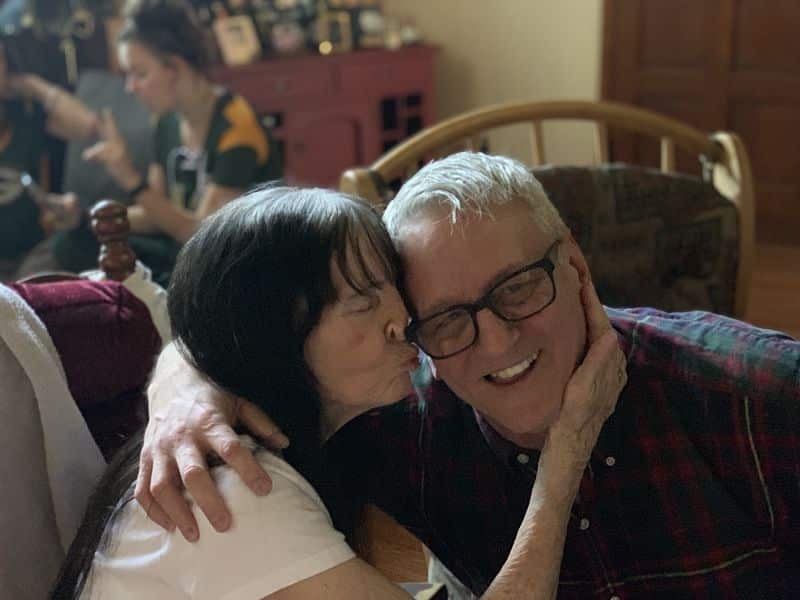 "Her mother had never given her a choice in the matter when she came to keep the boy, so after the adoption she moved out of their home and kept only the good memories of a beautiful boy that she missed everyday of her life."
Despite the incredible revelation, the daughters reached out to Donny who sent them a copy of his birth certificate, which contained their mothers signature proving he really was his mother's son.
It brought to an end a seven-year hunt to trace down his mother, who had moved away from Georgia to live in a small town in Tennessee with her daughter Alice Bradford after suffering a debilitating stroke.
But after making the connection, Donny immediately arranged to meet his biological family.
In a video recorded by Alice Bradford of the moment Donny reunited with their mother, he can be seen entering the living room as Dorothy sits in her armchair.
He bends down to embrace his mom, who he has never seen before in his life as the two break down in tears as Dorothy reaches out to touch her son's face, hardly able to believe her eyes.
Alice added: "This was an amazing moment in our lives and since this day I have watched my mother and brother smile and hug and be happy that they finally found each other.
"It is amazing to think that without ancestry websites and DNA tests my brother would never have been able to reach out and find us, allowing his dream to become true.
"For us sisters, we lost our two other brothers, so to have now gained one we didn't know we had is amazing."
Story courtesy of T&T Creative Media.