This is the emotional moment a U.S. Air Force senior airman captured his family's extreme reactions to him returning from deployment after 10 months overseas.
In every clip, Miguel Jimenez Machuca's family and friends froze in shock, looked stunned, and then cried happy tears as they were finally able to hold Miguel once more.
The moments took place after Miguel had spent 10 months on rotation in Qatar, and after watching a number of military reunion videos on social media, he decided he would try his hand at doing the same.
In the first video, Miguel surprised his daughter, Gabriela, at her school, which saw the youngster freeze before running across the hall and leaping into her father's arms, tears filling her eyes.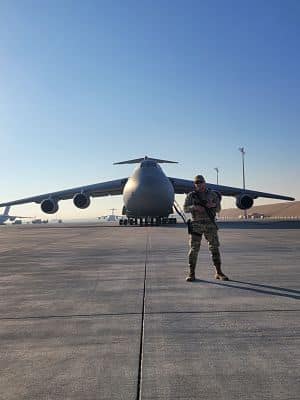 Then, at a restaurant in his native Florida, Miguel walked in like a server and placed down a cola for his father, Manuel Jimenez, who screamed in shock before crying on his son's should, Miguel's mom Milagros watching on.
And then, finally, for his best friend Gabriel Lopez, Miguel walked up his pal's Orlando driveway, where he surprised Gabriel who welled up and ran over for a powerful hug, crying on Miguel's shoulder.
READ MORE LIKE THIS: Airman Reunites With Hospital Working Mom After Longest Time Apart
Miguel shared the moments as a compilation video on his TikTok channel in January.
Given the wholesomeness of each reaction, Miguel's clip soon skyrocketed to viral status, being viewed more than two million times.
He said: "The ideas came from different videos that I saw on social media.
"During each surprise with my family and friend, I felt my heart bursting.
"This was everything that I could have hoped for, and to see how people then reacted in their comments was so special.
"Is amazing how you feel when you return back home after leaving  your loves one behind to serve your country so all the people that live under our flag are safe."
Story via T&T Creative Media