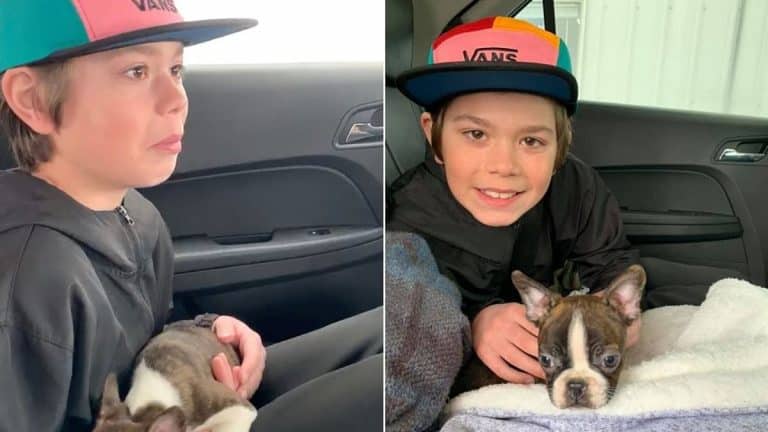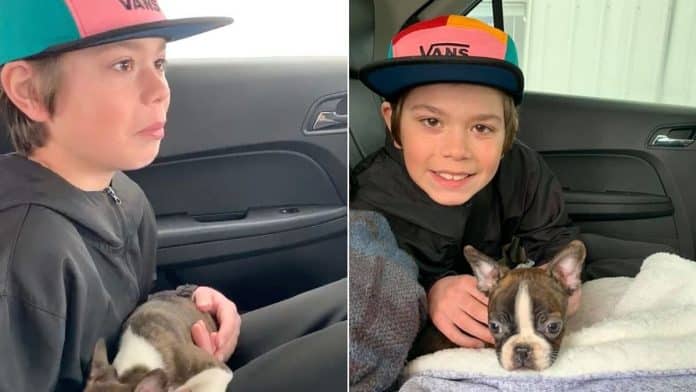 A 13-year-old has been emotionally surprised with a Boston Terrier puppy for his birthday – gifted to him by his Dad, who pre-planned the present before passing away from cancer.
Logan Kavaluskis was overcome with emotion when his cousin Jon Kavaluskis handed him the adorable dog.
The family had told Logan they were heading north from their home in Hudsonville, Michigan, to collect a puppy, but he had no idea it was really for him.
Logan had always wanted a dog of his own, but his dad Joe's allergy to them meant he was never able to keep one in the house.
His father had been. Battling multiple myeloma cancer for nine years when he sadly passed away on January 8, 2020, aged 47.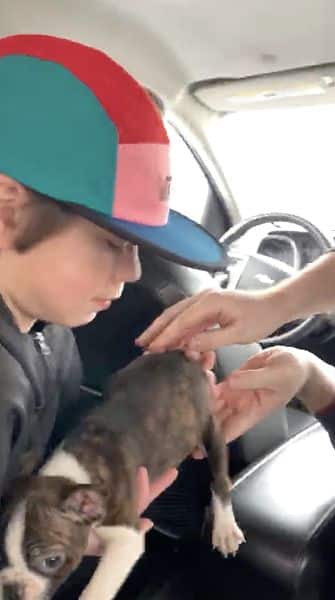 Despite the family's devastation at the news, they enacted a plan Joe had secretly hatched with his wife Melanie to gift Logan a puppy whenever he died.
With the help of Jon, they located a healthy Boston Terrier, and so a few days later on January 13, Logan's 13th birthday, they took a drive north to collect it.
-Scroll down to see video below-
As they pulled into a gas station on the way back, they told Logan – who was still none the wiser – they wanted a picture of him holding the puppy.
But as soon as he held it, Jon revealed the puppy was actually a gift from his dad, saying: "That's your dog. He's yours. Dad wanted you to have a puppy."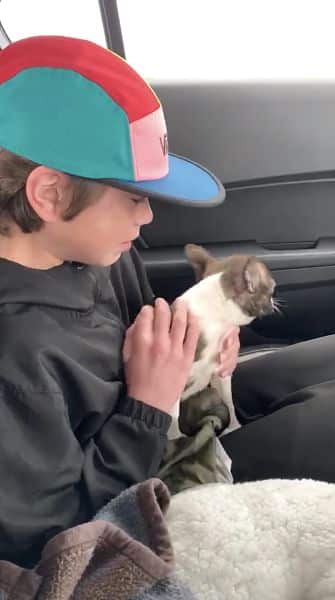 An emotional Logan can't fight back the tears as he sobs, asking "really?" while hugging his new best friend, who he later named Indy.
Jon Kavaluskis said: "We miss my uncle (Joe) terribly but having Indy in our lives does help to cope with the loss.
"For the past couple of years Joe and his wife, Logan's mom, talked and he decided to make her promise that as soon as he passes to get Logan a puppy because he had always wanted one.
"This past Thanksgiving, I cooked dinner and my uncle Joe and I talked about it, so I told him I'd take care of his wish.
"After Joe passed, we didn't think we would find the right puppy for a while, so expected to wait a few weeks. But just four days after Joe passed, we found the perfect puppy.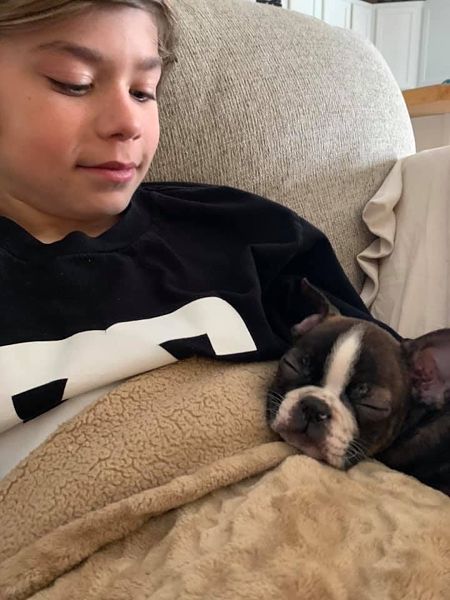 "After speaking with the owner, he said we could come and collect it the very next day, which just happened to be Logan's birthday.
'So, we took him with us with the intention of surprising him on the journey back with the news.
"We told Logan we wanted him to hold the puppy and my aunt will take a picture.
'As I handed Logan the puppy, I told him that he was from his dad, and he was in complete shock.
Story courtesy of T&T Creative Media.