A doting boyfriend left his childhood sweetheart in shock with a secret birthday party and a car which had a surprise marriage proposal hidden in the trunk.
Gissel Santos, 21, from Jersey City, New Jersey, had no idea about the plan boyfriend Leonardo Vargas, 23, had in store for her – but as she enjoyed her party, Leo revealed the final surprise.

Leo, a mechanic, had purchased the car two months prior, and in order for Gissel not to expect a thing, he told his girlfriend they would be heading to a restaurant for the big day on May 31.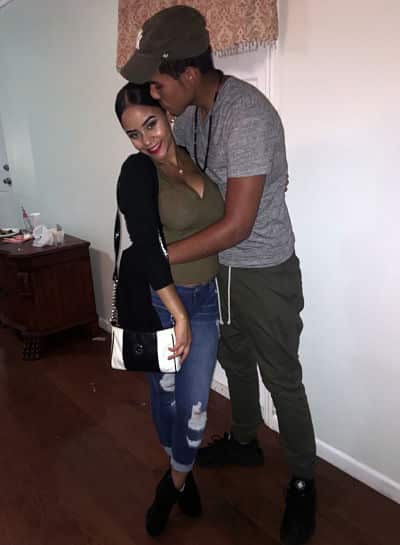 When Gissel came downstairs, she was met by all her family and friends, who Leo had asked to press Gissel to open her presents outside as not to expect what was coming next.

Then came the grand reveal: as Gissel stood outside her family's home, the metal shutters were raised, and there stood a gray Kia, wrapped in a big red bow.

The moment overwhelmed the 21-year-old, who immediately put her hands to her face and started to cry happy tears, leaning in for a loving embrace.
READ MORE: Man Shocks Partner With A Knight In Shining Armor Proposal
But Leo wasn't finished with his surprise just yet, and after his girlfriend had finished inspecting her new ride, he asked her to pop the trunk and take a look inside.

There, Gissel was presented with a message: "Love Is Sweet. Gissel Will You Marry Me."

As she turned around, Leo was already down on one knee, with friends and family capturing the loving moment on video.
Gissel and Leo met in high school, when she was 15 and he was 17, and they are planning to marry sometime in 2023.

Gissel said: "He told me to open the trunk, so I did, and there I saw the beautiful decorations – when I turned around, he was on his knees with my dream ring in his hands.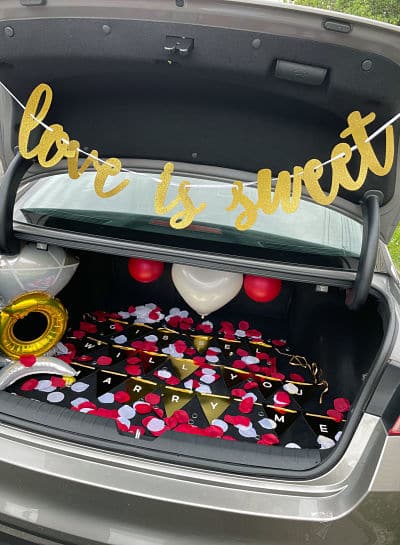 "At that moment I felt like I was living in a fairy tale, it didn't feel real, I was so overwhelmed with all the surprises, all I could do was cry.

"I was so grateful to have such a thoughtful and amazing partner that would go through so much hassle to do all of that for me."
Story via T&T Creative Media