A baby born at 24 weeks weighing less than a jar of spaghetti sauce has finally been able to go home after nine months in the NICU.
Mom Brittany Johnson, from Baltimore, Maryland gave birth to baby daughter Sloane via a caesarean, on May 20, 2022, with her baby girl weighing just one pound, five ounces.
Sloane was born with a rare genetic mutation causing masses on her lungs and had pulmonary hypertension at birth.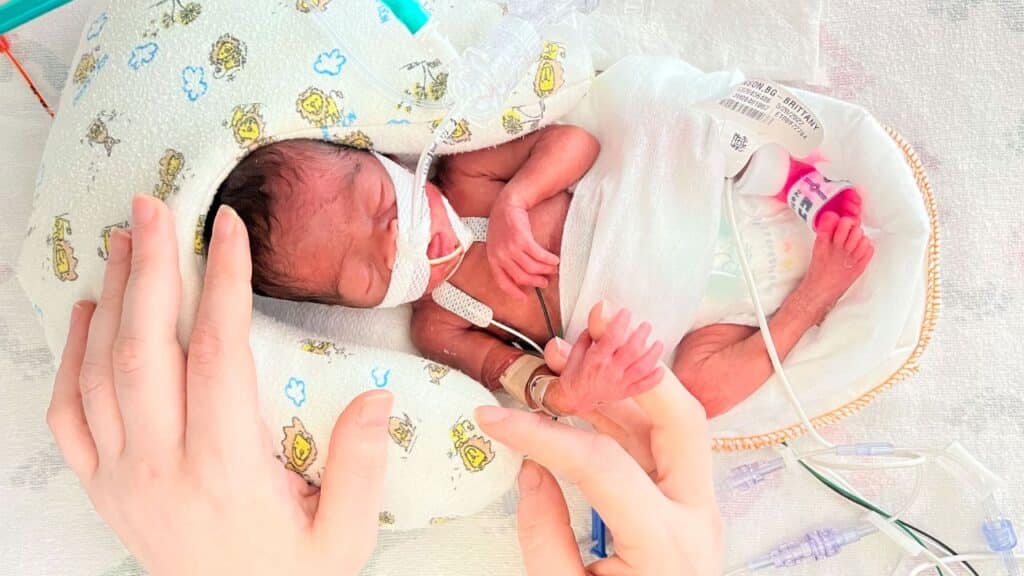 Brittany, 30, said as a result, Sloane spent the next few months fighting for her life at Mount Washington Pediatric Hospital before she had a tracheotomy, G-tube, and hernia repair surgery.
Brittany also faced a difficult nine months herself, going in and out of the ICU to deal with an open wound from her c-section.
Then, a week before Sloane was due to come home, Brittany had her final surgery, meaning that mother and daughter could head home together.
Sloane left the NICU on February 20, 2023, with the family given a beautiful guard of honor by staff.
RELATED: Couple Surprise Family With Premature Baby Who Spent First 113 Days In The NICU
Despite the huge milestone, Sloane still faces a difficult road ahead, Brittany said, and the family are looking for an in-home nurse so that they can go back to work and support Sloane financially.
Throughout Sloane's NICU journey, Brittany shared videos of her daughter's progress on social media, hoping to inspire others who might be in a similar situation.
She said: "We just hope our story gives other NICU moms hope if we can make it home after nine months with all the odds against us.
"We also wish for families to seek therapy together through this. You are not alone.
"Sloane is now thriving at home – this genetic mutation gives us a lot of uncertainty, but we are fighting daily to provide her the best life and opportunities possible with therapy."