A soldier came up with the picture-perfect way to capture his kids' reactions to his surprise return from the Middle East by photobombing a shoot with a professional photographer.
In the adorable images and video, the McKenzie children – Blake, aged eight, Grey, seven, and Lawton, five – are posing for a shoot near MacDill Air Force Base in Tampa, Florida.
Suddenly a car pulls up behind them and Lt. Col. Simon McKenzie, 42, of the United States Army can be seen running into the background of the images.
As the kids turned around and realize it was their dad, photographer Hannah Sanchez managed to capture the perfect reaction shots of the moment, while a family friend shot footage.
The three children screamed with excitement and jumped into their father's arms.
Simon had been deployed in Qatar since February, but when he got the news he would be returning earlier than expected because of the coronavirus pandemic, the family planned a June 21 shoot for Father's Day.
Simon's wife, Kristin, 42, said the timing was pure luck: after Simon had returned to base, he was required to undertake a mandatory 14-day quarantine, which finished on Father's Day.
Since Kristin had not seen Simon before his car pulled up, either, she said she struggled to keep her emotions intact.
As her husband got out of the car, Kristin said she tried to prevent herself from welling up while also making sure the kids did not turn around.
Kristin and Simon also have another son, Caleb, 21, but he was not able to return from working in Colorado because of the coronavirus.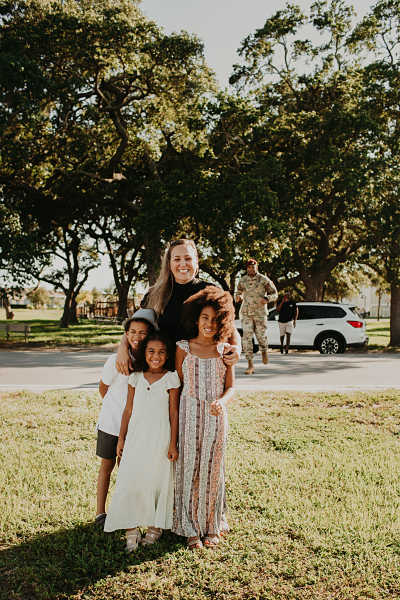 Speaking of the surprise, Kristin said: "I was completely overcome with emotions – so much so that I stepped away for a second, squatted down and just took it all in.
"It was a mixture of pure joy and relief – they were all in a pile hugging on him and our oldest daughter extended her arm for me to get in there.
"I knew they were going to be overwhelmed with pure joy when they saw him, and they did not disappoint – we were whole again."
Story courtesy Hannah Sanchez Photography / T&T Creative Media