A teenager who always dreamed of being a soldier has gone viral after his father shared a video of his son holding back tears of pride during his patching ceremony.
Jordan Polito asked his dad Kenneth to do the honor of patching him during his graduation from training to become a soldier in the United States Army.
In the wholesome footage, Kenneth can be seen walking towards his son as he stands to attention with his fellow graduates.
Then, as Kenneth places the patch on his son's arm, Jordan can be seen visibly moved, choking up and fighting back tears as his father places the patch on his arm.
The moment took place on September 2, after Jordan completed his basic training at Fort Benning in Georgia.
According to Kenneth, the family thought Jordan might pursue a baseball scholarship because of his talents in the sport, but Jordan had always dreamed of enlisting into the U.S. Army.
In March 2022, Jordan told his parents that he had made an appointment at the recruiter's office and that his parents need to be present.
Jordan will continue his career at Fort Benning until at least December, when his next steps will be discussed.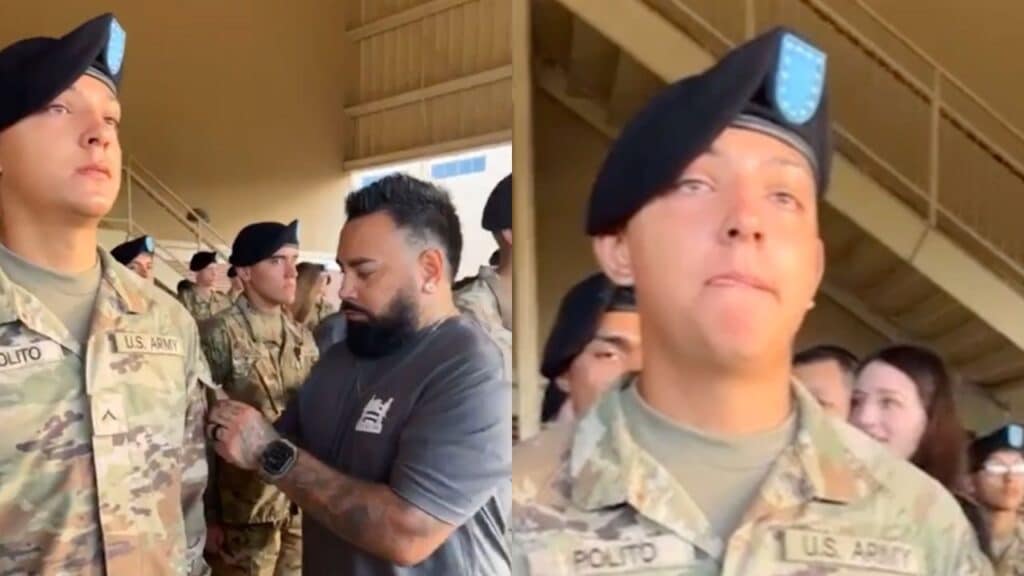 RELATED: USAF Veteran's Wife Secretly Plans Multiple Reunions For Him And His Reactions Are Awesome
Speaking of the patching ceremony, Kenneth said: "Watching our son hold back his tears was just absolutely unexplainable.
"The feeling inside my heart just made me feel scared, happy, sad – it made my knees weak.
"I wanted to just burst into tears and hug him, hold him, but I had to hold it together for him and myself.
"A moment Dad will never forget and cherish forever."