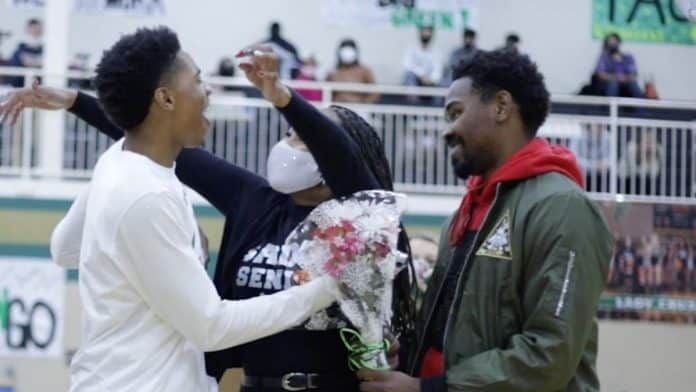 A mom who had been away from home for almost a year helping the COVID relief efforts in New York made a grand return to surprise her basketball star son on senior night.
Joshua Ward's mom, Charlene Bonner, hadn't missed a game since he was three years old, but in March 2020, she was called upon to head to New York to help tackle the COVID-19 outbreak.
The decision was a tough one, Charlene, 48, said, but it was Joshua, aged 17, who encouraged her to go, believing there are greater callings in life.
As the months followed, Joshua, from Cordova, Tennessee, excelled in school, leading First Assembly Christian School in Memphis to become one of the best teams in the state while maintaining a 4.3 GPA.
Due to the intensity of her work, Charlene, a nurse practitioner, missed birthdays and Thanksgiving and then Christmas.
At points, she said, family members questioned whether it was time to come home – but Joshua always supported her and the work she was doing.
Throughout this time, though, Charlene remained determined to see her son feature in at least one game in his stand-out senior season, and ahead of Senior Night on February 9, Charlene was able to arrange for a short period of time off work.
READ MORE: Basketball Crowd Goes Wild As Kids On Both Teams During Middle School Game Let Boy With Special Needs Score
On the night itself, Joshua was brought out onto court, where those present read out his achievements during his time in school.
Then, having been hiding in the back of the gym, Charlene appeared on the court for the big surprise, heading over to give her son a long-overdue hug.
Since the moment, Charlene has returned to New York, where she will continue to help out with the efforts for as long as she's needed.
She said: "I don't generally miss work, but I had to make arrangements to be there for him.
"He has been so supportive and understanding with me not being home.
"It warmed my heart that he was so selfless and unselfish that he was willing to share his mommy with perfect strangers.
"He calls me every day before he goes to school and every night before bed to check on me and see how my day went and how I'm feeling.
"He always has words of encouragement to help me through.
"I was so nervous for some reason, but it was a happy nervous – I couldn't wait to see him and just show up for him.
"I was happy to see the great big smile he is known for."
Story courtesy of First Assembly Christian School via T&T Creative Media