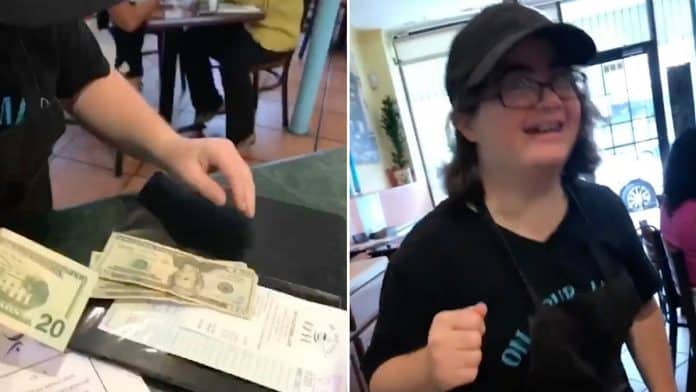 A mystery diner at a cafe left an eye-watering $112 tip for the waitresses who served them.
The kind-hearted customer purchased a relatively modest breakfast at the On Your Mark Cafe in Staten Island, New York.
But that didn't stop them leaving the huge tip for the waitresses – all of whom have developmental or intellectual disabilities.
A video recorded by cafe manager Nicole Jablonski shows one waitress called Jen pick up the bill and realise how much was there.
She slowly begins counting out the money, as all her colleagues watch on in amazement.
As the number keeps growing, they can all hardly contain their delight as she reads out the final amount left – $112.
READ MORE: Preschoolers Choose How They Greet Each Other Every Morning In Adorable Routine
The staff – who all shared in the communal tip – begin high fiveing one another.
Cafe manager Nicole said: "Their day was made and so was mine!"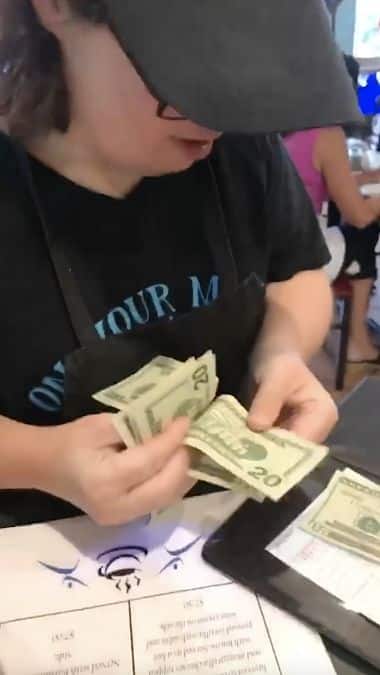 The cafe is run by a non-profit organisation On Your Mark, who are dedicated to providing services to children and adults with disabilities.
One of six businesses they set up is the cafe in Staten Island, which helps disabled people – many of whom have developmental or intellectual disabilities – find meaningful employment and gain vocational skills.
Joe Gori, the charity's director of Employment initiatives, who also helps run the cafe day-to-day, said: "We receive many visitors to our cafe that get very moved about what we are doing here – and this is how they like to show their appreciation.
READ MORE: U.S. Navy Veteran, 94, Shares Fist Bumps And Words Of Wisdom With Students Every Morning
"The tip was left for the whole team, as we have a communal tip jar that gets split between all the staff at the end of the day.
"So everyone was rejoicing when they realised such a large tip had been left.
"All we know is the tip was left for exceptional food and service by our waitresses and team."
To find out more about On Your Mark visit: www.onyourmark.org
Story courtesy of T&T Creative Media.