A 94-year-old veteran shares fist bumps and inspirational words of wisdom with middle schoolers on their way to school every single day.
Wally Richardson wakes up every morning to greet students as they enter Marina Village Middle School in El Dorado Hills, California, and make sure they start their day off right.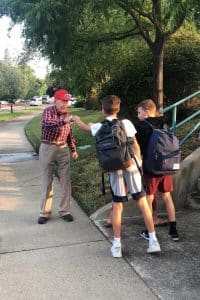 The U.S. Navy Vet offers his motivational messages, words of wisdom and quirky quotes with a solid fist bump, with some students calling him 'Mr. Knuckles'.
Recently parent Gina Arnold was driving her daughter Audrey to school one morning when, running early, Audrey lamented she forgot to remind her mom to drop her outside.
When Gina asked why, Audrey told her it was because she wanted to "talk to the cute, little old man" and today she "would have had more time."
Intrigued, Gina asked who the man was and Audrey explained he stands at the steps and encourages all the students as they walk in.
Audrey told her mom: "He talks about kindness and gives us advice and fist bumps – it's the best part of the day."
Gina said: "When I drove by I saw him and my heart burst – this is exactly the kind of love and support our middle schoolers need.
"The kids always have big smiles and listen to him intently. You can see them gravitate to him and his spirit, he's like an angel you can't help but feel calm and peace when you go near him.
"Instead of taking the bus my daughter asks to be dropped off so she can talk to him. When she takes the bus she's not able to see him because he stands outside of the school.
"She wants to see him because she wants to start the week off on a positive note. I know she is not the only kid who feels like this.
"He has been doing this for 10 years. He started with his wife but she cannot walk easily anymore so now he does it on his own.
"There are kids in college who still remember how he greeted them as they walked to school many years ago."
Watch the video below and listen to Wally's words of wisdom!