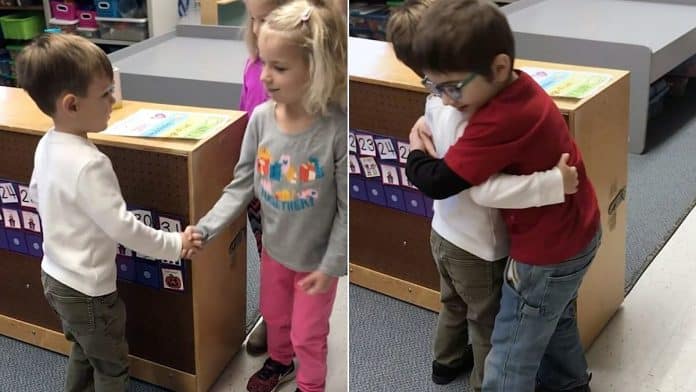 These preschoolers start their day by choosing between a variety of fun greetings for each other after their teacher wanted to encourage positive interactions.
Every morning, teacher Kali Lovgren has her class begin by lining up by the 'greeter of the week' and choosing how they would like to be greeted that particular morning.
The four-year-old preschoolers use a chart to choose between a hug, handshake, fist bump or high five on their way to class and the morning greeter will greet them accordingly.
Kali, who teaches at Lone Tree Elementary in Lone Tree, Iowa, shared the adorable video on social media charming thousands of people happy to see the kids learning a valuable lesson.
She said: "I wanted a way to encourage positive interactions between students in the morning and I wanted everyone to be included in it.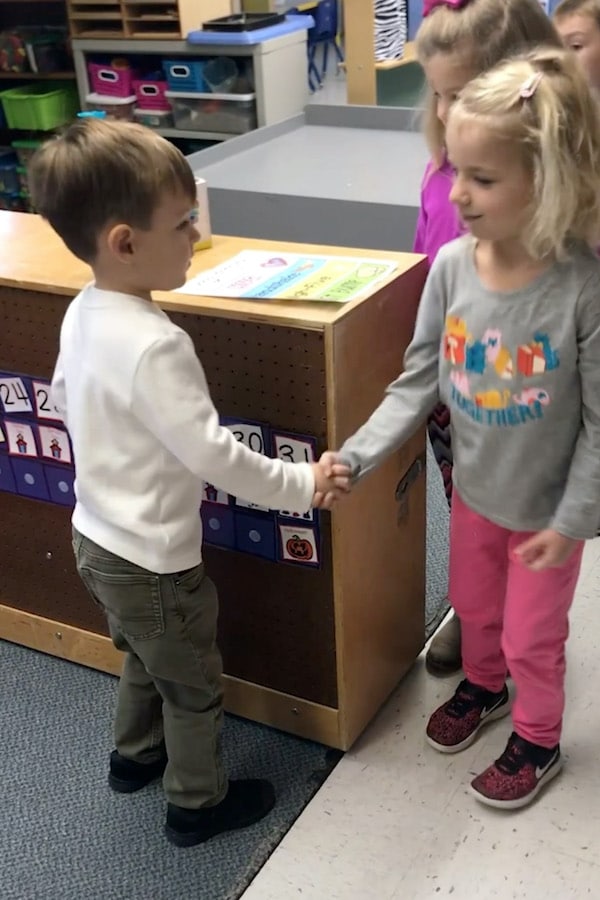 "I found a document on Teachers Pay Teachers created by The Core Coaches and decided to give it a try.
"We have our greeting time every morning. The person who is the greeter changes each week on our job chart.
READ MORE: Soldier Surprises Kids At School By Emerging From Mascot Costume After Coming Home Early
"The aim behind the greeting is for students to have a positive interaction with their classmates right away in the morning.
"I also wanted them to have a choice, because students always enjoy an activity or routine more if they have a choice in it.
"The preschoolers love greeting their friends in the morning. They seem to look forward to that time, and I have caught them role-playing that part of our school day in the afternoon."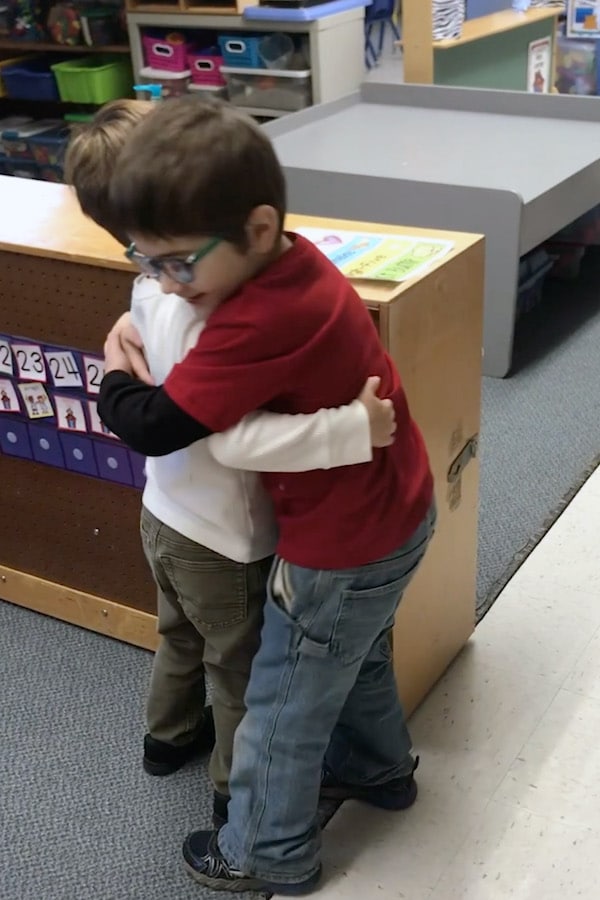 In the clip, a little boy in a white t-shirt stands ready and waiting with the colored greeting chart for each of his classmates to pick their greeting.
Some already have their greeting picked while others take a second to choose, but every child has a huge smile on their face as they are welcomed into the classroom.
Kali added: "The preschoolers loved it so much I decided to have them do it to say good bye as well, and each day I draw a name to be the See You Later Alligator.
"I decided to record them one morning so that their parents could watch it. I showed it to our secretary and she wanted to share it with the community, it has been a hit ever since.
"We have had a very positive reaction to the video and I've had many comments from our school board, staff, parents, friends and family not only about how cute it is but also about the positive message it is sending our students.
"Because of this interaction with their classmates, each child has been starting their day off with a smile and that is an amazing thing to see."
Watch the adorable video…
Story courtesy of T&T Creative Media.