A Petty Officer with the U.S. Navy Reserve pulled off a double reunion surprise – shocking his fiancée and dad at a car dealership before arriving at his brother's track to sneak up on his mom.
Austyn Scruggs, 23, told no-one he was set to return home from his 14-month deployment, which had seen him sent for a boots-on-the-ground mission in Djibouti, Africa.
When Austyn got the news he was set to head home, he kept things secret, spending a week in Germany before heading back, not telling his family he was on the move.
Such secrecy took some intense planning and dedication, Austyn admitted, as he had to set up his room in Germany to look exactly like the one in Africa in case his family asked to be on a FaceTime call.
On May 4, having returned to Anderson, South Carolina, he first snuck up on his dad William and fiancée Audrey, who were looking around a car dealership before Austyn made his entrance.
He revealed it was only the second time he had seen his dad, an Air Force veteran, cry.
Following that tearful embrace, it was then over to the nearby track meet at Pendleton High School, where Austyn's brother, Dustyn, was competing, and his mom, Marci, was watching from the bleachers.
With Audrey's mom recording, Austyn crept through the rows of seats before giving his shocked mom a big hug, causing a round of applause from those in the crowd.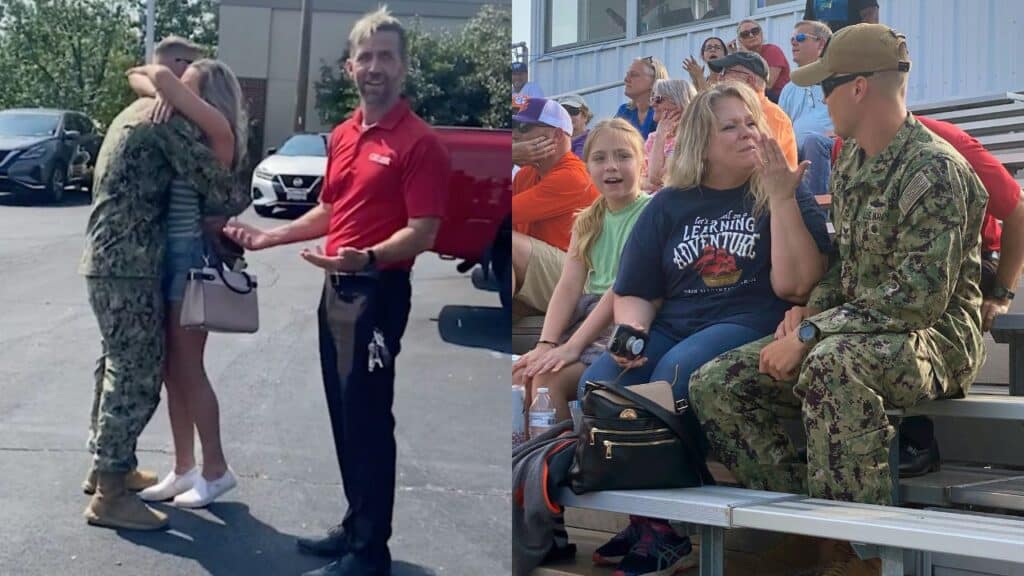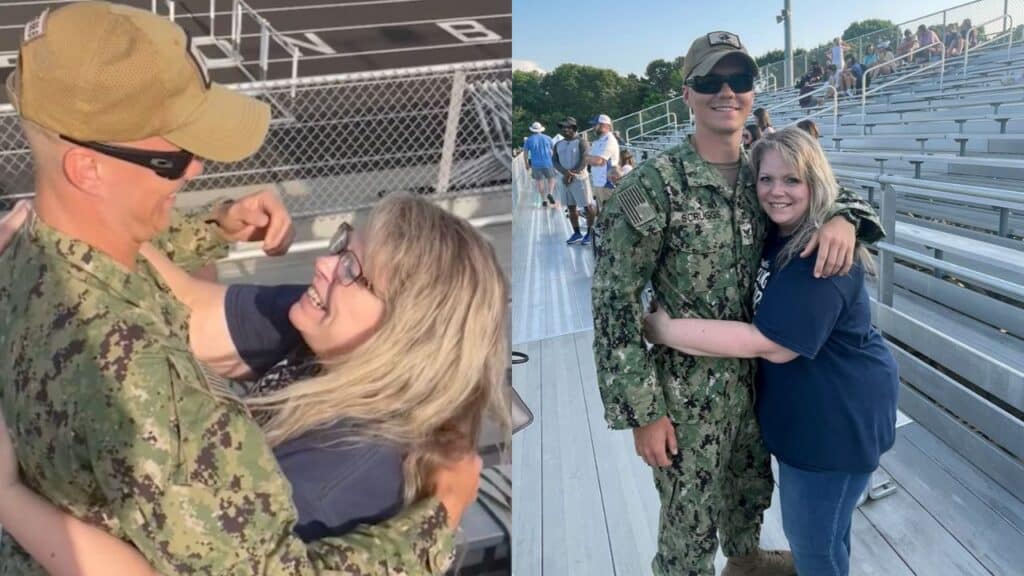 RELATED: U.S. Navy Sailor Surprises His Brother At School With Help Of Police Officer
Austyn then waved down to a stunned Dustyn, who went on to break a regional record that day.
Austyn said: "The first surprise was amazing – I knew Audrey was either going to be shocked and freeze or run and jump onto me.
"My dad's reaction was amazing, too, I've never been able to surprise him because he's normally the one helping to surprise people.
"I've only seen my dad cry once, and that was when is father, who retired from the Air Force, passed away.
"He told me, 'I now know how it feels when the roles are reversed,' with his son being gone and coming home, versus when he was gone and came home to his parents.
"My mom's reaction was also amazing – she was balling while in my arms as I watched her makeup start to get runny."