A cycling enthusiast received a greeting like no other as he completed a cross-country bike ride to hug his heart donor's parents for the very first time.
After suffering a heart attack at age 32, Mike Cohen, from San Diego, California, was told he would not be able to ride his bike anymore because it would be too dangerous.
Mike had a golf ball-sized blood clot in his left ventricle, and after receiving an assisting device, a clot was later found in that, too.
As a result, Mike was placed on the heart transplant list, which led him to receive the heart of Navy Lieutenant James Mazzuchelli, who died in an accident aged 32.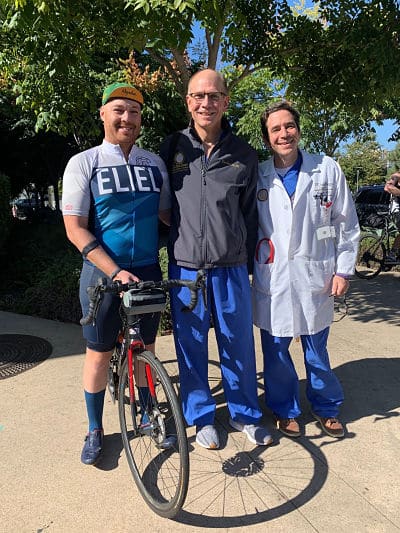 Organ transplant recipients are encouraged to establish a level of communication with their donor's family, Mike said, and around six weeks after he was discharged he received a letter from James' mother, Christine Cheers.
James' heart allowed Mike to build his fitness again, and, eventually, return to riding his bike.
READ MORE: Recipient of Donor Heart Surprises Couple by Turning Up on Their Wedding Day to Listen to Their Son's Heart Beating
Because of the second chance James' heart had given him, Mike promised his donor's family that one day he would visit them.
Mike decided to make the cross-country journey by bike, taking off at the Sulpizio Cardiovascular Center, where he received my heart transplant, and heading to the Cheers' home in Jacksonville, Florida.
He was accompanied on his journey by a friend who, though he might not have felt comfortable on some of the more difficult roads, helped Mike cover some 1,426 miles.
On the way, Mike said he always had concerns in the back of his mind – such as what the ride might be doing to his donor heart, and, at times, being far away from a hospital.
He reached Jacksonville National Cemetery on November 20, 2019, where James' family were waiting for him.
After riding his bike along a driveway, an emotional Mike then dismounted and gave Christine a huge hug.
He then embraced the other members of James' family.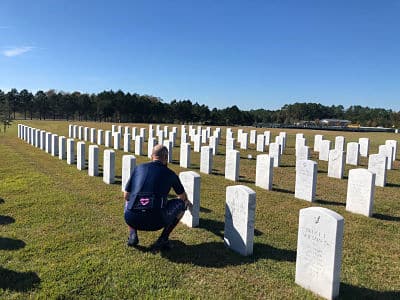 Mike, who was previously diagnosed with cancer when he was 18, said he wanted to share his story to help inspire others who might be in tough situations.
He said: "I gave Christine a huge hug. Then I hugged the rest of her family.
"I felt proud to have been able to keep my promise and commitment to come visit.
"I felt grateful for my body and my heart to have been so strong, to let me ride that far.
"Ever since I was diagnosed with cancer at 18, I've wanted to share my story to help inspire other people going through similar circumstances or any difficult times in their lives, for them to know they can overcome anything, to reach their goals."
Story via T&T Creative Media