This stunned couple received a wedding day surprise they will never forget, as they were met for the first time by the recipient of their donor son's heart.
There was not a dry eye in the house when the judge performing the ceremony asked if there were any objections, only for recipient Travis Stufflepean to then be announced, enter the room, and greet Dean and Monica Berckenhoff as they stood for the ceremony.
Carrying a stethoscope, Travis embraced tearful couple before allowing them to listen to son Colton's heart inside his chest.
The beautiful moment took place in Montgomery County Justice of the Peace Court 1, in Willis, Texas, on July 19, and was a surprise organized by Monica's sister, Amanda McDonald, and her parents, Terry and Michelle Guy.
Dean, 42, is Colton's biological father, and Monica, 32, being his stepmother.
Colton died age 11 in a tragic accident in Porter, Texas, in June 2012.
The couple made the decision to donate Colton's organs, and the recipient was Travis, now 28, whose family had been told in 1991 that he had a bad heart.
Following several surgeries, Travis was informed his heart was failing, and after three months on the donor list, he received Colton's heart.
YOU MAY ALSO ENJOY READING: Donor Family And Heart Transplant Recipient Brought To Tears After Hearing Heartbeat During Chance Encounter At Baseball Game
Knowing of Dean and Monica's determination to one day meet the recipient of Colton's heart, Amanda contacted Travis in December 2018 to inform him about the wedding.
Along with the help of Amanda's parents, Travis was able fly into Texas from Fayetteville, Arkansas, and he hid in the backroom while the ceremony took place.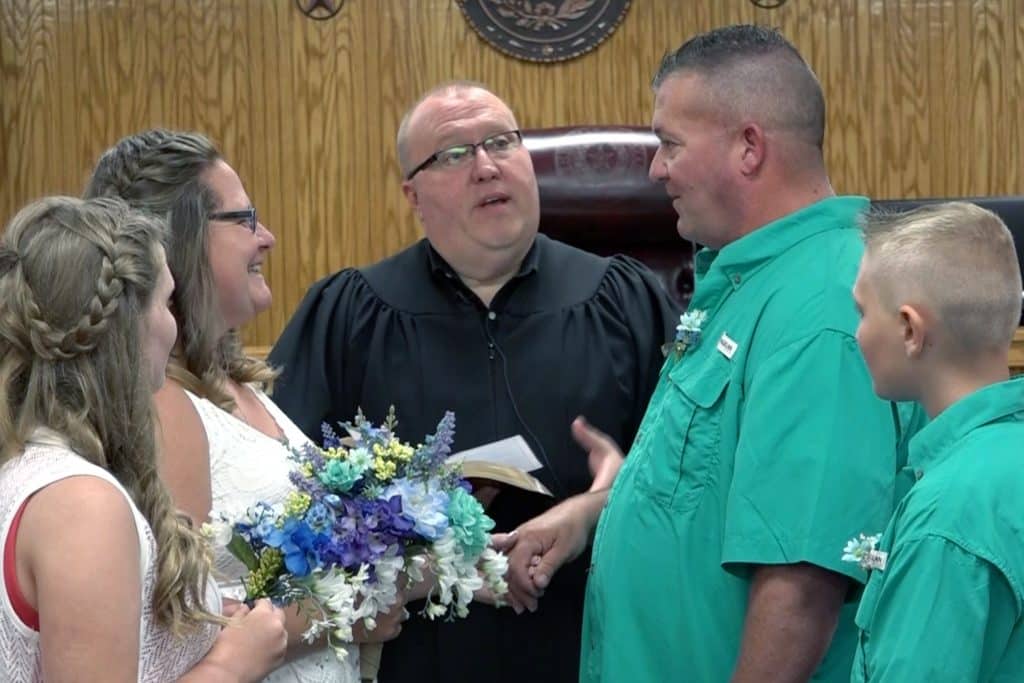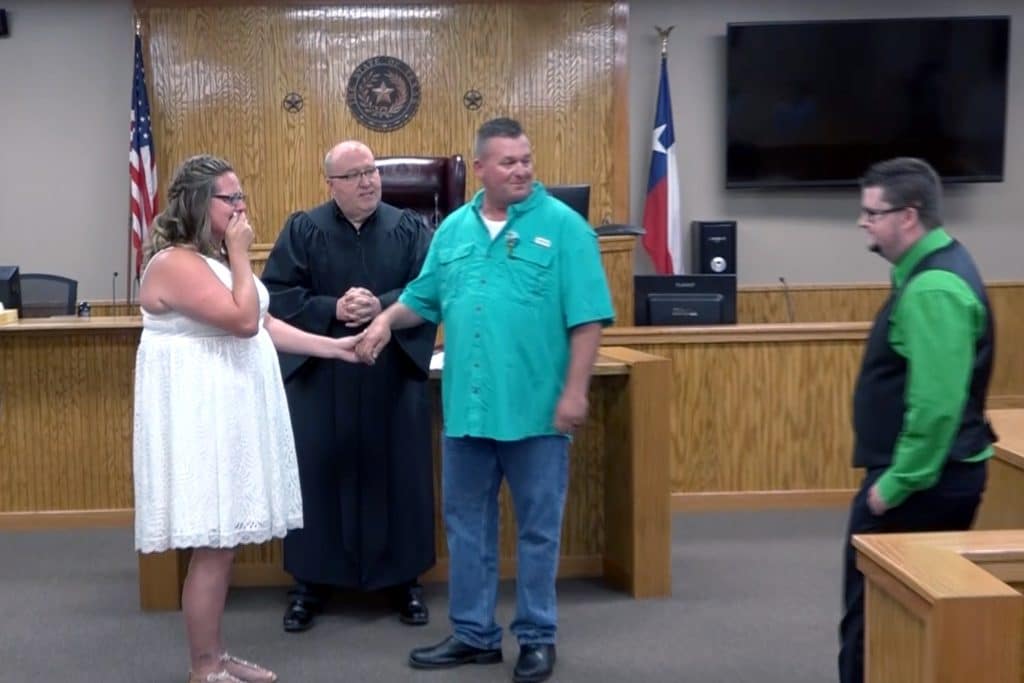 Speaking of the moment he met the couple, Travis said: "As Dean, the father, was listening to the heart, I felt overwhelmed and grateful that I could bring the heart back home for his big day.
"My family feels excited and would love to give each of them a great big hug for allowing me to live – they have no words to explain the love and appreciation they have for that family.
"Everyone, including people that I have never met, are overexcited, and the love that I feel from everyone is amazing."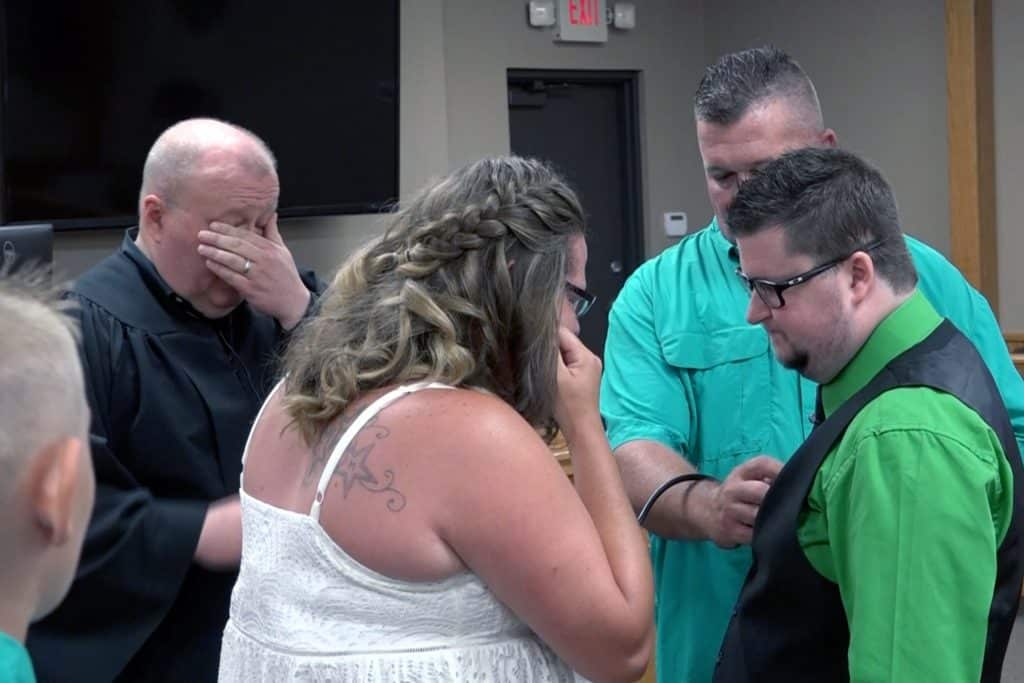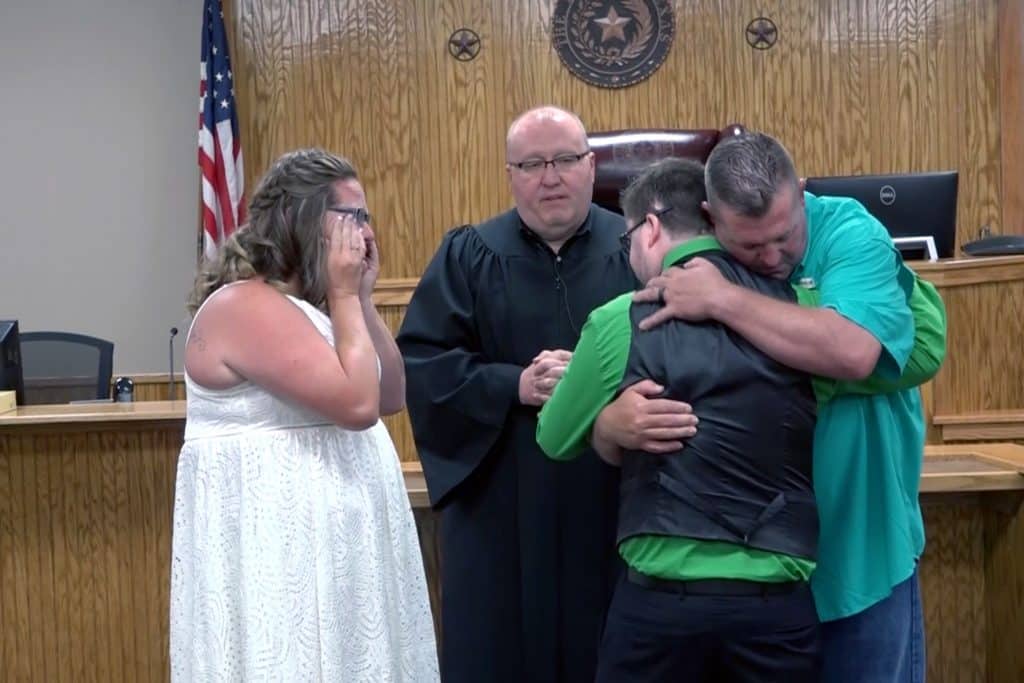 Both families hope by sharing their story, they can encourage others to consider organ donation.
According to the Health Resources and Services Administration, 113,000 people are now on the National Donor Program waiting list, and while 95 percent of Americans support organ donation, only 58 percent sign up.
Dean said: "The emotions we were feeling were surprised, happy, nervous, and maybe scared a little.
"Sign up to become a donor – you never know whose life you could save.
"Others have been very welcoming.
"Even through tragedy, there's hope."
Donations to the cause Dean and Monica support can be made at: https://www.lifegift.org/make-contribution
Story courtesy of T&T Creative Media