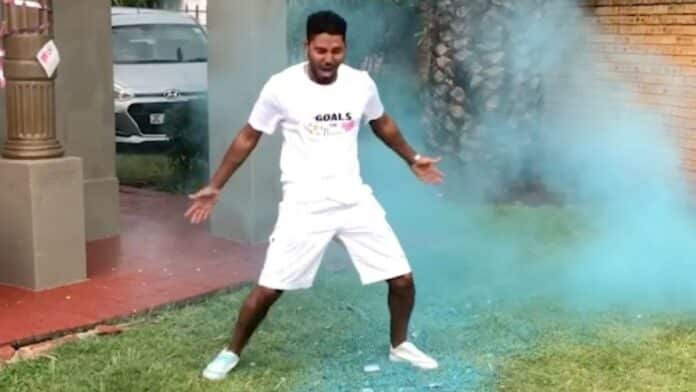 A soccer-mad dad-to-be could not contain his excitement during he and his wife's gender reveal, as he kicked a ball into a blue puff of smoke before busting out star Cristiano Ronaldo's signature celebration.
Dillan Augustine, 28, comes from a soccer family, as his father, Brendan Augustine, 50, played professionally and represented South Africa in the FIFA World Cup.
As a result, Dillan grew up around the game, supporting Manchester United and growing to love Ronaldo, who has played for the club in two spells.
It made sense, then, that Dillan and wife Naideen's gender reveal would be soccer-themed.
The couple purchased a ball that would explode either blue or pink when kicked, and, ahead of the grand reveal, Dillan said he would have been happy with his child being either gender, as long as they were healthy.
But secretly, he admitted, he always wanted his first child to be a boy, and when he struck the ball and blue smoke rose, emotions completely came over him.
READ MORE LIKE THIS: Couple Record Compilation Of Family's Reaction To Gender Reveal Cookies Sent To Their Homes
Dillan had not planned to emulate Ronaldo's celebration – a leap into the air and spinning 180 degrees, opening one's chest like a superhero on landing – but as soon as he took his shot he couldn't help himself.
The moment took place on January 29, 2022, at Dillan's mother-in-law's house, in Johannesburg, South Africa.
The couple – whose due date is April 22 – later shared the video on TikTok, seeing it garner a number of positive comments.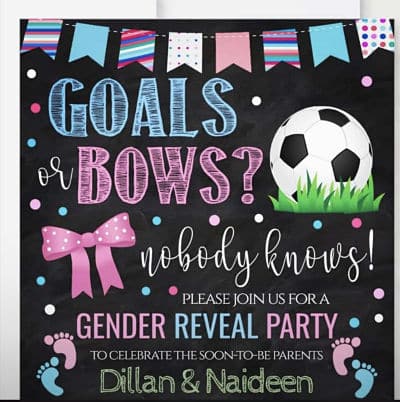 Dillan said: "We would have been happy with a boy or a girl, as long as it was a healthy child – that's what we prayed for.
"But on the same breath, I was super excited to see that we're having a boy, as I always wanted my first child to be a boy.
"As for the celebration: I actually didn't plan it at all; it just came naturally and I'm glad it turned out the way it did.
"I come from a footballing family, with my dad being an ex-footballer.
"Since I was little, Cristiano Ronaldo has always been a player I admired.
"Being a Manchester United fan, I always wanted to emulate him in some way, whether it was on or off the pitch."
Story via T&T Creative Media