A Louisiana couple literally put the party in their gender reveal party by discovering their baby's gender during a Mardi Gras parade.
Elizabeth and James Rourk's family live along a parade route and as the couple are expecting their first child in July, Mardi Gras season was the perfect time to host a gender reveal party.
When Elizabeth told a friend at work about the party, it turned out she had friends in the Krewe of Carnivale en Rio parade who were thrilled to help with the reveal.
On February 23, the party lined up along the parade route with balloons tied to Elizabeth and a sign reading 'King or Queen: Which will it be? Throw here' as the floats rolled by.
As Rio approached, the party start cheering and pointing at Elizabeth and James, before the Krewe start raining pink beads down on the group prompting screams and tears of joy.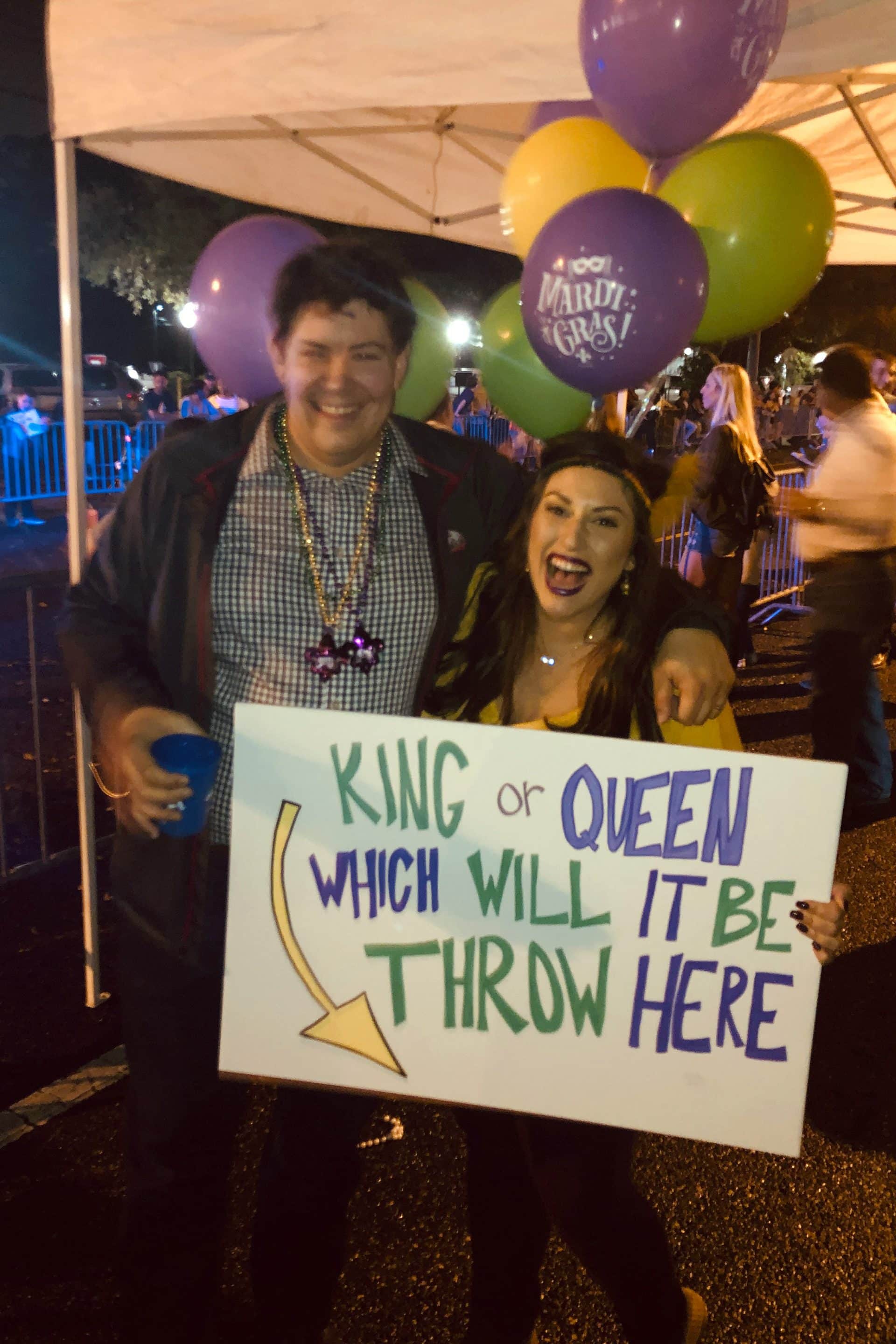 Elizabeth said: "I was at my mom's house when I was around 10 weeks pregnant, talking with one of my best friends Julianna, discussing what we were going to do for my gender reveal.
"We figured out the dates that it was going to be around Mardi Gras time so we decided an open house style party for one of the parades sounded like the best idea.
"My parents live on the parade route and have an open house for Mardi Gras just about every year since we've lived there. The whole theme and idea felt very natural and celebratory for us.
"One of us started saying it would be so cool if we could get the parade involved and they could throw us the color bead but we really didn't know anyone in the Krewe that could help."
The following day at work, Elizabeth mentioned the idea to a coworker and couldn't believe her reaction.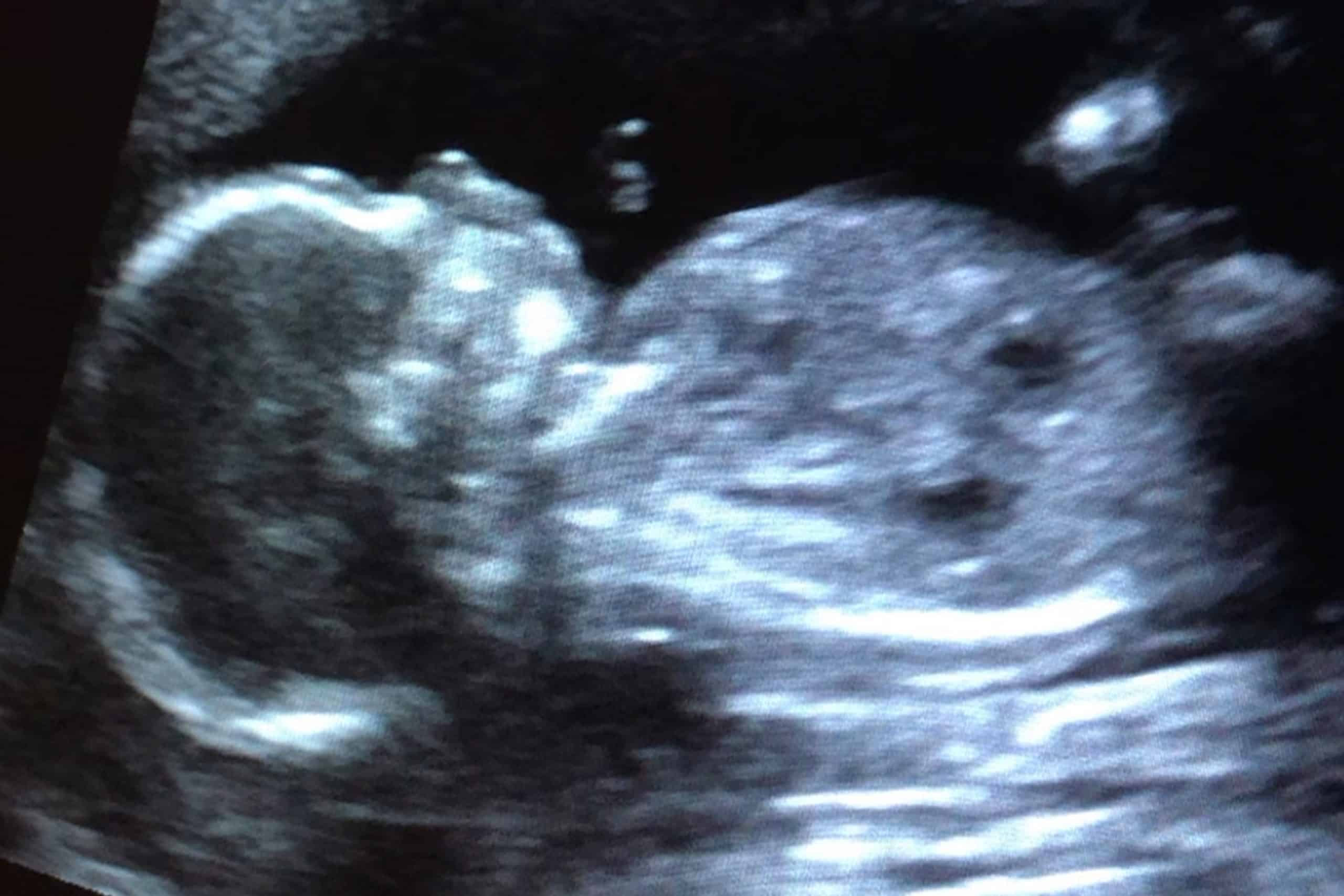 She added: "I'm an ultrasound technologist so I could find out the sex of the baby whenever I wanted. But since this is my first viable pregnancy, my rainbow baby, I wanted to be surprised and go through all the things that everyone else would.
"As I was telling Jodi about it, she asked which parade we were going to do it for. I told her Saturday February 23, the Krewe of Rio rolls, it's the only parade that night and I'll be 18 weeks along which will be far enough for us to be 100% sure whether it's a boy or girl.
"At the mention of the Krewe name, she got all excited because she has three really close friends in the Krewe and riding in the parade.
-Scroll down to see the reveal video below-
"She immediately texted them and they were absolutely thrilled to be a part of it."
On the day of the party, the house was filled with around 60 family and friends who came from all over including Houston, DC, New Orleans as well as the surrounding Acadiana areas.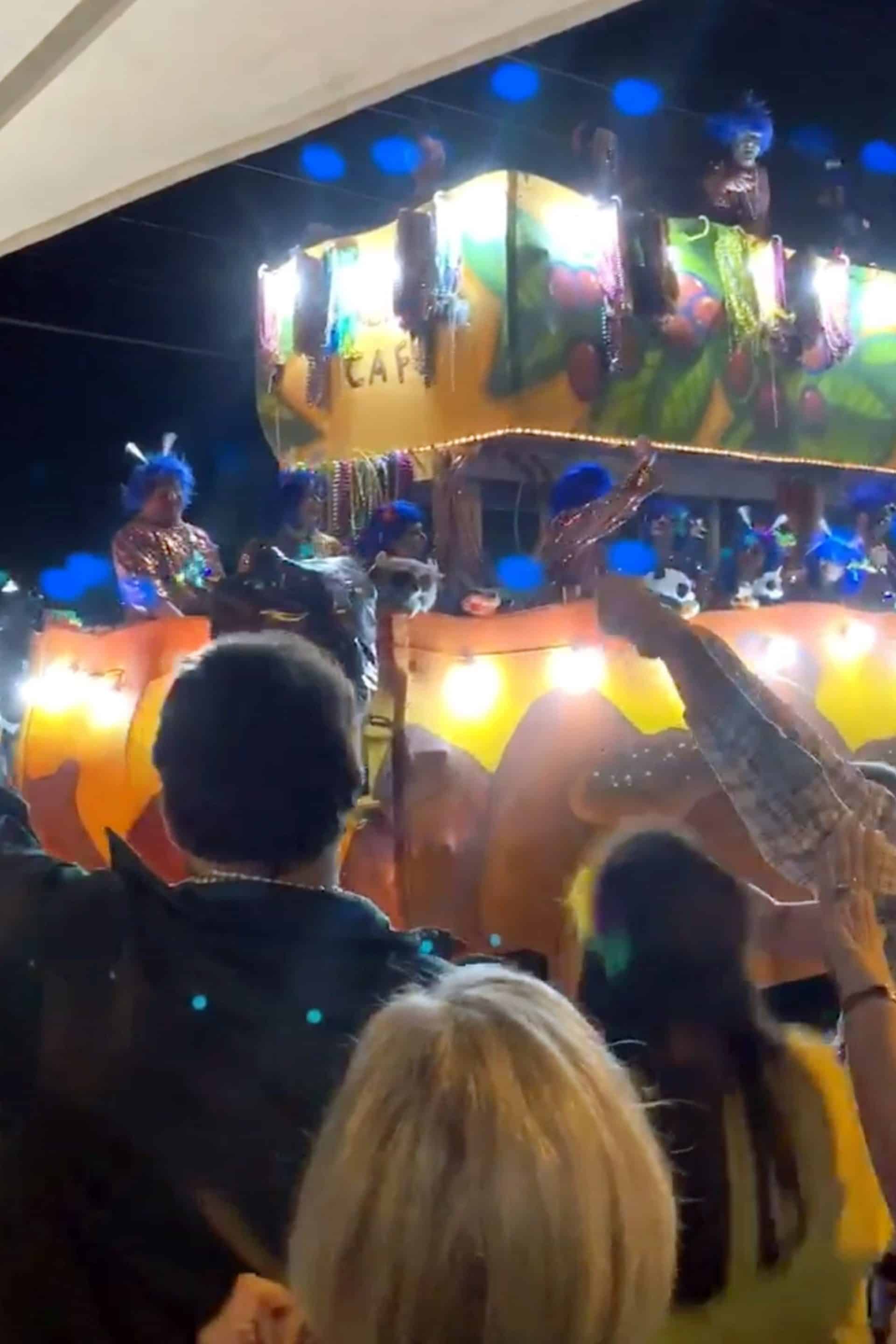 Elizabeth said: "As the time came for the parade to get to our house, I tied some helium balloons to my back and my husband and I got our sign.
"Once float 13 got to us, they waited until they were directly in front of my husband and I and just started bombarding us with pink beads.
"To say I was absolutely thrilled would be an understatement – I was totally shocked and happy.
"There were lots of hugs, kisses, "I knew it'd be a girl" comments, and all-around joy. We went back to my parents' house to wind down the party."
Story courtesy of T&T Creative Media.