After a woman was left devastated by her college graduation's cancellation, her family decided to lay on a ceremony for her at home instead.
With the help of her family, Stephanie Boucher, 21, was able to walk across the deck of her home in Manchester, Vermont, where her brother Anthony, 28, presented her diploma.
Keeping on the safe side – and a little jokingly – Anthony also gave his sister a quick elbow bump – the go-to greeting at a time when handshakes have been avoided to stop the spread of the virus.
The 21-year-old had completed her studies at the University of New England, in Maine, where she received a bachelor of science in applied exercise science with a minor in nutrition.
For the at-home ceremony, Stephanie dressed in her formal regalia that her mother Dody, 50, had ordered from the college.
The family also made a diploma book for their daughter.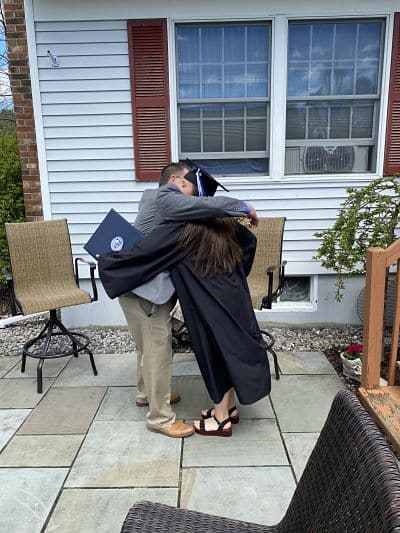 The presentation took place on May 16, and a few weeks earlier, Dody and the family took Stephanie to the UNE campus to take some photos.
READ MORE: After 3 Years Apart, This Airman Surprises His Sister At Her Graduation
After the presentation, Stephanie, who made the dean's list all four years, was surprised with a car parade from her friends and family.
Speaking of the at-home graduation, Dody said: "I loved all of it.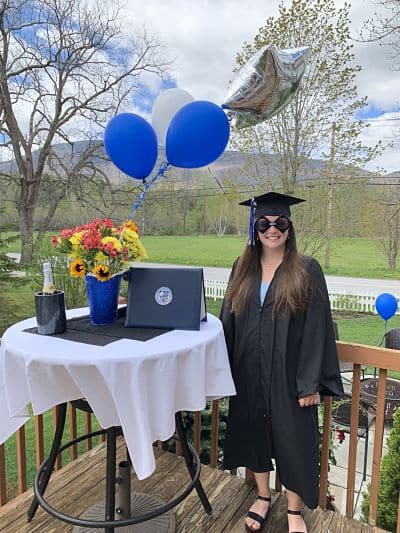 "I am sad that this pandemic kept Stephanie from enjoying this day with her classmates, roommates and professors, but we certainly did the best we could to make it a special day just for her to recognize all her hard work .
"I hope the video inspires people to be creative, use their imaginations and improvise when times like this call for a new normal.
"As a parent I could not let my daughter have the day go by without recognition.
"They work so hard to achieve their goals and to make us parents proud – the least we can do is show them how proud we are."
Story courtesy of T&T Creative Media