A bride-to-be's dog showed he was the ultimate good boy by carrying the bottom of her wedding dress so it didn't muddy on the ground.
Dog owners Shannon and Glyn are so close to their pooch Charlie, a three-year-old golden retriever, that they had to have him be part of their engagement shoot on August 19.
Having posed for a series of photos, Shannon, 31, then started returning to her Hong Kong apartment.
With the bottom of her dress in one hand and Charlie's leash in the other, she looked down to see Charlie's wholesome eyes – a sign, she thought, that he wanted to help.
Shannon handed Charlie the bottom of her dress, and the pooch took it in his mouth and continued to carry it during the rest of their walk home.
On that walk, a stunned Glyn took out his cellphone and recorded a few seconds of Charlie's good deed.
The couple adopted Charlie in 2020 when the coronavirus pandemic first started. Since then, he has gone everywhere with them.
With Shannon originally from Australia and Glyn, 31, from the U.K., the couple planned their wedding at a somewhat "middle ground" of the Amalfi Coast, Italy, for the summer of 2024.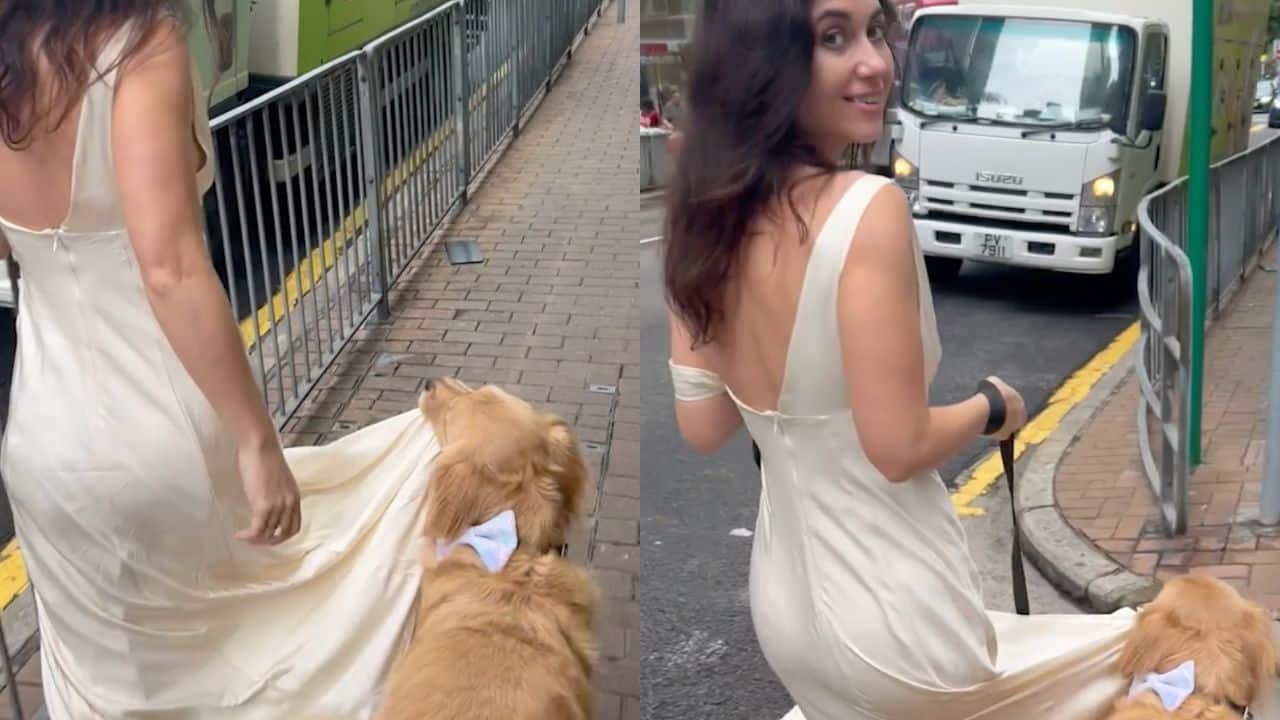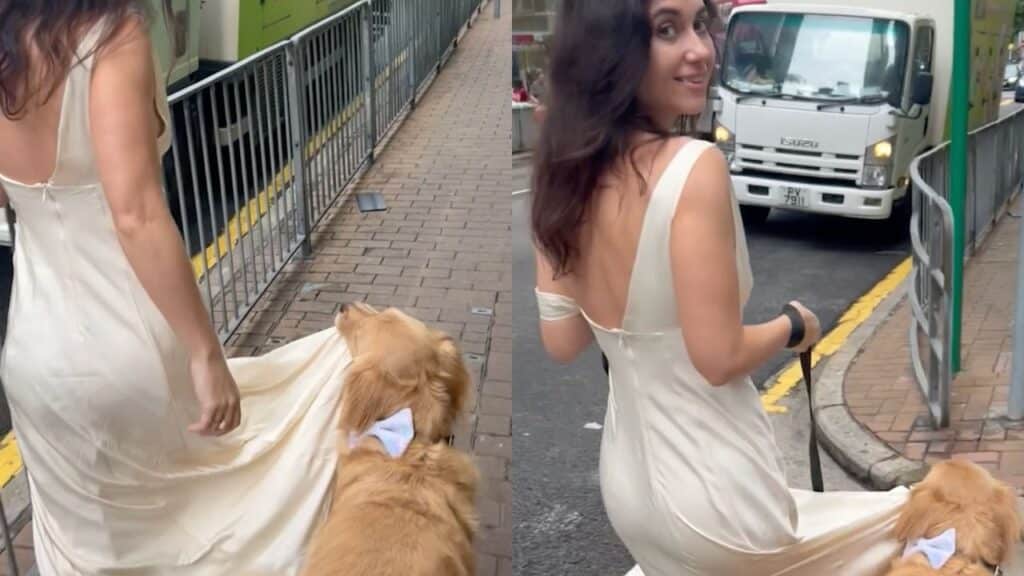 RELATED: Incredible Dog Helps With Baby Duties – And He's Probably Better Than Your Husband
Due to the costs involved in taking Charlie on that trip, the couple decided not to involve him in the ceremony but instead make him a key part of their pre-wedding shoot, with the photos used for invitations.
Speaking of Charlie's helpfulness, Shannon said: "We'd just finished up the photo shoot and the three of us were heading home.
"I'd changed from my high heels into my flat shoes, so my dress started dragging on the floor.
"At one point, I had Charlie's leash in one hand and was holding my dress up with the other.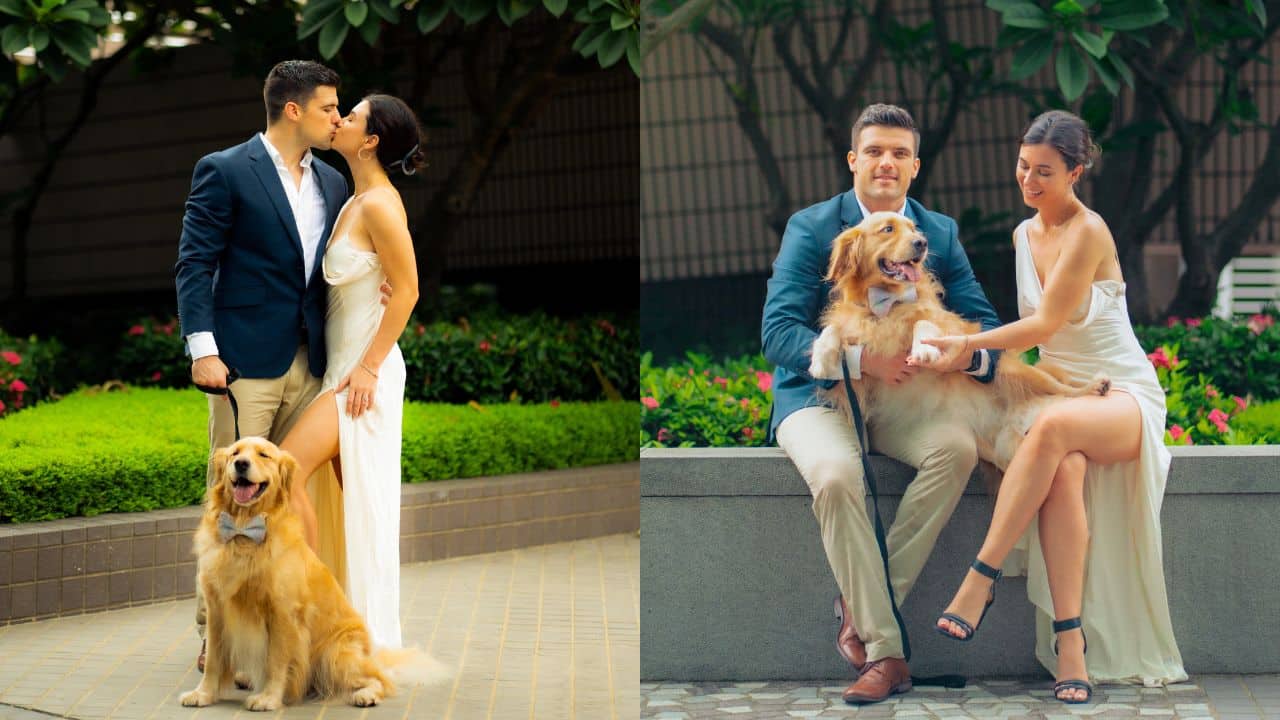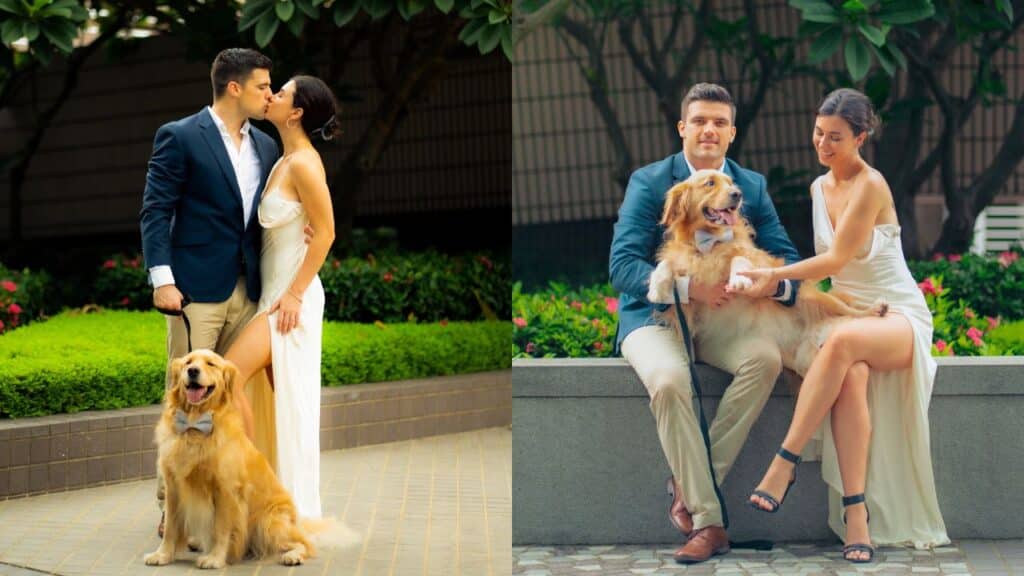 RELATED: Dog's Blanket-Stealing Habit Melts Hearts Online
"Charlie looked up at me with very pleading eyes, the way he does when he wants something, and I gave him some fabric to hold on to, unsure if he'd actually have any interest in it.
"But, sure enough, he very gently latched on, holding it up for me for the remainder of the walk home.
"He was so gentle there wasn't even a crease in the fabric."