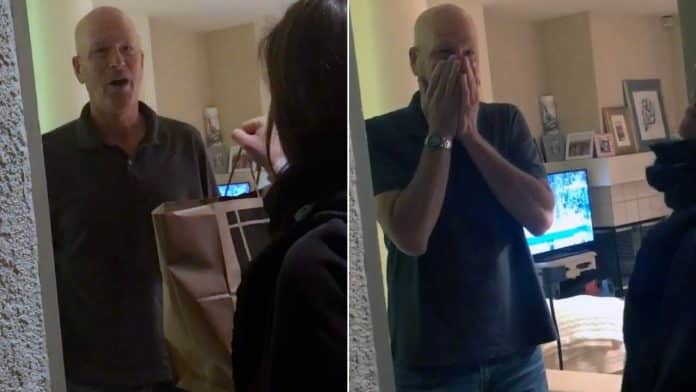 A family with a restaurant pregnancy announcement tradition received a special delivery when a daughter flew across the country to surprise her parents with takeout.
Victoria Cohen's brother Grant and his wife Chanel announced their first child seven years ago over dinner at a Maggiano's restaurant in Los Angeles.
The couple thought it would be funny to announce baby number two in the same setting when, despite not being a regular family joint, none of them realized.
And after becoming a running joke for the family, when they were ready to announce their third child, the pair couldn't get everyone together on the same date so had to reveal they were planning to go back to Maggiano's.
So, when Victoria and her husband Tom Burke became pregnant, they wanted to keep the tradition alive and decided to go one step further.
They jumped on a flight from their home in Chicago to surprise her parents Darryl Cohen and Nini Dake in Orange County, California, with a special delivery takeout.
In the uplifting video, Victoria rings the bell and her dad answers the door – he immediately notices the takeout bags she is holding and is left speechless.
She said: "We decided on flying to California unannounced on a random Thursday in late February for the big reveal.
"We flew into LAX, rented a car, and drove down to Orange County – I called my mom on route, pretending I was heading to bed in Chicago, but checking in on if she was home.
"We picked up a few bags of takeout and dessert from Maggiano's and drove to their condo.
"We ran into a slight issue when we got to their development and realized we didn't have the gate code – but after about five minutes someone pulled up and we snuck in behind them.
"We crept our way up the stairs in the dark while my husband filmed on his phone, I rang the doorbell and quickly moved out of view of the side window.
"My dad was beyond confused to see us and my mom was just about to serve dinner so it was good timing.
"They also made us facetime my grandparents and brother that night holding up our Maggiano's bag to spread the news.
"For the rest of the weekend they were in total disbelief."