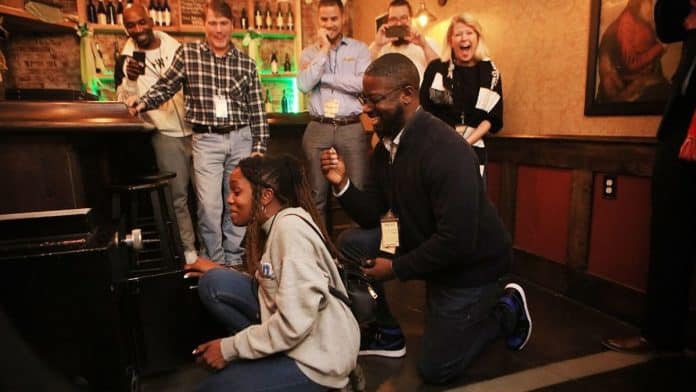 A self-confessed escape room fanatic received the ultimate surprise when she solved a challenge – discovering a diamond ring and her proposing boyfriend at the finish.
Dr. Valerie Jones said she was in "complete game mode" as she cracked a safe to find a diamond ring in a box during – so much so that she was oblivious to what was coming next.
Valerie, 41, thought the ring was part of the game, but as she turned and handed it to boyfriend Chris Ford, 35, and heard the room go silent, she suddenly realized something was up.
As Valerie expected Chris to hand the ring to the game master to complete the challenge, she instead saw friends and family flood the room, before Chris got down on one knee.
The surprise took place on January 17, at Time to Escape in Brookhaven, Georgia, where Chris had been working on the plan for weeks, knowing how much Valerie loves the challenges.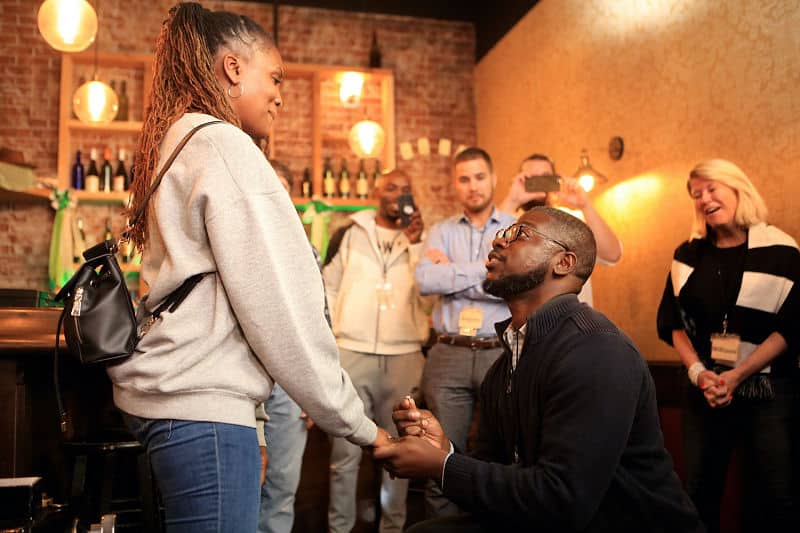 Each week Valerie arranges an escape room experience for visiting educators and administrators at the Ron Clark Academy, where she works as a math teacher.
Valerie and her colleagues also travel all over Atlanta to attempt escape room experiences.
-Scroll down to see video below-
Having caught wind of his girlfriend's visit to Time to Escape, Chris worked with her colleagues to make it appear like he was a last-minute addition to the game – but everyone was, in fact, in on the act.
The group of 15 undertook an Al Capone-themed game, where they were given an hour to find the embezzlement ledger to charge the criminals.
Everyone present was given roles, with Chris acting as the chief of police, while Valerie was appropriately assigned, given what was to come, the master locksmith.
With just a few minutes to go, Valerie was required to crack the safe to discover the documents – but instead it was a diamond ring that she found.
Thinking it was part of the game, she turned to say, "Ooo shiny," and handed the ring to Chris, expecting the game being completed.
As her boyfriend got down on one knee, an emotional Valerie then said Yes in front of those closest to her.
She said: "I feel so grateful I had so many of my friends and family members present to witness this life-changing event.
"I was completely surprised and those who know me and who saw the video realize how taken aback I was.
"I am such a gamer, and after the shock wore off, I was very emotional and very grateful that I had found a man who knows me so well.
"My coworkers and college line sisters are as close to me as my personal family – I am so happy to have all of them in my life."
Story courtesy of T&T Creative Media.