An emotional and financially-hit husband has gone viral after his wife surprised him with a wedding band to replace an ultra-cheap one he had lost around two years ago and refused to replace because it meant so much to him.
Ben Burnette's original wedding band was purchased for around $30 in a clearance sale when he and his wife, Brittany, headed to the Colorado mountains and wedded on impulse in 2017.
The ring was so poorly made, Brittany, 30, said, that the gold eventually rubbed off to reveal silver.
During the pandemic, Ben and Brittany's business began to struggle, as the pair of photographers from Richmond, Kentucky, had a number of weddings and shoots canceled.
To make matters worse, Ben, 32, lost his wedding ring while gardening and was never able to rediscover it.
Ben struggled to get over the loss, Brittany said – not because of the price, but because of how much it meant to him.
With the couple losing thousands in income, Ben wanted to put his wife and their baby daughter first, rather than spending money on a new band.
On numerous occasions, Brittany offered to buy Ben a new, nicer band, but the 32-year-old refused because all he wanted was the "crappy" band.
Ahead of Christmas 2021, Ben and Brittany had decided not to get each other presents due to their financial losses in November.
The couple also did not want their three-year-old daughter to ask why they didn't have Christmas presents, so they decided to put sweets in their stockings instead.
Little did Ben know, Brittany had seen a wedding band in their local grocery store when shopping for candy, which she decided to purchase and hide in the stocking as a bonus gift.
When Ben started looking at the ring and Brittany explained what it meant, the beloved father and husband began to cry happy tears.
Brittany later shared the video on social media, with Ben's reaction going viral across multiple platforms.
She said: "Ben is the type of person to put his own needs and wants last.
READ MORE: Girlfriend Surprises Long-Distance Boyfriend By Dressing Up As Amazon Delivery Driver And Asking Him To Sign For His Birthday Gift
"He wanted to find the crappy little ring we bought the day we wed in the mountains, he didn't want to accept that it was gone, and I feel a part of him would have to accept that officially once a new band was purchased.
"The moment he found it, he knew what It was and I couldn't hide my overwhelming emotions on my face.
"I wanted him to feel special, loved, wanted.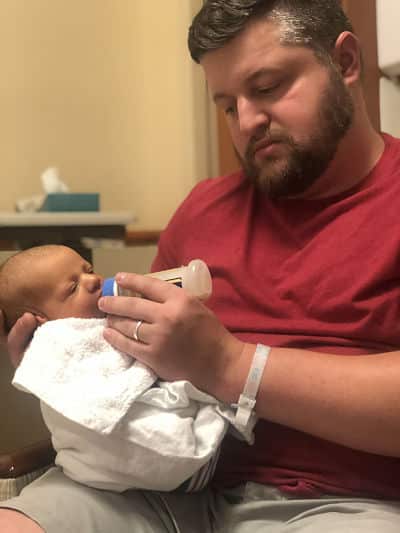 "I wanted him to know that despite the downfalls we had been experiencing that it wasn't his fault and that he deserved to feel wanted and cherished.
"I didn't want a gift for Christmas, seeing his absolute gratitude was a gift enough for me.
"I wasn't sure if he would like it, but I had such hope that he would.
"I know it can't replace that ring that saw the mountains or held our newborn baby girl, but it wasn't really the actual ring that was important, more the sentiment behind it."
Story via T&T Creative Media