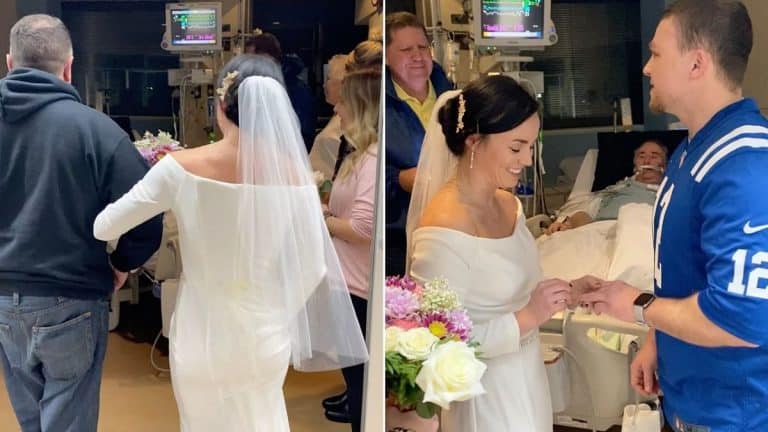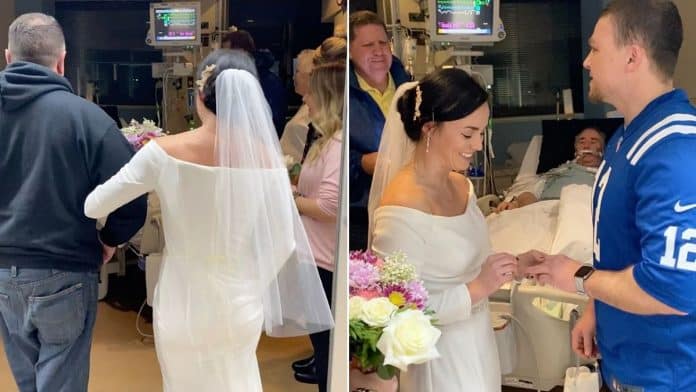 A loving daughter said "I do" in an intensive care unit so her terminally ill father could be present for her wedding day.
Shelby Schweikhart, 25, could not bear to think about her father not being able to attend, so she shifted it to the ICU where he was receiving treatment for cancer.
Shelby had originally planned to hold a wedding in the fall of 2020 – but when she found out her father's cancer had returned and spread to his lungs, she decided to change the plans.
She said that her father, Steven Schweikhart, has always been her "best friend," and she could not conceive not having him there for her big day.
And so, on December 29th, hospital staff at Ascension St. Vincent Hospital in Evansville, Indiana, suggested holding the wedding on site.
Staff readied the 60-year-old's room and made plans for Shelby and her husband, Jared Conville, 29, to have the ceremony in the ICU.
The group rushed to get Shelby a dress and a priest was organized to undertake the ceremony.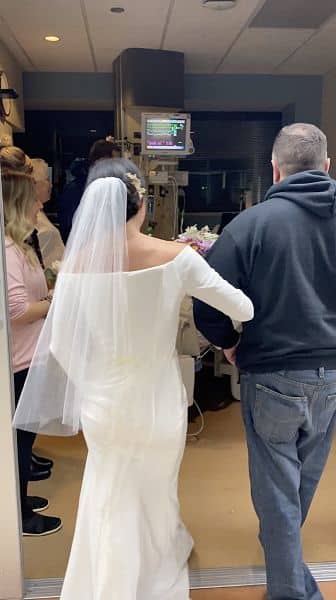 Due to their close bond, Jared wore the Indianapolis Colts jersey of Steven's beloved team.
Then, in the ICU, "Here Comes The Bride" began to play as the spontaneous ceremony began.
Shelby and Jared entered Steven's ward, and there the 25-year-old's father got to hand over the couple's rings.
-Scroll down to see video below-
A member of staff at the hospital, Nalen Neuffer, recorded the entire ceremony.
The marriage license was then completed later that evening, so Shelby – now Shelby Schweikhart-Conville – was officially married on December 30.
Since the ceremony, Steven has headed to his family home and has been exercising surrounded by his loved ones.
Shelby says his condition has been stable and the family are considering their next options.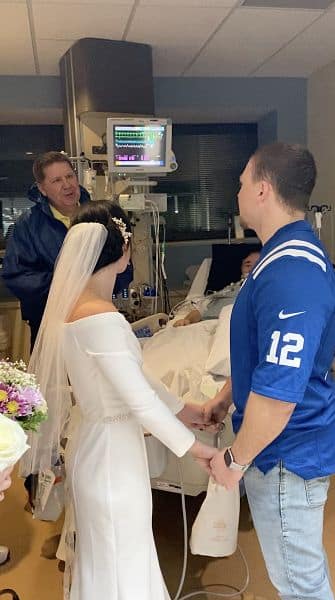 She added: "I've had an overwhelming amount of support about the video and the comments from it.
"Everyone has been so kind and it's uplifting.
"Everyone is praying for my father, which is amazing, because I know that's why he is here now.
"We hope people take something positive out of the video and realize with faith and hope anything is possible.
"My father is a great model for that.
"He wasn't supposed to make it out of the hospital, and now he is doing amazing things, for someone they gave no hope for.
"Just keep praying, and have faith and hope, anything is possible."
Story courtesy of T&T Creative Media.