A basketball player faked an injury during a game only to then roll over onto the other knee and propose to his girlfriend who had run on the court to check if he was okay.
The loving moment took place at Fictor Roring Basketball Academy, in Manado, Indonesia, where Patrick Gagola, 27, regularly plays basketball with his friends.
During the February 16 game, Patrick made a dart into the D, only to then jump forward and appear to land awkwardly on his knee.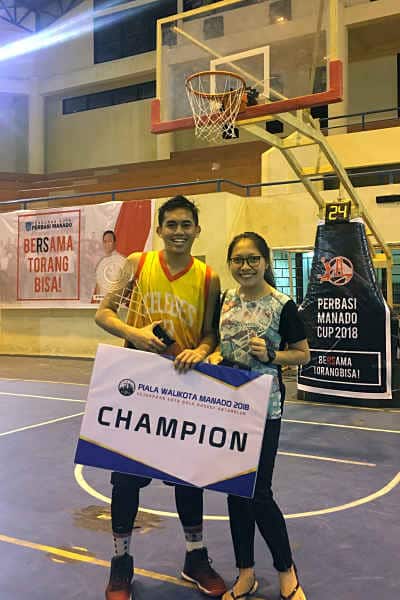 As he rolled around on the floor, Patrick's teammates and members of the opposition headed over to check on him – with Patrick asking them to call his girlfriend, Christa Sonakh, 25, over.
With Christa approaching, Patrick played along a little more by holding his knee and writhing in pain – as one of his teammates slipped him an engagement ring behind his back.
READ MORE: Basketball Crowd Goes Wild As Kids On Both Teams During Middle School Game Let Boy With Special Needs Score
Patrick then moved onto his other knee, looked his girlfriend-of-four-years Christa in the eyes and popped the big question.
A stunned Christa couldn't believe her eyes, and all around, fellow basketball players screamed with excitement and put their hands on their heads in disbelief at the stunt.
Patrick only told three friends: one to help him buy the ring; one to shoot the moment; and one to hand him the ring.
Christa said: "I thought he must have been hurt really bad, because in four years of our relationship, his friends have never called me over.
"I also felt bad because I wasn't paying attention to the game when he got hurt so I kept asking him how his injury happened without knowing his friend was there behind him with the box.
"I was shocked, relieved and happy all at the same time – I just laughed.
"I really didn't have a clue but was so grateful for what he did – this is something I had wanted to happen for a long time."
Story courtesy of T&T Creative Media