A pair of adopted biological siblings cried in each other's arms when they were finally able to meet in person for the very first time – a moment 30 years and one pandemic in the making.
In the emotional footage, Ashley Fredette, 30, can be seen heading down an airport escalator and into the waiting arms of her older brother, Reid Gilfillan, 36.
The pair live in separate parts of Canada, and having found each other before the pandemic struck, they were then forced to wait six months to finally meet in person.
That moment, which took place on July 16, marked the end of a decades-long search for Ashley, who was born into a closed adoption with few details about her birth mother.
Reid had previously been given up for adoption, too, only his adoption was open.
It wasn't until Ashley was 16 that her identity started to bother her, and so her supportive adoptive parents encouraged her to look into her biological roots.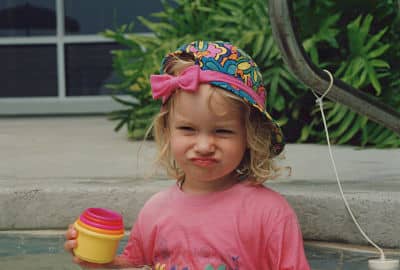 After 10 years of trying Ashley was having little luck – but then, in 2017, the website 23andMe, which Ashley had been a member of for years, threw up a match.
Ashley received an email that said a predicted first cousin had been found.
READ MORE: Man Surprises Stepchildren With Adoption Request At Wedding
Having reached out to that person, Amanda Clark, in Edmonton, Ashley was able to discover that her birth father was Amanda's uncle, and from there she connected with her birth father, Tim, and his son, Ashley's half-brother, James.
It is through this connection that Ashley was then told who her birth mom and half-sister, Melissa, were.
After Ashley had gotten to know Melissa, the pair decided to contact their shared maternal grandmother, who gave them information about another half-sibling, Reid, who had also been given up for adoption.
In March 2019, Ashley reached out to Reid on Facebook, but it wasn't until May that year that she received a response.
When Reid, unaware he had biological siblings, read Ashley's message, it was the mention of his mom's real name that made his "heart drop," he said.
Ashley, Reid and Melissa started sibling relationships via text, Facebook and FaceTime.
Then, in 2021, after waiting throughout the pandemic, Ashley decided it was time to get double-vaccinated and meet Reid in person.
The wholesome reunion took place at Ottawa Airport, as Ashley is from Winnipeg, Manitoba, and Reid lives in Cantley, Quebec.
Ashley said: "Ahead of the reunion, I felt excited and nervous!
"After being so cooped up through the pandemic, not only was it amazing to have a trip to look forward to, but I was excited to finally be able to talk to my brother, hang out with him and get to know him and his family.
"Being from the same birth mom, he is the only other person on the planet who gets what I went through.
"It's a one-of-a-kind, completely unique relationship and I am so glad he exists.
"Meeting felt so good, and weird! And magical!
"I think that only people separated from their birth family their entire lives can know the amazing feeling it is to hug a biological sibling or parent for the first time.
"It's like your molecules just know each other.
"You can live in that hug. You feel safe. You feel known. You feel connected."
Story via T&T Creative Media