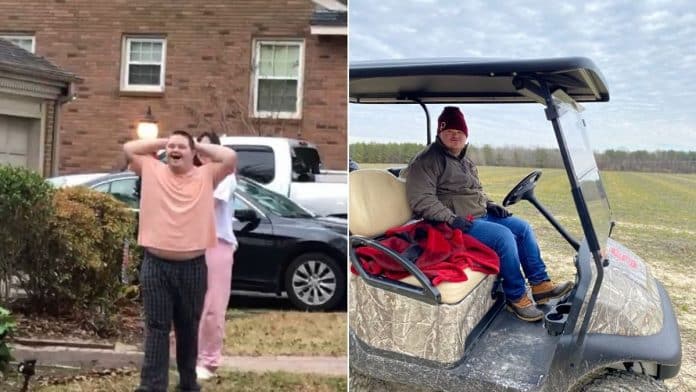 A boy with Down syndrome could not hold back his tears as he was surprised with a golf cart so he could take up driving just like his triplet siblings.
Tyler Hayes, 16, has never let his condition hold him back, but when his siblings Ryan and Rachel turned 16, too, they were able to obtain their drivers licenses and start to drive.
Tyler's parents Julie and Timmy Hayes, from Roanoke Rapids, North Carolina, would tell Tyler that he was not able to get a vehicle yet because he was not in the same grade as his triplets, having been held back a year. But that reasoning did not stick for long.
Over time, Tyler started to feel left out as he saw Ryan and Rachel start driving cars of their own, so his parents started thinking of ways to allow their son to take up driving, too.
Even though he is non-verbal, Tyler understands what is going on around him and communicates with one-word responses and gestures, which included pointing to cars he liked.
In December, Timmy decided that a golf cart would be a great alternative – and so he purchased one, decked out in camouflage, which he stored at a friend's house until Christmas Day.
That morning, Tyler was walked out of his house by his siblings, his eyes covered so that he was ready for the big surprise.
Once he saw the cart, the teenager could not hold back his excitement, screaming with joy and running across the front law to sit in the vehicle.
Then, having gotten in the front seat, the moment got too much for Tyler, who put his hands over his eyes and started to cry happy tears.
RELATED: Emotional moment man with Down Syndrome reads card aloud to realize he is going to be a Groomsman at Sister's wedding
Julie, 51, said: "Tyler's reaction upon seeing his golf cart was absolutely priceless.
"I have watched the video over and over and still get a tear in my eye.
"I believe this was the best Christmas ever for Tyler. Perhaps, it was the best I have had as well.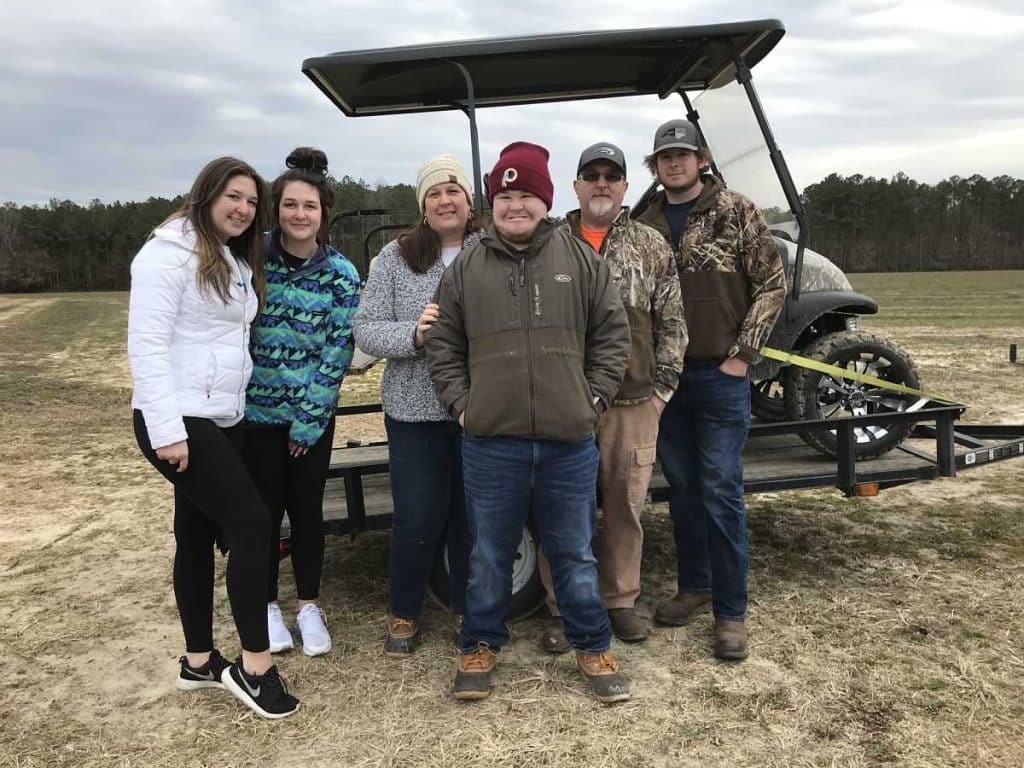 "Although Tyler has a disability, he has so many abilities that far exceed the abilities of many kids.
"He has a heart as big as the ocean and has perseverance like no other.
"We are truly blessed to have our amazing children."
Story courtesy of T&T Creative Media