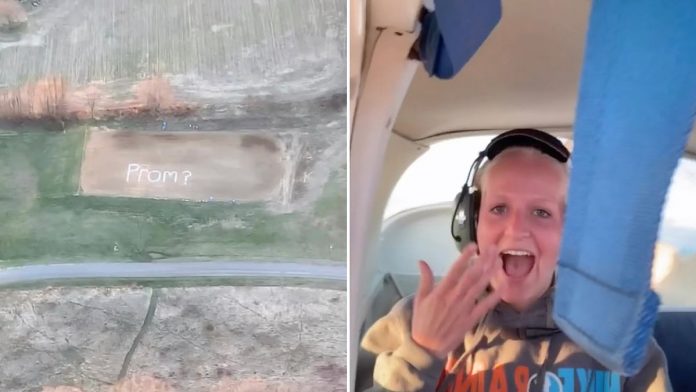 A teenager took to the skies to propose to his prom date – with a giant sign spelled out on the ground below for her to see.
Jett Haifley, 18, planned the elaborate prom stunt with the help of his father, Todd, a commercial pilot for Delta Airlines.
With his father at the controls of the light aircraft, Jett and his friend Kelsey Barrett took to the skies above Three Rivers Michigan, USA.

Video filmed by Jett, a student at Three Rivers high School, shows the pair laughing as they cruise above the picturesque Michigan countryside.
But as Kelsey glances out of the window, she gets the shock of her life – a giant sign spelling out 'Prom?'.
The huge message hundreds of feet below in a farmers field sends Kelsey into disbelief as they circle back to take another look at the sign.
Blushing with embarrassment, Kelsey eventually gives them thumbs up to Jett to accept his request to take her to prom.
Jett said: "It was an idea of mine that I had had for quite a while. It was just a matter of making it happen with the help of my dad.
"After Kelsey got out of soccer practice, she met me and my dad at the local airport where my dad flew the plane over the message."

(Courtesy of T&T Creative Media)