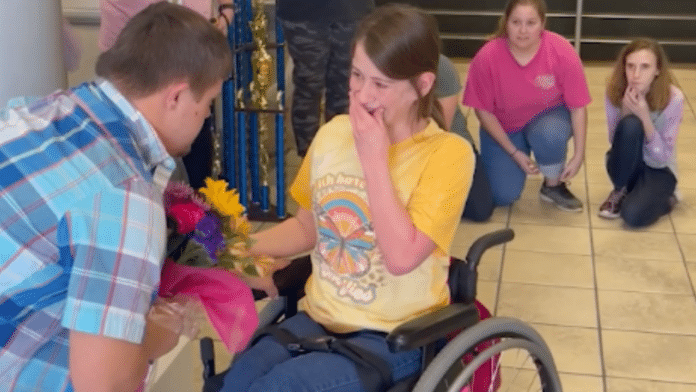 A teen with special needs could not stop crying with joy when she entered a hallway in her school and discovered her boyfriend who has Down Syndrome holding a bouquet of flowers and ready to ask her to prom.
The beautiful moment took place between Hailey Harris, 19, and Hunter Ward, 21, at Hope School in Marianna, Florida, on March 2, just a few months after Hunter moved away from the area.
When Hailey saw Hunter – who was surrounded by teachers and pupils holding signs of support – she began to well up, only for Hunter to reassure her not to cry.
He then got down on one knee and expressed to Hailey how much she means to him before presenting her with a series of gifts, including a chocolate bar.
According to Hunter's family, the pair started dating around two years ago, having attended Hope School together for a number of years.
Hunter was involved in the basketball team and Hailey, who has Spina Bifida, was a cheerleader.
They had been friends for a number of years and started passing notes to each other in the 2021 school year.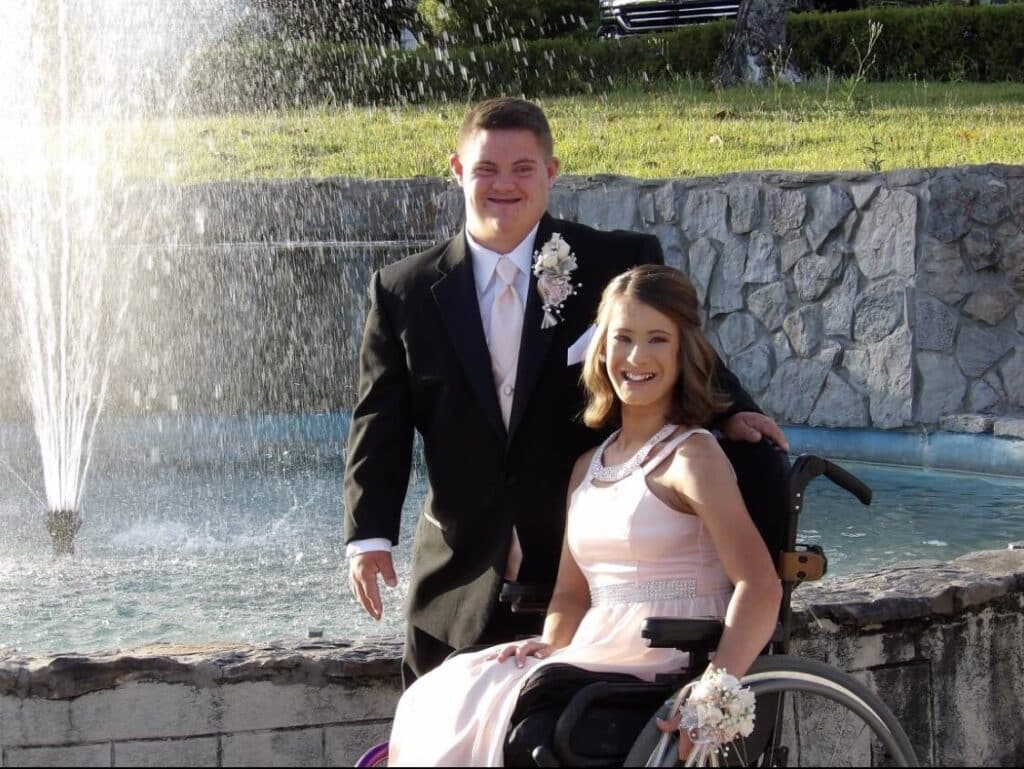 That year Hunter first took Hailey to prom, dressing in a tux and dancing the night away with Hailey.
However, in the months that followed, Hunter's mom, Dena, was diagnosed with breast cancer, and due to the stress this was causing Hunter, it was decided that he would go and live with his brother-in-law, Mario Reyes, in South Carolina.
Hunter had completed all of his requirements to graduate school, and after his December 2021 move, he stayed in contact with Hailey, speaking to her almost every day through a mutual friend's phone.
During those months, Hailey dropped hints about Hunter asking her to prom at his former school, saying things like she was not going to go and that he should send pictures if he did.
Mario helped Hunter get the hint, and when the pair next drove down to visit Dena in Florida, Hunter decided to pay Hailey a visit to ask her the big question.
With the help of staff at the school, Mario was able to capture the wholesome moment on video.
He said: "Hunter was so excited to see Hailey, but he didn't want to see her cry.
"He loves to see everyone happy, which is why he told Hailey not to cry.
"After we left the school, he was excited and gave me a jumping high five. It definitely made him very happy.
Hailey's mom, Brandi Harris, 45, said: "Hailey was very excited and overwhelmed by Hunter's surprise proposal.
"She said that she felt like she was the most special girl in the world.
"She also stated that she can't wait to get all dressed up and feel like a princess again.
"As a parent, we all want our children to have everything. I'm no different when it comes to Hailey.
"I want her to experience everything that other girls get to experience, the chance to feel beautiful and, as she would call it, 'normal.'
"Both Hailey and Hunter both deserve a night to get dressed up and have the time of their life. I love seeing her so happy and enjoying something in her life."
Story via T&T Creative Media