This proud son could not hold back the tears during his Air Force graduation, as his first salute during his tapping out ceremony happened to be to his military mom.
In the emotional footage, mom Nicole DiGioia can be seen approaching her son, Matt Cross, who was standing to attention at the Lackland Air Force Base, San Antonio, Texas.
Matt, 21, recently passed his Air Force Basic Military Training (BMT), and on July 3, he took part in the coining ceremony, which commemorates recent grads moving from Airman Basic to Airman.
After the ceremony, airmen patiently wait at attention for someone to tap them out – a tradition that usually falls to a loved one or a family member.
Nicole, who herself is a medic and is currently stationed as an officer at the Keesler Air Force Base, in Biloxi, Mississippi, dressed in full uniform as she approached her son, who was standing to attention looking straight ahead.
Following a tap on the shoulder and a firm salute, straight-faced Matt broke into a smile, before falling into his mother's arms for an emotional embrace.
In 1996, Nicole herself enlisted in the Air Force, but having completed only a few weeks of basic training she had to put her military career on hold, when she found out she was pregnant with Matt and was given an honorable discharge.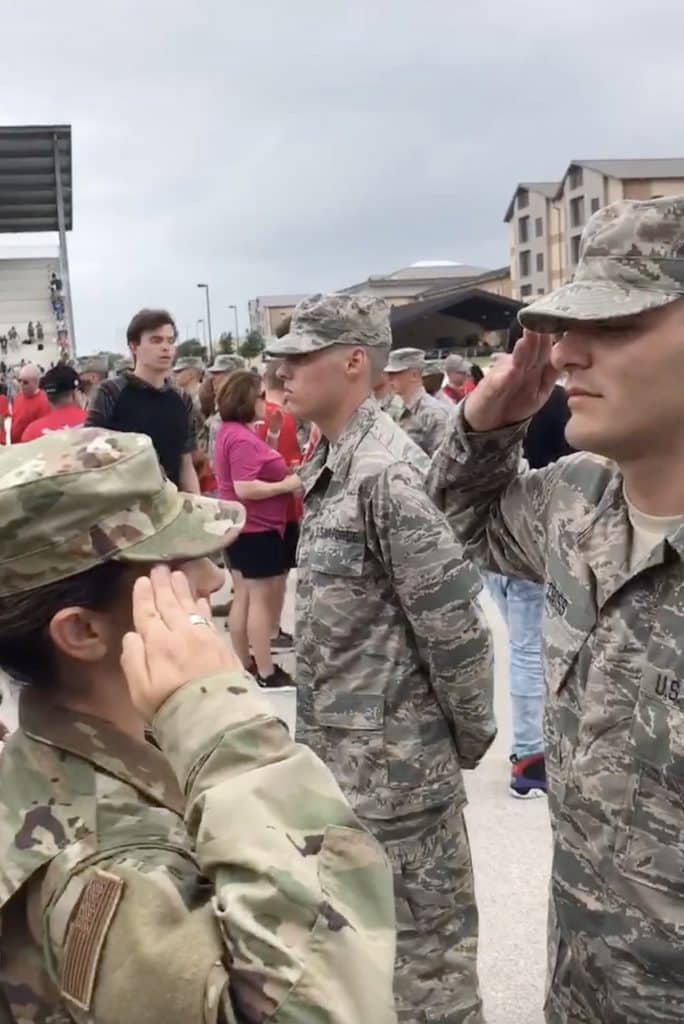 Having later graduated with a degree in social work, Nicole was later commissioned into the Air Force as an officer and was able to fulfill her dream of serving in the military at long last – a service made more special by Matt's involvement, too.
RELATED: After 3 Years Apart, This Airman Surprises His Sister At Her Graduation
Nicole added: "The feeling of love and respect that radiated between us during that embrace was magical.
"Together, my son and I have grown, literally from kids to adults together.
"I am proud of my son for making a decision to serve his country and follow in a family tradition of service before self.
"My son and I have always been close.
"Ever since he was very little, I would always tell him the same thing over and over, 'Good things happen to good people.'
"I don't know why I said it initially but it stuck, and in the end, it was true all along."
Story courtesy of T&T Creative Media