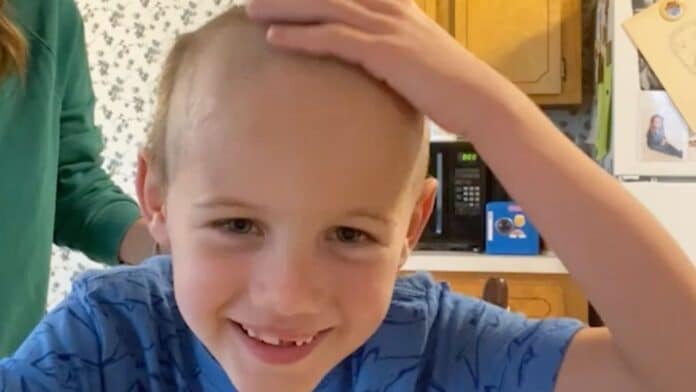 A family has shared a powerful video of their six-year-old son battling through tears to shave his head in solidarity with his stepdad's brain cancer fight.
In the emotional footage, Maxwell Payne can be seen fighting back tears as his mother, Amber Jackson, from Mesa, Arizona, starts shaving his hair.
Maxwell asked his mom to do so because he wanted to be like his stepfather, Tim Jackson, 44, who is currently undergoing treatment for glioblastoma.
Tim was diagnosed with the aggressive form of brain cancer in February 2021, after he had a seizure at work.
He then had a tumor resection in March 2021 and started a clinical trial through the Ivy Brain Tumor Center at Barrow Neurological Institute, Phoenix, Arizona, with a new chemotherapy drug.
He went through radiation between April and June 2021 and had another tumor resection in September 2021.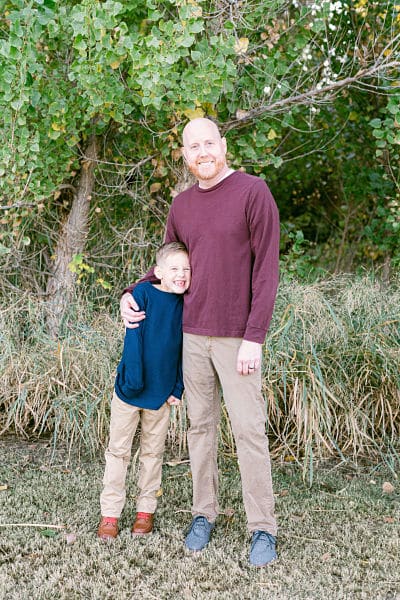 Currently, Tim is receiving chemo five days out of the month and wears an optune device, which requires Amber, 32, to shave his head every few days.
Having seen his stepfather having to go through this, Maxwell kept saying, 'If dad shaves his head then I want to shave mine, too.'
For months Amber said no to Maxwell's supportive gesture, as she felt he would not like how he looked with a shaved head.
READ MORE: Bride And Groom Shave Heads At Wedding In Solidarity With Bride's Mom Battling Cancer
Eventually, though, she succumbed to her son's requests, and on December 28, while visiting family in South Carolina for Christmas, Amber opted to shave Maxwell's head, too.
Amber recorded the emotional moment, which she later shared on her Instagram page that helps raise awareness of Timothy's journey.
She said: "I was definitely nervous that we would start and halfway through he would change his mind.
"But as we kept going, and especially as we finished, he loved it. I was very emotional at his big and tender heart.
"I knew this was going to be something he and all of us will always remember.
"I just felt so much love for his big heart. I was so happy that he was pleased with it.
"To see him want to support and show his love for his stepdad in such a dramatic way brought overwhelming love as a mother.
"The response to the video on social media was so amazing and overwhelming.
"It received such a greater response than I was expecting and has reached so many more people than I thought it would."
Story via T&T Creative Media