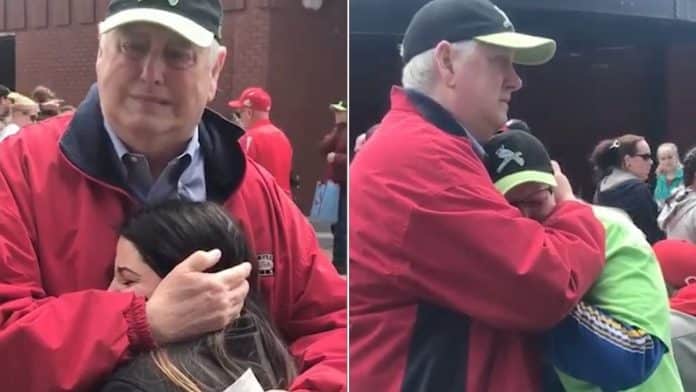 A heart transplant recipient and the donor's family were brought to tears after a chance meeting at a major league baseball game.
Siblings of donor Donovan Bulger wept as they put their ears to John Sueme's chest and listened to the beating heart that had been donated by their brother.
The encounter took place at the St. Louis Cardinals' Busch Stadium on Sunday, April 28, 2019, with the team hosting its own Transplant Awareness Day.
Donovan died in a tragic accident in 2016, age 21, and before passed, one of his wishes was for his organs to be donated.
YOU MAY ALSO LIKE: Recipient of Donor Heart Surprises Couple by Turning Up on Their Wedding Day to Listen to Their Son's Heart Beating
After five years of being in heart failure, John received Donovan's heart in 2016.
John and his wife, Liza; daughter, Catherine; and two friends were in attending the game, but prior to that day they had never met Donovan's family.
John said he had followed the organ recipient guidelines and not named himself when he had been in contact with Donovan's sister, Savannah Roesch, in the past.
But, after John had written a thank you letter and in return received a photograph of Donovan from Savannah, his daughter noticed the image of his donor printed on the family's green shirts at the game and immediately recognized the image.
Heartwarming footage from the encounter show how, one by one, the group listened to John's chest, with the recipient, 65, also in tears.
Savannah was joined at the game against the Cincinnati Reds by her husband, Jake; sister, Katie Seper, and her husband, Chris; and her brother, Brenden Bluger, and his wife, Angie.
Writing a post after the game, Savannah stated: "Today was a day I will NEVER EVER forget!!!!!
"This is definitely an amazing experience & am just SO blown away!!
"The video just says it all!!
"I think Donovan arranged us to meet this way.

"What are the chances of this happening?!?

"I'm still in complete SHOCK!!!!!"
(Courtesy of T&T Creative Media)