A kindhearted nurse serenaded patients over the intercom to boost their spirits by as they battled COVID-19.
Talented Kaitlin Egan, 24, from Farmingdale, New York, received widespread recognition for her talented performances after a video was shared across the internet.
In the footage, Kaity, as she is known, can be seen behind a counter at LIJ Medical Center in New York, where she picks up the mic and begins to perform Ben E King's classic "Stand By Me" on April 26.
Kaity, a registered nurse in the telemetry division, was known for singing around the workplace – even before the pandemic hit.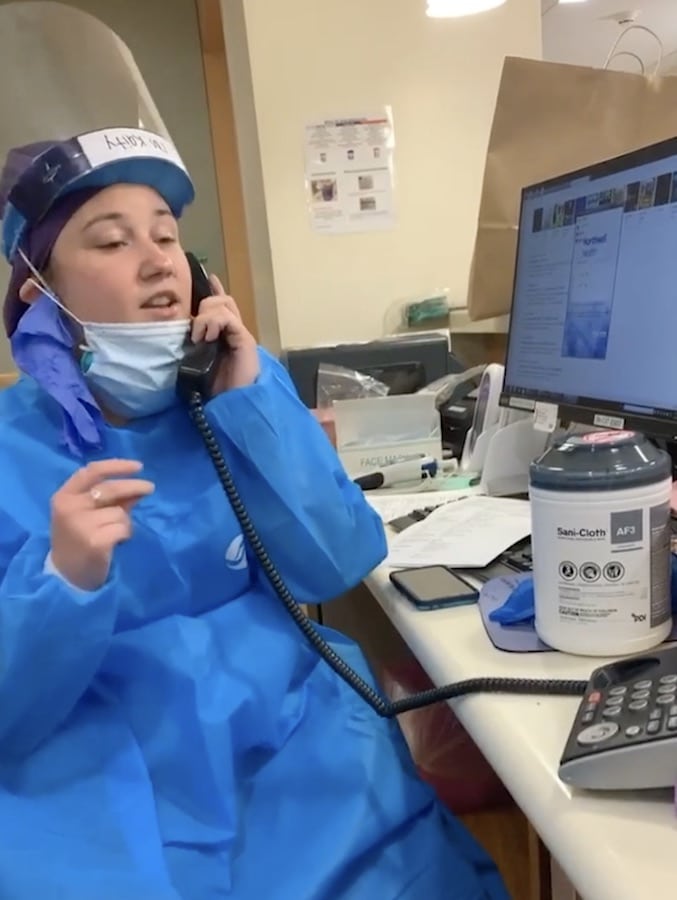 The 24-year-old's coworkers used to joke that 5 o'clock was karaoke hour for Kaity, and though the nurse says she sings just for fun, her sister is a classically trained singer.
Kaity's kind-hearted gesture to serenade patients left many in tears at the beauty of her voice.
Speaking of her performance, Kaity, a fan of Disney music and 70s songs, said: "My coworkers and the patients really enjoyed it.
"A few patients got emotional and told staff members that it really meant a lot to them.
READ MORE: Hospital Guard Of Honor For Marine Missing Graduation Due To Surgery
"These patients are alone in all of this in the sense that their family members and friends can't visit them.
"The staff are the only people they come in contact with and anything we can do to make a positive impact we will do it."
Now watch the video…